Dell is very famous for custom-built PC and other computer related products and selling them online. Dell is very efficient in terms of dealing with its suppliers and keeping the inventory near to zero level which helps the company to adapt JIT method which lowers the prices to the final user.
The bargaining power of suppliers
According to common assumption, power is high where the brand is powerful. Therefore, Dell is assumed to have far higher bargaining power than the suppliers. Dell has been successfully managing its competitors in terms of getting the needed supply of inventories and get them produce the inventories according to the specifications of the company.
And the CEO of the company, Michael Dell also mentioned that Dell Company never sticks to one supplier forever, as they always change the suppliers if the suppliers are not meeting the demands of Dell. And the company always goes to the supplier which is innovative and cost competitive among other rival suppliers.  Therefore, it again indicates that Dell has higher bargaining power than its suppliers.
Another indication of Dell to be in better position than its suppliers is that Dell got most of its suppliers locate their businesses and manufacturing units close to Dell's manufacturing and assembly units.  By getting the suppliers near its manufacturing units, inventory is down to an incredible four days and effi­ciency is the key ingredient.
Moreover, suppliers can regularly supply their inventories to Dell within hours of assembling the computers which indicates a strong corporate understanding of both Dell and its suppliers.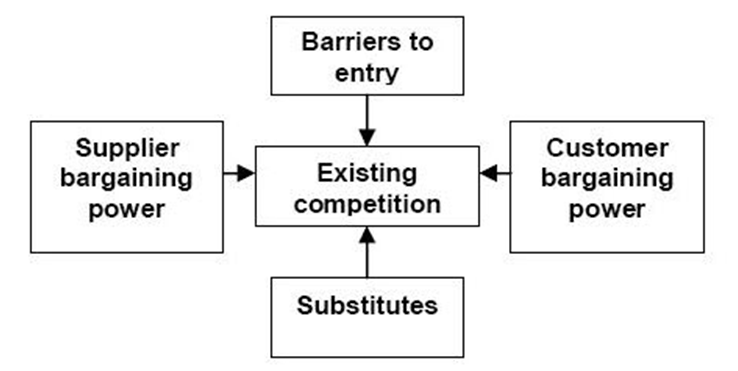 Threat of new Entrants
 As it has been stated by Michael Dell, his only fear about his business empire is the possibility of new entrants to the market who could adversely affect his business. And moreover, Dell's new strategy is the product diversification, therefore,  almost all electronic companies are potential entrants to this new market.
Bargaining power of Customers
One of the competitive advantages Dell has gained has been through offering in-person relationships with corporate and institutional customers. This is done by telephone, internet purchasing, customized computer systems where corporate clients can go to Dell's special website called Premier Dell.com and configure computer systems in regard to the price and specifications.
Moreover, they have post sales online supports which are online and in some cases the company engineers can even visit the customer sites.
As long as the company has been serving giant companies such as governments, and huge companies such as Cox communications, EDS and etc, they tend to be permanent customers as it costs massive money for the customers to switch from Dell to another company.
Moreover, as the company has been diversifying its product ranges from simply computers to other products such printers, storage services; this indicates that the company will be serving all type of customers, not only corporate clients. Therefore, Dell has to focus on improving its customer service to small business and individual customers as well to gain their lifetime loyalty.
Related Articles :