Amazon McKinsey 7S model illustrates the ways in which seven elements of businesses can be united to increase effectiveness. According to this model strategy, structure and systems represent hard elements, whereas shared values, skills, style and staff are soft elements. McKinsey 7S model stresses the presence of strong links between elements. Specifically, it argues that a change in one element causes changes in others. As it is illustrated in figure below, shared values are positioned at the core of Amazon McKinsey 7S model, since shared values guide employee behaviour with implications in their performance.
Amazon McKinsey 7S model
Hard Elements in Amazon McKinsey 7S Model
Strategy. Amazon adheres to cost leadership business strategy. The largest internet retailer in the world has been able to sustain this strategy thanks to economies of scale, innovation of various business processes and a constant business diversification.
Moreover, Amazon business strategy places a great emphasis on encouraging communication between various components of its ecosystem. These elements of Amazon ecosystem include merchants, writers, reviewers, publishers, apps developers, and the information market of commentators, analysts, journalists and feature writers. Additionally, customer obsession and focus on Amazon leadership values represent important cornerstones of Amazon business strategy.
Structure.  Amazon organizational structure is hierarchical. It is difficult for the company to adapt an alternative structure such as divisional or matrix due to its gigantic size that contain 560000 employees serving more than 300 million customers worldwide.[1] There are two CEOs, and four Senior Vice Presidents who report directly to Amazon CEO Jeff Bezos. Additionally, Amazon organizational structure integrates Global Corporate Affairs and Digital Management segments, the heads of which also directly report to CEO Jeff Bezos.
Systems. There is a wide range of systems that facilitate Amazon business. These include employee recruitment and selection system, team development and orientation system, transaction processing systems, customer relationship management system, business intelligence system, knowledge management system and others. The company critically evaluates each of these systems in a regular manner with the aim of increasing their efficiency and thus, increasing competitive advantage for the business.
Amazon Inc. Report 2018 contains a full analysis of Amazon McKinsey 7S Model. The report illustrates the application of the major analytical strategic frameworks in business studies such as SWOT, PESTEL, Porter's Five Forces, Ansoff Matrix and Value Chain analysis on Amazon. Moreover, the report contains analyses of Amazon leadership, business strategy organizational structure and organizational culture. The report also comprises discussions of Amazon marketing strategy, ecosystem and addresses issues of corporate social responsibility.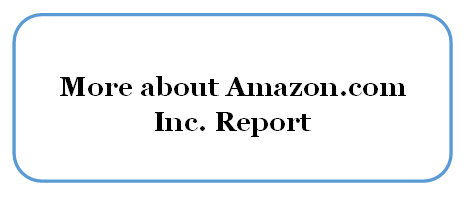 [1] Annual Report (2017) Amazon Inc.