PESTEL is a strategic analytical tool and the acronym stands for political, economic, social, technological, environmental and legal factors. Amazon PESTEL analysis involves the analysis of potential impact of these factors on the bottom line and long-term growth prospects.
Political Factors in Amazon PESTEL Analysis
The range of political factors that affect Amazon include but not limited to the political stability or instability in the country, the influence of home market lobbying and pressure groups and the attitude of the government towards e-commerce and retail industries in particular. Additionally, the freedom of press, trade unions and their activities and the extent of corruption belong to the list of political factors with potential implications on Amazon business practices.
Due to the scope and scale of its business operations, Amazon plays an indirect role in politics in USA, Europe and some other regions. In other words, in markets where Amazon has a strong presence, the ruling government usually has a certain stance towards Amazon in particular among internet retailers.
Amazon's frequent criticism of Amazon by US President Donald Trump via Twitter can be mentioned as an example for political factor affecting the e-commerce giant. The US President has accused the company of a variety of inaccurate misdeeds, including "not paying its fair share of taxes, receiving a sweetheart deal from the United States Postal Service, and setting up the Washington Post as a de facto lobbyist for the company".[1]
The company has hired the former press secretary of the US President, Jay Carney on February 2015 as a senior vice president of Worldwide Corporate Affairs to deal with the political issues that are impacting the business.[2]
As it is illustrated in figure below, Amazon has been increasing its lobbying budget in the US for almost two decades in order to influence the whole range of policy issues including its tax battles, corporate tax reform, antitrust lawsuits and others.[3]

Changes in annual lobbying budget in Amazon[4]
Economic Factors in Amazon PESTEL Analysis
There is a whole host of economic factors such as taxation and inflation rates, overall and industry-specific economic growth, unemployment levels and changes in currency exchange rates that directly affect the volume of revenues and growth prospects of Amazon. In 2017, net sales from international business accounted for 30.52% of Amazon consolidated revenues.[5] Therefore, the business is subjected to currency exchange risks to a great extent. For example, if the U.S. Dollar weakens year-over-year relative to currencies in Amazon international locations, its consolidated net sales and operating expenses will be higher than if currencies had remained constant.
Likewise, if the U.S. Dollar strengthens year-over-year relative to currencies in Amazon international locations, its consolidated net sales and operating expenses will be lower than if currencies had remained constant. Changes in foreign currency exchange rates negatively impacted net sales by USD 5,2 billion, USD 550 million and USD 210 million for 2015, 2016, and 2017 respectively. Moreover, changes in exchange rates impacted operating loss by USD(278) million, USD89 million, and USD(85) million for 2015, 2016, and 2017 in international business segment.[6]
Cost of labour is another important economic factor that affects the e-commerce and cloud computing company the tech giant. Amazon is able to operate with razor-thin profit margin of less than 4% due to saving in the costs of resources, including human resources. The median wages paid to 560,000 Amazon employees equalled to USD 28,446 in 2017. In contrast it's USD240,430 for Facebook Inc.[7]  Accordingly, increase in the cost of labour is going to jeopardize the profit for Amazon with direct implications on the long-term growth of the business.
In June 2017, US President Donald Trump spoke of a necessity to introduce 'internet tax', specifically referring to Amazon. Analysts note that "one possibility is that Mr. Trump was thinking of a proposal to allow state governments to force internet retailers to collect sales taxes from their customers"[8]. This instance can be referred to as an illustration of potential implications of economic factor, namely taxation on Amazon.
Amazon Inc. Report 2018 contains a full version of Amazon PESTEL analysis. The report illustrates the application of the major analytical strategic frameworks in business studies such as SWOT, Porter's Five Forces, Value Chain analysis, Ansoff Matrix and McKinsey 7S Model on Amazon. Moreover, the report contains analyses of Amazon business strategy, leadership, organizational structure and organizational culture. The report also comprises discussions of Amazon marketing strategy, ecosystem and addresses issues of corporate social responsibility.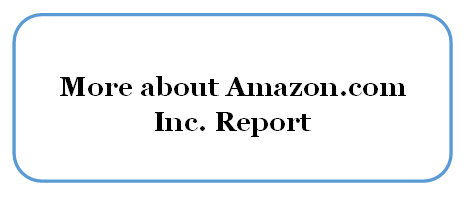 [1] Yglesias, M. (2018) "Donald Trump's Twitter feud with Amazon, explained" Vox, Available at: https://www.vox.com/policy-and-politics/2018/4/4/17193090/trump-amazon-feud
[2]Kusek, K. (2015) "Amazon Hires Ex-White House Spokesman Jay Carney" Forbes, Available at: http://www.forbes.com/sites/kathleenkusek/2015/02/26/bezos-hires-carney-former-white-house-spokesman-to-lead-amazon-corporate-affairs/#4f5b943133f6
[3]Plumer, B. (2013). "Here's what Amazon lobbies for in D.C." The Washington Post, Available at: https://www.washingtonpost.com/news/wonk/wp/2013/08/06/heres-what-amazon-lobbies-for-in-d-c/
[4] Open Secrets (2018) Available at: https://www.opensecrets.org/lobby/clientsum.php?id=D000023883
[5] Annual Report (2017) Amazon.com Inc.
[6] Annual Report (2017) Amazon.com Inc.
[7] Mudede, C. (2018) "Median Pay for Amazon Employees as of 2017 Was $28,446" The Stranger, Available at: https://www.thestranger.com/slog/2018/04/19/26063634/median-pay-for-amazon-employees-as-of-2017-was-28446
[8] Cohen, P. (2017) "Trump, Amazon and 'Internet Taxes': What Did He Mean?" The New York Times, Available at: https://www.nytimes.com/2017/06/28/business/trump-internet-tax-amazon.html