SWOT is an acronym for strengths, weaknesses, opportunities and threats related to organizations. The following table illustrates Amazon SWOT analysis:
Strengths
1.      Market leadership in the global scale
2.      Experience in extensive utilization of the first mover advantage
3.      Efficient and charismatic leadership by founder Jeff Bezos
4.      Cost leadership due to efficient cost structure
5.      Efficient customer relationship management
Weaknesses
1.      Seasonality of the business
2.      Low profit margins
3.      Lack of focus on product or service categories
4.      Weak competitive position of Amazon's Fire Phone
5.      Damage to the brand image due to tax avoidance scandal in the UK
Opportunities
1.      Diversification of e-commerce business segment
2.      Increasing focus on own brand products and services
3.      Increasing physical presence of the brand
4.      Developing more local sites in international markets
5.      Engagement in strategic collaborations with companies in e-commerce and affiliated industries
Threats
1.      The loss of profitability due to low profit margin
2.      Patent infringement and other lawsuits against the company
3.      Weakening of industry entry barriers
4.      Threats to online security
5.      The loss of market share post Jeff Bezos period
 Amazon SWOT analysis
 Strengths
1. Amazon is an undisputed market leader in online retail segment. It has been estimated that 43% of all online retail sales in the US went through Amazon in 2016 and Amazon accounted for the majority (53%) of the growth in US e-commerce sales for the year[1].
Amazon has a solid presence in many emerging economies as well. The company has entered China more than a decade ago and the markets of Brazil and India were entered in 2012 and 2013 respectively.[2]Amazon.in currently offers more choice than any other e-commerce site in India – with more than 20 million products offered from more than 21,000 sellers.[3] Strong presence in emerging economies is an advantage that can make an immense contribution to long-term growth prospects of the company.
As it is illustrated in figure below, the numbers of Amazon Prime subscribers have been consistently increasing and estimated to reach 70 million in 2017. Accordingly, the sales of the largest internet retailer in the world increased 20%, 20%, and 27% in 2014, 2015, and 2016, compared to the comparable prior year periods.[4]
Amazon Prime subscriber growth worldwide[5]
2. Amazon has benefited from the first mover advantage in several segments. For example, Amazon Kindle has been dubbed revolutionary by many reviewers[6], and Amazon Web Services (AWS) offer more than 516 features and services and the majority of these are of an innovative nature. Moreover, with an air cargo network, thousands of 53 foot trailers and leasing 20 Boeing 767s, the largest internet retailer in the world is also expected to build a first mover advantage in logistics as well.[7] Amazon's experience and competency in terms of developing and marketing innovative products and services is a considerable strength that can be further capitalized with positive implications on the long-term growth prospects of the business.
3. Jeff Bezos, Amazon founder and CEO has proved to be a driving force behind the rapid and sustainable growth of the business via application of his visionary and charismatic leadership style. Bezos has also ranked #1 in 2014 list of The Best Performing CEOs in the World according to Harvard Business Review[8] and he is admired internationally partially due to his creative approach towards solving a wide range of business issues.
The list of Bezos's leadership strengths include, but not limited to obsession with customers, not competitors, taking risks for market leadership, making employees thinking like owners and building cost-conscious corporate culture.[9] It is important to note that Jeff Bezos's ideas for the business are far from being exhausted; therefore, he can be assessed as a valuable asset to the business.
4. The company efficiently utilizes its lean cost structure as one of its main sources of competitive advantage. "Amazon can operate on razor-thin margins and still make money on the transaction. Physical retailers can't do that and if they drop prices online they risk cannibalizing their own sales and driving margin down while having all the same overhead costs."[10] This advantage is gained by Amazon by an extensive exploitation of the economies of scale. Accordingly, Amazon has been justly described as "a brutal competitor for brick and mortar merchants due to their large and growing cost advantages and a maniacal commitment to having the lowest prices anywhere"[11].
5. Efficient customer relationship management practices also belong to the list of strengths possessed by the online retailer. "Amazon has a reputation for providing customers with everything that they need, all in one place. What has since become known as 'the Amazon Effect', the company have successfully managed relations with millions of customers without ever meeting them face-to-face."[12] Amazon's customer relationship management practices effectively integrate customer data collection and the usage of the data for service personalization. Moreover, Amazon's returns process is dealt with entirely online via a customer's account.
Weaknesses
1. Amazon revenues and scope of operations are highly seasonal with direct implications on a wide range of business practices and processes, especially HR practices. Sales and revenues tend to peak in Q4 annually and the company experiences an urgent need for extra workforce during the same period of time. The company generated 33%, 33%, and 32% of its annual revenue during the fourth quarter of 2014, 2015, and 2016.[13] Dramatic fluctuations of the need for the workforce over the course of the year is a significant weakness as it increases the costs of employee training and development along with other disadvantages in several levels.
2. Amazon has an incredibly thin profit margin in order to sustain its cost leadership strategy, as well as, its promise of free delivery. Low profit margin makes the business vulnerable to external shocks and crises and other changes in the marketplace. In other words, due to low profit margins with negative implications on the level of liquidity and cash reserves, Amazon may find it difficult to go through the phases of low demand for its products and services caused by changes in the external environment.
3. It is interesting to note that while Amazon is famous worldwide as an online retailer, there is a lack of focus on a range of products and services offered by the business. It has been noted that "if Apple is famous for its focus, Amazon should be famous for its lack of focus. At the same time that new companies are cutting into Amazon's core, Amazon is expanding into new product categories where it has less strength."[14] Lack of focus on a range of products and services offered by Amazon and low range of company's own brand products is a considerable weakness from the viewpoint of strengthening brand identity and this issue needs to be addressed by senior level management in a timely manner….
Amazon.com Inc. Report contains a full version of Amazon SWOT Analysis. The report illustrates the application of the major analytical strategic frameworks in business studies such as PESTEL, Porter's Five Forces, Value Chain analysis and McKinsey 7S Model on Amazon. Moreover, the report contains analyses of Amazon leadership, organizational structure, business strategy and organizational culture. The report also comprises discussions of Amazon marketing strategy and addresses issues of corporate social responsibility.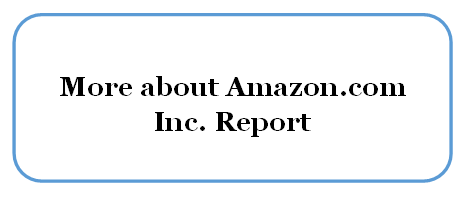 [1] Amazon accounts for 43% of US online retail sales (2017) Business Intelligence, Available at: http://www.businessinsider.com/amazon-accounts-for-43-of-us-online-retail-sales-2017-2
[2]Singh, S. (2013) "Can Amazon, world's largest online retailer, crack an emerging market?" The Economic Times, Available at: http://articles.economictimes.indiatimes.com/2013-09-26/news/42426794_1_amazon-india-south-india-retailer
[3] Annual Report (2014) Amazon
[4] Annual Report (2016) Amazon.com Inc.
[5] Source: Business Intelligence, Available at: http://www.businessinsider.com/amazon-accounts-for-43-of-us-online-retail-sales-2017-2
[6]Elgan, M. (2010) "Opinion: Why Amazon's Kindle is Revolutionary" MacWorld, Available at: http://www.macworld.com/article/1061186/kindle.html
[7] Banker, S. (2016) "Is Amazon Building a First Mover Advantage in Logistics?" Logistics Viewpoints, Available at: https://logisticsviewpoints.com/2016/06/06/does-amazon-have-a-first-mover-advantage-in-logistics/
[8]Ignatis, A. (2014) The Best Performing CEOs in the World, Harvard Business Review, Available at: https://hbr.org/2014/11/the-best-performing-ceos-in-the-world
[9] Mullaney, T. (2017) "5 key business lessons from Amazon's Jeff Bezos" CNBC, Available at: http://www.cnbc.com/2016/05/13/5-key-business-lessons-from-amazons-jeff-bezos.html
[10] Kline, D.B. (2015) "Amazon's Sustainable Competitive Advantage" The Motley Fool, Available at: https://www.fool.com/investing/general/2015/05/18/amazons-sustainable-competitive-advantage.aspx
[11] Jordan, J. (2013) "How to compete with Amazon" Fortune, Available at: http://fortune.com/2013/10/24/how-to-compete-with-amazon/
[12] Amazon CRM Case Study (2017) Expert CRM Software, Available at: http://crmsystems.expertmarket.co.uk/Amazon-CRM-Case-Study
[13] Annual Report (2017) Amazon.com Inc.
[14] D'Onfro, J. (2014) "Amazon Has A Key Weakness" Business Insider, Available at: http://www.businessinsider.com/amazons-new-competition-2014-12