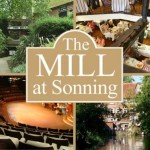 The Mill at Sonning Theatre Ltd remains to be the only dinner theatre in the UK despite producing shows and showing performances for more than three decades (The Mill at Sonning website, 2016).
This article contains a brief analysis of certain aspects of business practices of The Mill at Sonning theatre. The article starts with application of PESTEL analysis tool and this is followed by application of SWOT and Porter's Five Forces models. The article is concluded by formulating recommendations for The Mill at Sonning management as a result of discussions and analyses.
The Mill at Sonning PESTEL Analysis
 It has been noted that "environmental analysis is largely strategic thinking and strategic planning, and consists of understanding the issues in the external environment to determine the implications of those issues for the organisation" (Gitner, 2013, p.40) and PESTEL is the most relevant tool to conduct an environmental analysis.
Political factors
Political factors may affect the theatre performance to varying extents, however, in practice this impact is not observed. In other words, so far the impact of political factors on The Mill at Sonning has been positive and this is associated with political stability in the UK.
Economic factors
UK recession of 2007 – 2009 illustrated the impact of external economic factor on businesses and this impact was highly negative for The Mill at Sonning (Hughes, 2014). Additionally, economic factors include levels of unemployment, taxation levels, interest rates etc.
Social factors
Major social factors affecting The Mill at Sonning relate to demographic changes, lifestyle changes, as well as, changes in family values and patterns. Changing consumer attitudes towards culture and the notion of entertainment can be also highlighted as the most significant social factors impacting theatre business.
Technological factors
Panda (2009) rightly considers pace of technological changes as an important external technological factor impacting businesses and this tendency has intensified competition for The Mill at Sonning through creation of digital media and in many other ways.
Environmental factors 
The Mill at Sonning business is highly vulnerable to flooding due to its location on the banks of River Thames and this fact has caused inconveniences in technical levels.
Legal factors
Legal factors can potentially affect the business through new legislations in performance and entertainment industry and changes in business regulations in general. Legal factors can also impact on regional levels as it has been the case with imposing weight limit on Sonning Bridge by local Council officials (Hughes, 2014).
SWOT Analysis for The Mill at Sonning
SWOT stands for strengths, weaknesses, opportunities and threats of a business.
Strengths possessed by The Mill at Sonning include absence of American-style dinner theatre in the UK. Moreover, The Mill at Sonning has additional solid income stream through electric turbine (Hughes, 2014). Organisational culture can be explained as "organisational-specific 'experience' felt both subjectively and individually by insiders and outsiders" (Stanford, 2010, p.23) and Mill's unique organisational culture can be highlighted as its additional strengths.
One of the main weaknesses of The Mill at Sonning business practice relates to the absence of marketing techniques to reward customer loyalty and encourage repeat purchases. Seasonal nature of the business profitability and limited business growth opportunities due to availability of only 217 seats (Hughes, 2014) are also significant weaknesses.
Moreover, Break-even at 50 per cent of seats (Hughes, 2014) indicates to to high levels of operational costs and The Mill at Sonning is not able to attract celebrity actors and actresses due to financial constraints.
Opportunities available for The Mill at Sonning include obtaining licence for restaurants separate from the show, so that the business can be diversified to generate more revenues. Organising international tours is another viable opportunity in terms of increasing the levels of The Mill at Sonning brand awareness.
The Mill at Sonning is also faced with some threats are these are increasing popularity of indirect competition represented by internet-enabled media. These include but not limited to increasing popularity of online games, social media, 3D experiences and others.
European economy and national economy of the UK is not immune to another recession in medium-term perspective (Hetzel, 2012), and this fact can be highlighted as the most significant threat for The Mill at Sonning for evident reasons.
The Mill at Sonning Porter's Five Forces Analysis
The model of Five Forces proposed by Michael Porter (1980) is an effective framework to conduct industry analysis. The model comprises five forces discussed below:
Threat of new entrants is lower in theatre sector compared to other branches of entertainment industry due to lower levels of profitability and requirement for rare skills and competencies. Relevance of previous experience is show production and staging is greater in theatre industry compared to experience requirements in many other business sectors.
Buyer bargaining power of theatregoers is great. This relates to the abundance of offer to consumers in entertainment sector. No switching costs for buyers in entertainment industry further contribute to the levels of their bargaining power.
Supplier bargaining power in theatre industry is moderate. Although certain shows require unique sets of costumes, scene decorations and other resources, there is a moderate competition amongst suppliers to deliver these resources.
Threat of substitute products or services is tremendous. Basically, any entertainment products and services can be perceived as a threat for services offered by The Mill at Sonning. These include movie theatres, television programs, internet, live concerts and others.
Extent of competition amongst competing firms in the industry is massive. There are many theatres in London's West End and main theatres located in close geographical proximity to The Mill at Sonning include Windsor Theatre, Gilford Theatre, Watermill Theatre (Hughes, 2014). However, The Mill at Sonning is the only venue in the UK to offer the experience of dinner theatre.
Recommendations
Recommendations proposed for The Mill at Sonning management can be summarised in the following four points:
Firstly, The Mill at Sonning management is recommended to explore additional revenue steam by offering costumes and other tools for rent to other theatres. The rationale behind formulation of this recommendation relates to high levels of operational costs of the business identified in this paper.
Secondly, the company needs to develop consumer loyalty scheme. Lack of marketing schemes to reward repeat purchases and customer loyalty is found as a substantial shortcoming from a marketing viewpoint and this issue needs to be addressed.
Thirdly, The Mill at Sonning is recommended to engage to international tours. International tours need to be organised during the summer, because this season is found to be quiet for The Mill at Sonning business. Execution of this recommendation in practice can boost revenues of the business to a significant level.
Fourthly, initiatives need to be taken to increase revenues from natural power generation. Power generation turbine is found as a solid source of complimentary revenues for the business and this source needs to be utilised to a maximum capacity.
References
Ginter, P.M. (2013) The Strategic Management of Health Care Organisations John Wiley & Sons
Hetzel, R.L. (2012) The Great Recession: Market Failure or Policy Failure, Cambridge University Press
Hughes, S. (2014) Talk at Oxford Brookes University, 18 February, 2014
Panda, T.K. (2009) Marketing Management: Text and Cases,  2nd edition, Excel Books
Porter, M. (1980) "Competitive Strategy" Free Press
Stanford, N. (2010) Corporate Culture: Getting It Right, John Wiley & Sons
The Mill at Sonning (2016) Available http://www.millatsonning.com/index.html#section=news