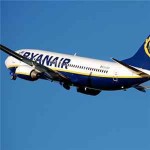 Firstly, Ryanair should improve its integrated marketing communication strategy. Analyses reveal that possesses a strong competitive advantage in the marketplace that directly relate to the competitive prices of the airline operator. However, this important message is not being communicated to perspective customers with a sufficient level of effectiveness.
Therefore, Ryanair management is recommended to improve the quality of integrated marketing communication strategy of the company by introducing specific measures and programs. Specifically, it has to be ensured that Ryanair marketing strategy combines all components of marketing communication mix in synergetic manner so that company message can be delivered to its target customer segment in an effective and unambiguous manner.
Secondly, Ryanair management should concentrate on enhancing the quality of company website. The volume transportation ticket purchasing transactions completed online is increasing at a fast speed compared to the numbers of ticket purchases conducted offline (Morley and Parker, 2010). Ryanair management is recommended to adopt a proactive approach towards this irreversible tendency by perceiving the company website as one of the main sources of competitive advantage.
Therefore, innovative functions and features need to be introduced in Ryanair website in a regular manner, aiming to provide customers with comprehensive information about services in an effective way, and increasing the ease of online transactions.
Thirdly, Ryanair management should launch effective programs and initiatives in order to become 'greener'. Roosa (2010) confirms that the amount of pressure is increasing towards airline companies from various governments, and especially non-government organisations due to the ecological damage airline companies cause to the atmosphere.
Regardless of the type of business strategy chosen by an airline company neglecting this issue has serious detrimental impacts on the long-term growth of the company. Accordingly, Ryanair management has to increase the status of 'green' issues within its strategy and to commit to considerable financial investments in order to make Ryanair 'greener' through introducing innovations to various business and technical processes.
Fourthly, Ryanair brand image has to be improved. Ryanair's business strategy of increasing its market share and profitability through offering competitive prices results in a certain negative impact upon the brand image of the company. Specifically, the brand image of Ryanair may become associated with the concept of being 'cheap' and this may lead to a perception of service quality being poor.
Ryanair management is recommended to avoid the formation of such a perception among existing and perspective customers through emphasizing quality advantages of their offers along with their prices. In other words, Ryanair brand managers have to ensure that Ryanair image is associated to being 'value' rather than 'cheap'.
References 
Morley, D. & Parker, C. (2010) "Understanding Computers: Today and Tomorrow, Comprehensive" Cengage Learning
Roosa, S.A. (2010) "Sustainable development handbook" 2nd edition, The Fairmont Press, Inc