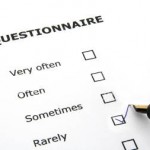 Questionnaires is one of the most popular primary data collection methods that involve respondents giving answers to the set questions by choosing an option from the set of possible answers or providing their own answers for each questions. Questionnaires can also ask respondents to rate or rank any given answers on the basis of provided measures.
According to Monette et al. (2005, p.164), the distinctive feature of questionnaires from other data collection methods is that due to their design, questionnaires can be answered without assistance. Referring to questionnaires, Collis and Hussey (2003, p.173) state, that when using quantitative approach closed-ended questions have to be used, and similarly, open-ended questions have to be used for qualitative approach.
Questionnaires can be written in various formats and can be based upon different circumstances as well. Questionnaire can be in two formats: self- completion questionnaires and questionnaires questions of which are asked by someone.
Brace (2008) defines questionnaire as a medium of communication between researcher and respondent, i.e. interviewee. Questionnaire writing is considered to be a vital part of the survey process, due to the fact that they represent most of the time a part of the survey process
Questionnaires can be in following types:
Computer questionnaire. Respondents are asked to answer the questionnaire which is sent by mail. The advantages of the computer questionnaires include their inexpensive price, time can be saved, and respondents do not feel pressured, therefore can answer when they have time, giving more accurate answers. However, the main shortcoming of the mail questionnaires is that sometimes respondents do not bother answering them and they can just ignore the questionnaire.
Telephone questionnaire. Researcher may choose to call potential respondents with the aim of getting them to answer the questionnaire. The advantage of the telephone questionnaire is that, it can be completed during the short amount of time. The main disadvantage of the phone questionnaire is that it is expensive most of the time. Moreover, most people do not feel comfortable to answer many questions asked through the phone and it is difficult to get sample group to answer questionnaire over the phone.
In house survey. This type of questionnaire involves for the researcher visiting respondents in their house or workplaces. The advantage of in house survey is that more focus towards the questions can be gained from respondents. However, in house surveys also have a range of disadvantages which include its being time consuming, more expensive and respondents may not wish to have the researcher in their houses or workplaces for various reasons.
Mail Questionnaire. This sort of questionnaires include for the researcher to send the questionnaire list to respondents through post, often attaching pre-paid envelope. Mail questionnaires have an advantage of providing more accurate answer, because respondents can answer the questionnaire in their spare time. The disadvantages associated with mail questionnaires include them being expensive, time consuming and sometimes they end up in the bin put by respondents.
Computer questionnaire was used to gather the primary data for this paper, where the questionnaire forms were sent to respondents via internet, and completed questionnaires were received via the same medium.
Questionnaires can include the following types of questions:
Open question questionnaires. Open questions differ from other types of questions used in questionnaires in a way that open questions may produce unexpected results, which can make the research more original and valuable. However, it is difficult to analyze the results of the findings when the data is obtained through the questionnaire with open questions.
Multiple choice question– respondents are offered a set of answers they have to choose from. The downsize of questionnaire with multiple choice questions is that, if there are too many answers to choose from, it makes the questionnaire, confusing and boring, and discourages the respondent to answer the questionnaire.
Dichotomous Questions. This type of questions within questionnaire gives two options to the respondent – yes or no, to choose from and is the easiest form of questionnaire for the respondent in terms of responding it.
Scaling Questions. Also referred to as ranking questions, they present an option for respondents to rank the available answers to the questions on the scale of given range of values (for example from 1 to 10).
References
Brace, I,  2008, Questionnaire Design, Kogan Page, United States of America, Page 2
Collis, J, Hussey, R, 2003, Business Research. A Practical Guide for Undergraduate and Graduate Students, 2nd edition, Palgrave Macmillan
Monette, DR, Sullivan, TJ, DeJong, CR, 2005, Applied Social Research. A Tool for the Human Services, 6th edition,
Silverman D.2004. "Qualitative research: theory, method and practice" 2nd edition. Sage.