Sometimes you are required to explain your literature search strategy for the literature review. Even when you are not officially required to do so, including the explanation of the search strategy in the literature review chapter is going to boost your marks immensely.
Literature search strategy can include the following stages:
Stage 1: Search terms need to be identified. For example, for a study entitled "An investigation into the impacts of management practices on the levels of employee motivation at Coca-Cola USA" search terms can be specified as management, management style, motivation, employee morale, leadership, satisfaction, work-life balance, and others.
Stage 2: A pool of online and offline literature need to be found according to the search term. Equipped with search terms, a vast pool of relevant literature can be generated through exploring Questia online library, Google Scholar and Emerald databases amongst others. Moreover, you can attend local libraries to find sources you need for your literature review.
Stage 3: Collected literature needs to be filtered according to credentials of authors. Due to the word limits imposed for the literature review chapter, as well as, other chapters of the dissertation, it is not possible, nor desirable to discuss all of the sources you have found in this chapter. Only the works of the most noteworthy scholars and authors need to be included in the literature review.
Stage 4: Remaining literature needs to be filtered according to contribution of the text to the development of the research area. Regardless of the type of the selected research area, the literature review will identify many works that have been completed by respected authorities in the area. Due to the word limitation requirement only the most important contributions of the research area need to be mentioned in the literature review.
For example, within the research area of organizational culture such contributions can be mentioned as Harrison's Model of Culture (1972), Competing Values Framework by Cameron and Quinn (1999), Geert Hofstede's Cultural Dimensions, Trompenaar's Cultural Dimensions and others.
Stage 5: Remaining literature needs to be filtered according to date of publication. Apart from the inclusion of the major models and theoretical frameworks, you have to focus on the latest developments in the research area. Therefore, it is important to be critically analyzing up-to-date sources in the literature, and the majority of the literature discussed in this chapter need to be the ones that were published during the last five years.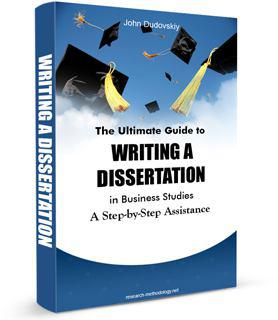 My e-book, The Ultimate Guide to Writing a Dissertation in Business Studies: a step by step assistance offers practical assistance to complete a dissertation with minimum or no stress. The e-book covers all stages of writing a dissertation starting from the selection to the research area to submitting the completed version of the work within the deadline.
John Dudovskiy