Writing Research Background
Research background is a brief outline of the most important studies that have been conducted so far presented in a chronological order. Research background part in introduction chapter can be also headed 'Background of the Study." Research background should also include a brief discussion of major theories and models related to the research problem.
Specifically, when writing research background you can discuss major theories and models related to your research problem in a chronological order to outline historical developments in the research area.  When writing research background, you also need to demonstrate how your research relates to what has been done so far in the research area.
Research background is written after the literature review. Therefore, literature review has to be the first and the longest stage in the research process, even before the formulation of research aims and objectives, right after the selection of the research area. Once the research area is selected, the literature review is commenced in order to identify gaps in the research area.
Research aims and objectives need to be closely associated with the elimination of this gap in the literature. The main difference between background of the study and literature review is that the former only provides general information about what has been done so far in the research area, whereas the latter elaborates and critically reviews previous works.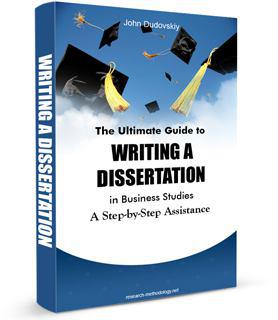 My e-book, The Ultimate Guide to Writing a Dissertation in Business Studies: a step by step assistance offers practical assistance to complete a dissertation with minimum or no stress. The e-book covers all stages of writing a dissertation starting from the selection to the research area to submitting the completed version of the work within the deadline.
John Dudovskiy