It is important for you to be able to explain the importance of the research you are conducting by providing valid arguments.
Rationale for the study needs to be specific and ideally, it can relate to the following points:
Firstly, the research needs to contribute to the elimination of a gap in the literature. Elimination of gap in the present literature is one of the compulsory requirements for your study. In other words, you don't need to 're-invent the wheel' in a way that your research aims and objectives need to be totally new, or at least they have to offer fresh perspectives on traditional management and business issues.
For example, while thousands of studies have been previously conducted to study various aspects of leadership, this topic as far from being exhausted as a research area. Specifically, new studies can be conducted in the area of leadership to analyze the impacts of innovative communication mediums such as Twitter, and other social networking sites on leadership practices. Alternatively, the impacts of the global economic and financial crisis of 2007-2010 on leadership can be studied in an in-depth manner.The same principle is true to almost all areas in business studies i.e. gaps in the literature can be found in relation to almost all areas of business and economics.
Secondly, the research can be conducted to solve a specific problem. You have to explain the essence of the problem in a detailed manner and highlight practical benefits associated with the solution of the problem. Studies can be conducted to solve a wide range of business problems and the following are a few examples of such studies:
A study into the reasons of high employee turnover at Hanson Brick
A critical analysis of employee motivation problems at Esporta, Finchley Road in the UK
A research into effective succession planning at Microsoft
A study into major differences between private and public primary education in the USA and implications of these differences on the quality of education
However, it is important to note that it is not a compulsory condition for a dissertation   to be associated with the solution of a specific problem, and dissertations can be purely theory-based as well. Examples of such studies may include:
Born or bred: revising The Great Man theory of leadership in the 21st century
A critical analysis of the relevance of McClelland's Achievement theory in the US information technology industry
Neoliberalism as a major reason behind the emergence of the global financial and economic crisis of 2007-2009
Analysis of Lewin's Model of Change and its relevance to pharmaceutical sector of France
Thirdly, the study has to contribute to the level of professional development of the researcher. That is you. You have to explain in what ways this research contributes to the achievement of your long-term career aspirations in a detailed way.
For example, if you have selected a research topic of "A critical analysis of the relevance of McClelland's Achievement theory in the US information technology industry" you may state that you associate your career aspirations with becoming an IT executive in the US, and therefore in-depth knowledge of employee motivation in this industry is going to contribute your chances of success in your chosen career path. Therefore, you are in a better position if you have already identified your career objectives, so that during the research process you can get detailed knowledge about various aspects of your chosen industry.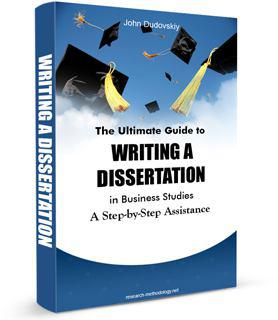 My e-book, The Ultimate Guide to Writing a Dissertation in Business Studies: a step by step assistance offers practical assistance to complete a dissertation with minimum or no stress. The e-book covers all stages of writing a dissertation starting from the selection to the research area to submitting the completed version of the work within the deadline.
John Dudovskiy