It is for sure that your research will have some limitations and it is normal. However, it is critically important for you to be striving to minimize the range of scope of limitations throughout the research process and provide the acknowledgement of limitations in Conclusions chapter in an honest manner.
Research limitations in a typical dissertation may relate to the following points:
1. Formulation of research aims and objectives. You might have formulated research aims and objectives too broadly. You can specify in which ways the formulation of research aims and objectives could be narrowed so that the level of focus of the study could be increased.
2. Choice of data collection method(s). Regardless of your choice of data collection method you can always say that integrating additional methods of data collection could have increased the scope and depth of analyses and this statement would be true.
For example, if, for a study entitled "Facebook as an effective platform for viral marketing campaign" you have employed questionnaire primary data collection method surveying users of Facebook social networking website, you can say that data collection method of focus group could also be used in addition to questionnaire to get a fuller picture about the level of effectiveness of Facebook as a viral marketing campaign platform.
3. Implementation of data collection method. Because you do not have an extensive experience in primary data collection there is a great chance that the nature of implementation of data collection method.
4. Scope of discussions. You can include this point as a research limitation regardless of the choice of the research area. Because (most likely) you don't have many years of experience of conducing researches and producing academic papers of such a large size individually, the scope and depth of discussions in your paper is compromised in many levels compared to the works of experienced scholars.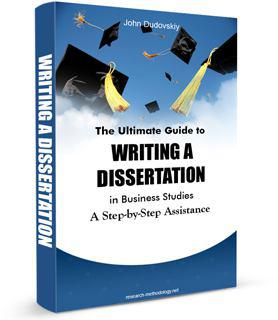 My e-book, The Ultimate Guide to Writing a Dissertation in Business Studies: a step by step assistance offers practical assistance to complete a dissertation with minimum or no stress. The e-book covers all stages of writing a dissertation starting from the selection of the research area to submitting the completed version of the work before the deadline.
John Dudovskiy