Conclusive research design, as the name implies, is applied to generate findings that are practically useful in reaching conclusions or decision-making. In this type of studies research objectives and data requirements need to be clearly defined. Findings of conclusive studies usually have specific uses. Conclusive research design provides a way to verify and quantify findings of exploratory studies.
Conclusive research design usually involves the application of quantitative methods of data collection and data analysis. Moreover, conclusive studies tend to be deductive in nature and research objectives in these types of studies are achieved via testing hypotheses.
The table below illustrates the main differences between conclusive and exploratory research design:
Factor
Conclusive 
Exploratory
Objectives
To test hypothesis and relationships
To get insights and understanding

Characteristics

Information needs a clearly defined Research process is formal and structured

Large representative sample

Data analysis is quantitative

Information needs are loosely defined

Research process is unstructured and flexible

Small, non-representative sample

Primary data analysis is qualitative

Findings
Conclusive
Only tentative
Outcome
Findings used as input to decision making
Generally followed by further exploratory conclusive research
 Main differences between conclusive and exploratory research design
It has to be noted that "conclusive research is more likely to use statistical tests, advanced analytical techniques, and larger sample sizes, compared with exploratory studies. Conclusive research is more likely to use quantitative, rather than qualitative techniques"[1]. Conclusive research is helpful in providing a reliable or representative picture of the population through the application of valid research instrument.
Conclusive research design can be divided into two categories: descriptive research and causal research.
Descriptive research is used to describe some functions or characteristics of phenomenon and can be further divided into the following groups:
Case series study;
Cross-sectional study;
Longitudinal study;
Retrospective study.
Causal research, on the other hand, is used to research cause and affect relationships. Two popular research methods for causal studies are experimental and quasi-experimental studies.
My e-book, The Ultimate Guide to Writing a Dissertation in Business Studies: a step by step assistance contains discussions of theory and application of research designs. The e-book also explains all stages of the research process starting from the selection of the research area to writing personal reflection. Important elements of dissertations such as research philosophy, research approach, methods of data collection, data analysis and sampling are explained in this e-book in simple words.
John Dudovskiy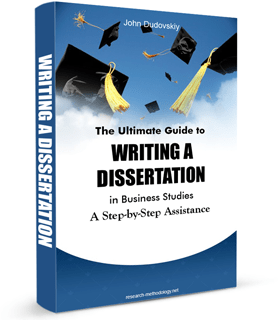 [1] Nargundkar, R. (2008) "Marketing Research: Text and Cases", Tata McGraw-Hill Educational, p.39