Research philosophy is a vast topic and here we will not be discussing this topic in great details. In business and economics dissertations at Bachelor's level, you are not expected to discuss research philosophy in a great level of depth, and about one page in methodology chapter devoted to research philosophy usually suffices. For a business dissertation at Master's level you may need to provide more discussion of the philosophy of your study, but even there, about two pages of discussions has to be accepted as sufficient by your supervisor.
The research philosophy will reflect the author's important assumptions and these assumptions are base for the research strategy. Generally, research philosophy has many branches related to a wide range of disciplines. Within the scope of business studies in particular there are two main contrasting research philosophies – positivism and phenomenology.
The following table best illustrates the differences between these two approaches:
 
Positivist Paradigm
Phenomenology  paradigm
Basic notions
The world is perceived as external and objective

Independency of the observer

Value-free approach to science

The world is perceived to be socially constructed and subjective

Observer is considered a part of the object of observation

Human interests drives science

Responsibilities of researcher
Focusing on facts

Causalities and fundamental laws are searched

Phenomenon are reduced to the simplest elements

Hypotheses formulation and testing them

To be focusing on meanings

Aiming to understand the meaning of events

Exploring the totality of each individual case

Ideas are developed by induction from data

Most suitable research methods
Concepts have to be operationalized
Using several methods in order to different aspects of phenomena
 
Samples have to be large
Small samples are analyzed in a greater depth or over longer period of time
Main differences between positivism and phenomenology
Source: Easterby-Smith et al. (2008)
The choice between positivism and phenomenology approaches depend on the research area, and the stance of the researcher in relation to the study. However, the majority of business studies can be classified as positivist because the researcher intends to be objective by being separate from the research and facts serve as the main points of focus.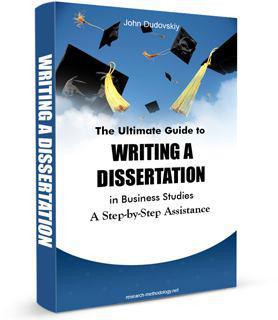 My e-book, The Ultimate Guide to Writing a Dissertation in Business Studies: a step by step assistance offers practical assistance to complete a dissertation with minimum or no stress. The e-book covers all stages of writing a dissertation starting from the selection to the research area to submitting the completed version of the work within the deadline.
John Dudovskiy