Acquisition of Germanwings by Lufthansa German Airlines: Motives, Strategic and Organisational Fit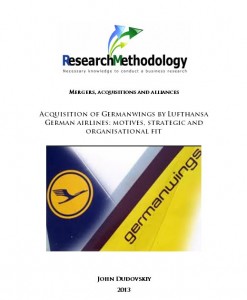 Published: November 2013
3302 Words
20 Pages
Mergers, acquisitions and formation of alliances are commonplace in global airline industry and they are fuelled by the search of competitive advantages in order to achieve long-term growth. However, the implementation of mergers, acquisitions and formation of strategic alliances in practice can be associated with a set of complex challenges that might include differences in organisational culture, clash of personalities within top level management, lack or absence of strategic fit between the two companies and others.
Lufthansa Group is a global airline company that employs more than 120,000 workforces that have contributed to generate 713 million EURO through serving 100.6 million passengers during the year of 2011 alone (Annual Report, 2011).
Germanwings is a budget airline company that employs 1355 members of staff and served 7.52 million customers in 2011 offering flights to more than 90 destinations with 33 Airbus A 319 airplanes (Facts and Figures, 2013, online). Germanwings is wholly owned by Lufthansa since 2009.
This report investigates a range of business issues related to the acquisition of the budget airline Germanwings by Lufthansa German Airlines in 2009. The report starts with analysis of motives for choosing acquisition method among other alternatives by Lufthansa. This is followed by discussions of strategic and organisational fit between Lufthansa and Germanwings.
Moreover, this report addresses potential gains and risks faced by Lufthansa due to the acquisition of Germanwings. The report is concluded with assessing outcomes relative to expectations in relation to this specific airline acquisition.
1. Introduction 1
2. The Motives for Choosing Acquisition Method by Lufthansa 2
2.1 Short Time Required to Complete the Acquisition 2
2.2 Willingness to Increase the Market Share 3
2.3 Overcoming Entry Barrier in Budget Airline Sector 4
2.4 Easiness of Integration 4
3. The Strategic and Organisational Fit between Lufthansa and Germanwings 5
4. The Potential Gains by Lufthansa 8
4.1 Increasing Market Share in Global Airline Industry 8
4.2 Spreading Risks by Business Diversification 8
4.3 Taking Advantage of Synergies 9
5. Potential Risks Faced by Lufthansa 10
5.1 Financial Implications 10
5.2 Compromising Lufthansa Core Competitive Advantages 11
5.3 Negative Impact of Differences in Organisational Culture 12
6. The outcomes relative to expectations 13
7. Conclusions 14
References 19
Appendices 21
Appendix A: Financial Print Out (Quarter 12) 21
Appendix B: Merger/Acquisition Options 22
Illustration of Figures
Figure 1 Development of Lufthansa revenue in EURO millions. 3
Figure 2 Components of strategic, organisational and culture fit between two firms 6
Figure 3 Porter's Generic Strategies (1985) 11
Lufthansa Group
Germanwings
EasyJet
Ryanair
Virgin Atlantic Airlines
Alcatel-Lucent
How do I receive the report?
Once payment is made you will receive a link to you e-mail you have registered with on Pay Pal or the e-email you have entered when specifying bank details to download the report. The report is downloaded in PDF format. The link will stay active for 7 days.

How can I use the report to complete my academic assignment/research?
Reports and essays offered by research-methodology.net are professionally written samples in their respective areas. Reports and essays are intended to be used as guides and sources of secondary data for reference purposes.

I did not receive the link/I can not download the report?
If you have any difficulties with downloading reports you have purchased please e-mail us the details of your purchase. We will send the report to you as an e-mail attachment.

Published: November 2013
3302 Words
20 Pages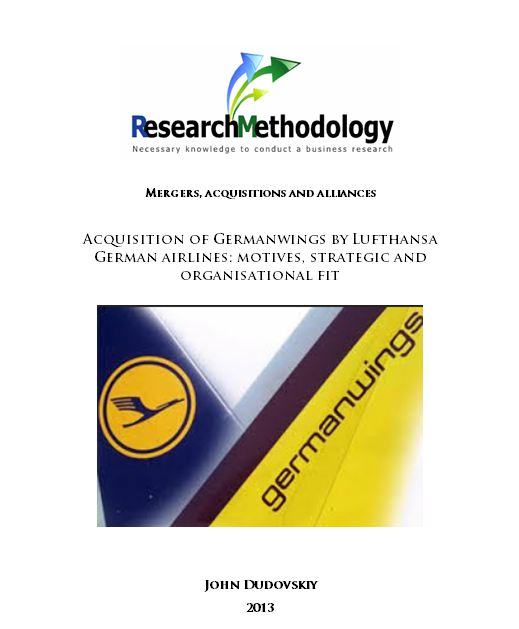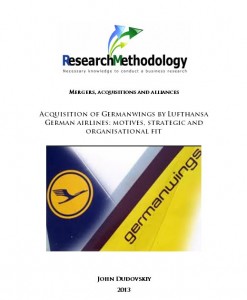 [paiddownloads id="3″ return_url="https://research-methodology.net/thank-you/"]