Bank of England Monetary Policy: A Critical Analysis
Published: December 2013
3910 Words
20 Pages
This paper represents a policy paper that contains a critical analysis of Bank of England monetary policy. The paper starts with reflecting upon the main principles of Monetary Policy Committee (MPC) practices. This is followed by discussions about the role of The Bank of England policies in maintaining macroeconomic stability in UK with the particular focus on MPC impact on the level of inflation, prices of assets, the level of exchange rate and unemployment rate.
Moreover, the paper reflects upon a range of inefficiencies associated with MPC monetary policy practices and it also provides recommendations in terms of improving Bank of England monetary policy practices.
The Bank of England was founded in 1694, it was nationalised in 1946, and gained its independence in 1997. The Bank is "committed to promoting and maintaining monetary and financial stability as its contribution to a healthy economy" (About the Bank, online, 2013)
The Bank of England has two major purposes: monetary stability and financial stability. The Bank "acts as the government's bank, regulates the money stock growth rate and the availability of credit, and serves as a banker's bank for commercial banks, making loans and holding deposits" (Allen, 2009, p.29).
Monetary Policy Committee (MPC) of The Bank of England deals with issues related to the monetary policy in UK. The members of MPC are appointed by The UK HM Treasury that also sets the inflation target. Monetary policy is best defined as "the actions of a central bank, currency board or other regulatory committee that determine the size and rate of growth of the money supply, which in turn affects interest rates" (Investopedia, 2013).
Four main characteristics of monetary policy have been specified as goals, instruments, discretion, and intermediate targets (LaBonte and Makinen, 2006). Instruments are policy options available to central banks to control money supply. The main instrument for MPC is setting the interest rate for The Bank of England.
The main goal for The Bank of England monetary policy is to maintain 2% Inflation Target. Intermediate target for monetary policy, on the other hand, can be specified as strategy for achieving the main goal. Specifically, The Bank of England monetary policy has an intermediate target of maintaining a repo rate of 4.75% (Singh, 2007).
Unlike The European Central Bank and The US Federal Reserve that follow discretionary policies, The Bank of England is committed to a fixed rule according to which inflation has to be kept at a defined fixed rate (Nolan, 2008).
1. Introduction 1
2. Main Principles of MPC Practices 2
3. Role of Bank of England Policies in Maintaining Macroeconomic Stability in UK 3
3.1 Impact on the Level of Inflation 4
3.2 Impact on the Prices of Assets 6
3.3 Impact on Exchange Rate 6
3.4 Impact on the Level of Employment 7
4. Inefficiencies Associated with MPC Monetary Policy Practices 7
4.1 Ineffectively addressing the Global Economic Crisis of 2008-2010 8
4.2 Lack of Objectivity in MPC Performance Analysis and Gap in Accountability 10
4.3 Inefficiencies in Dealing with High Levels of Inflation 11
4.4 Small Size of MPC 11
5. Potentials for Improving Bank of England Monetary Policy 12
5.1 Establishing a Parliamentary Committee to oversee The Bank of England 12
5.2 Enlarging the Range of Policy Tools for the Bank of England 13
5.3 Enlarging the Size of MPC and Introducing Structural Changes 14
6. Conclusions 16
References 18
Bibliography 20
Bank of England
US Federal Reserve

How do I receive the report?
Once payment is made you will receive a link to you e-mail you have registered with on Pay Pal or the e-email you have entered when specifying bank details to download the report. The report is downloaded in PDF format. The link will stay active for 7 days.

How can I use the report to complete my academic assignment/research?
Reports and essays offered by research-methodology.net are professionally written samples in their respective areas. Reports and essays are intended to be used as guides and sources of secondary data for reference purposes.

I did not receive the link/I can not download the report?
If you have any difficulties with downloading reports you have purchased please e-mail us the details of your purchase. We will send the report to you as an e-mail attachment.

Published: December 2013
3910 Words
20 Pages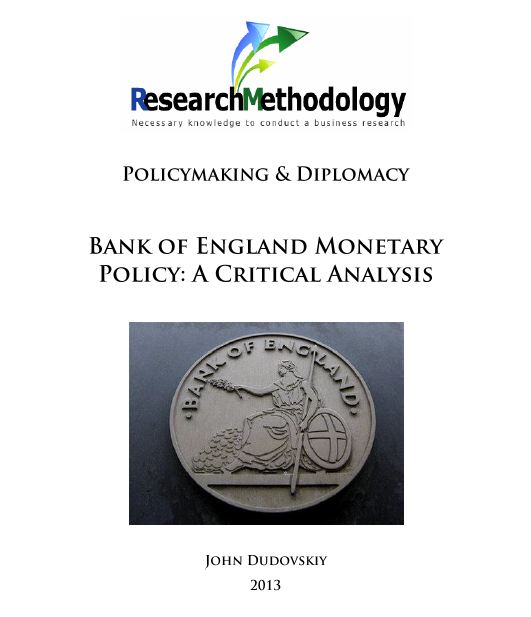 [paiddownloads id="7″ return_url="https://research-methodology.net/thank-you/"]