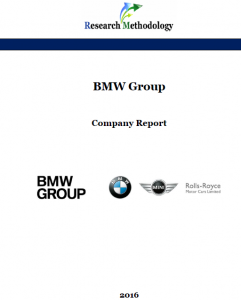 Published: April 2016
9057 Words
40 Pages
Bayerische Motoren Werke Aktiengesellschaft (BMW AG) is the parent company of the BMW Group, a global automobile manufacturer and seller based in Munich Germany. Originally founded as Bayerische Flugzeugwerke AG (BFW) in 1916 the company has emerged as one of the leading brands in the global market of luxury cars.
BMW Group owns famous BMW, MINI and Rolls-Royce Motor Car Limited brands. In 2015 the company sold its products to more than 2.2 million people in more than 150 countries, an increase of 6.1 per cent compared to the previous year. BMW Group generated more than 93 billion EUR revenues in 2015, a significant increase of 14.6 per cent compared to the previous year. BMW net profit in 2015 increased by 10 per cent to around 6.4 billion EUR. The company employs 122,244 people globally and it has a hierarchical organizational structure. BMW Group operations are divided into four business segments: automotive, motorcycles, financial services and other entities. The company has 30 manufacturing sites in 14 countries and robotic technology plays an instrumental role in BMW manufacturing process.
BMW Group pursues product differentiation business strategy and differentiates its vehicles on the basis of design, performance and advanced features and functionalities. Moreover, high level of integration of information technology and internet, as well as, electromobility represent solid grounds of BMW Group competitive advantage. At the same time, BMW Group has certain weaknesses that include a lack of portfolio diversification with only three brands, a high level of vulnerability to economic crises due to the premium pricing strategy and the lack of strategic partnerships with other businesses within and outside of automobile industry.
BMW Group Report contains the application of the major analytical strategic frameworks in business studies such as SWOT, PESTEL, Porter's Five Forces, Value Chain analysis and McKinsey 7S Model on BMW Group. Moreover, the report contains analyses of BMW Group's business strategy, leadership and organizational structure and its marketing strategy. The report also discusses the issues of corporate social responsibility.
1. Introduction
2. Business Strategy
3. Leadership and Organizational Structure
4. SWOT Analysis
4.1 Strengths
4.2 Weaknesses
4.3 Opportunities
4.4 Threats
5. PESTEL Analysis
5.1 Political Factors
5.2 Economic Factors
5.3 Social Factors
5.4 Technological Factors
5.5 Environmental Factors
5.6 Legal Factors
6. Marketing Strategy
6.1 7Ps of Marketing
6.2 Segmentation, Targeting & Positioning
6.3 Marketing Communication Mix
6.3.1 Advertising
6.3.2 Sales Promotion
6.3.3 Events & Experiences
6.3.4 Public Relations
6.3.5 Direct Marketing
6.3.6 Personal Selling
7. Porter's Five Forces Analysis
8. Value-Chain Analysis
8.1 Primary Activities
8.2 Support Activities
9. McKinsey 7S Framework
10. Corporate Social Responsibility (CSR)
10.1 CSR Programs and Initiatives
10.2 CSR Criticism
11. Recommendations
List of Figures
Figure 1 BMW AG Supervisory Board Committee
Figure 2 BMW Group compliance system
Figure 3 Automobile brand values in billion USD
Figure 4 Growth of financial services segment
Figure 5 Changes EUR:USD currency exchange rate
Figure 6 BMW Group advertising spending
Figure 7 BMW Group key automobile markets
Figure 8 Porter's Five Forces
Figure 9 Global luxury car market in 2015
Figure 10 Value chain analysis
Figure 11 Regional mix of BMW purchase volumes
Figure 12 BMW Group vehicles distribution mechanism
Figure 13 McKinsey 7S Framework
Figure 14 BMW sustainability throughout the product life cycle
List of Tables
Table 1 BMW SWOT analysis
Table 2 BMW segmentation, targeting and positioning
Table 3 BMW CSR performance
Audi
Ford Motor Corporation
Honda
Jaguar Land Rover
Lexus
Mercedes Benz
Nissan
Porsche
Toyota Motor Corporation
Volkswagen
Volvo
Why this report is so cheap?
1. Reports offered in this portal are produced by a small group of academic writers headed by John Dudovski.
2. Our reports are shorter compared to reports produced by large research companies. Company reports are produced to assist with academic works of business students in particular. Therefore, all points that do not relate to academic needs of business students are left out.
3. We do not have huge fixed expenses large research companies do, thus, we are able to deliver reports for a little cost.
How do I receive the report?
After completing the payment you will receive a link to the e-mail related to your Pay Pal account or the e-email you entered when specifying bank details. You can download the report via this link. The report is downloaded in PDF format. The link will stay active for 7 days.
How can I use the report to complete my academic assignment/research?
Reports offered by research-methodology.net are professionally written samples in their respective areas. Reports are intended to be used as guides and sources of secondary data for reference purposes.
I did not receive the link/I can not download the report?
If you have any difficulties with downloading reports you have purchased please e-mail us the details of your purchase. We will send the report to you as an e-mail attachment shortly.
Published: April 2016
9057 Words
40 Pages