Alphabet Inc. (Google) Report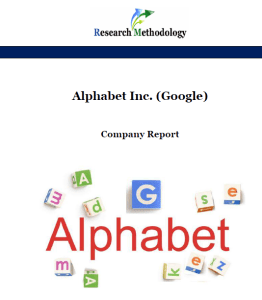 Published: June 2017
11729 Words
44 Pages
Founded by Stanford University students Larry Page and Sergey Brin in 1998, Google dominates almost all of its markets and the company is well-known for its culture of creativity and innovative approach to develop new products and services. Google offers a wide range of interrelated internet-based products and services that are aimed at satisfying personal and professional needs in terms of communication, recreation, organization and increasing the level of performance and effectiveness.
Google Inc. was restructured in 2015 to become Alphabet Inc. "Google's search product became a wholly owned subsidiary of a new parent company, Alphabet, with other Google projects and teams spun out into separate "Alphabet companies," each with its own CEO."(Price and Nudelman, 2016, online). Alphabet Inc. is a holding company with no business operations of its own. Google is the largest business within Alphabet Inc. product portfolio. The company's product portfolio also comprises Access, Calico, CapitalG, GV, Nest, Verily, Waymo, and X. The company classifies it's all non-Google businesses as Other Bets.
In fiscal year 2016, Alphabet Inc. generated revenues of USD90.3 billion and revenue growth of 20% year over year, with constant currency revenue growth of 24% year over year. Google segment generated revenues of USD89.5 billion, with revenue growth of 20% year over year. Other Bets revenues of USD0.8 billion with revenue growth of 82% year over year. Revenues from the United States, the United Kingdom, and Rest of the world were USD42.8 billion, USD7.8 billion, and USD39.7 billion, respectively (Annual Report,2016). The company has more than 72,000 full-time employees worldwide.
Google core business strategy is business diversification and introduction of new products and services in a regular manner. Google business strategy is also based on the development of a closed eco-system to motivate customers to use greater range of products and services. Customers usually enter this ecosystem through using Chrome browser, watching YouTube videos or using Gmail. In note time, they are prompted to use additional services such as Drive, Play, Calendar, Blogger and others. Alphabet Inc., Google's parent company also uses acquisitions business strategy extensively and more than 200 companies and 30 acquisitions were made in 2015 and 2016 alone.
Alphabet Inc. (Google) Report contains the application of the major analytical strategic frameworks in business studies such as SWOT, PESTEL, Porter's Five Forces, Value Chain analysis and McKinsey 7S Model on Alphabet Inc. (Google). Moreover, the report contains analyses of Alphabet Inc. (Google)'s business strategy, leadership and organizational structure and its marketing strategy. The report also discusses the issues of corporate social responsibility.
1. Executive Summary
2. Business Strategy
3. Leadership
4. Organizational Structure
5. Organizational Culture
6. SWOT Analysis
6.1 Strengths
6.2 Weaknesses
6.3 Opportunities
4.4 Threats
7. PESTEL Analysis
7.1 Political Factors
7.2 Economic Factors
7.3 Social Factors
7.4 Technological Factors
7.5 Environmental Factors
7.6 Legal Factors
8. Marketing Strategy
8.1 7Ps of Marketing
8.2 Segmentation, Targeting & Positioning
8.3 Marketing Communication Mix
8.3.1 Advertising
8.3.2 Sales Promotion
8.3.3 Events & Experiences
8.3.4 Public Relations
8.3.5 Direct Marketing
8.3.6 Personal Selling
9. Porter's Five Forces Analysis
10. Value-Chain Analysis
10.1 Primary Activities
10.1.1 Inbound Logistics
10.1.2 Operations
10.1.3 Outbound Logistics
10.1.4 Marketing and Sales
10.1.5 Service
10.2 Support Activities
10.2.1 Infrastructure
10.2.2 Human Resource Management
10.2.3 Technology Development
10.2.4 Procurement
11. McKinsey 7S Framework
12. Corporate Social Responsibility (CSR)
12.1 CSR Programs and Initiatives
12.2 CSR Criticism
13. Recommendations
List of Figures
Figure 1 Alphabet Inc. organizational structure
Figure 2 Global market share distribution in desktop search segment as of April 2017
Figure 3 Google revenues before and during the global economic crisis
Figure 4 Annual Alphabet Inc. (Google) marketing spending
Figure 5 Revenues by print media in the US and Google (worldwide)
Figure 6 Android 4.4 Promotion with KitKat
Figure 7 Google Porter's Five Forces
Figure 8 Global desktop market share of leading search engines
Figure 9 Google value chain analysis
Figure 10 Inside the first Google store in London
Figure 11 Google McKinsey 7S model
Figure 12 Overhead energy use as percentage of IT energy in Google data centres
List of Tables
Table 1 Leaders of companies belonging to Alphabet Inc.
Table 2 Alphabet (Google) SWOT analysis
Table 3 Companies in Alphabet portfolio and products and services offered by them
Table 4 Alphabet (Google) segmentation, targeting and positioning
Access
Amazon
AOL
Baidu
Calico
CapitalG
Facebook Corporation
Genentech
Google
GV
Hulu
Jawbone
LinkedIn
Microsoft Corporation
Naver
Nest
Netflix
Verily
Viacom
Uber
Waymo
X
Xiaomi
Yahoo!
Yandex
Why this report is so cheap?
1. Reports offered in this portal are produced by a small group of academic writers headed by John Dudovski.
2. Our reports are shorter compared to reports produced by large research companies. Company reports are produced to assist with academic works of business students in particular. Therefore, all points that do not relate to academic needs of business students are left out.
3. We do not have huge fixed expenses large research companies do, thus, we are able to deliver reports for a little cost.
How do I receive the report?
After completing the payment you will receive a link to the e-mail related to your Pay Pal account or the e-email you entered when specifying bank details. You can download the report via this link. The report is downloaded in PDF format. The link will stay active for 7 days.
How can I use the report to complete my academic assignment/research?
Reports offered by research-methodology.net are professionally written samples in their respective areas. Reports are intended to be used as guides and sources of secondary data for reference purposes.
How to reference this report?
You can reference this report in the following manners:
Harvard Referencing System
Dudovskiy, J. (2017) Alphabet Inc. (Google) Report, UK: Research Methodology, Available from: https://research-methodology.net/google-report/
APA Referencing System
Dudovskiy, J. (2017). Alphabet Inc. (Google) Report, Retrieved from https://research-methodology.net/google-report/
Vancouver Referencing System
Dudovskiy J., Alphabet Inc. (Google) Report. UK: Research Methodology, 2017, [cited 'the date you used the report'] Available from: https://research-methodology.net/google-report/
I did not receive the link/I can not download the report?
If you have any difficulties with downloading reports you have purchased please e-mail us the details of your purchase. We will send the report to you as an e-mail attachment shortly.
Published: June 2017
11729 Words
44 Pages