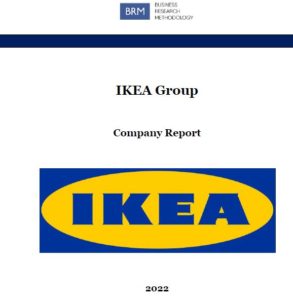 Published: August 2022
14443 Words
56 Pages
IKEA Group owned by Stichting INGKA Foundation is the largest furniture and home appliances manufacturer and retailer in the world. Founded almost eight decades ago in Småland, southern Sweden by Ingvar Kamprad, today IKEA Group has 11 franchisees operating in more than 500 locations in 63 countries (Annual Report, FY21).
By the end of FY21 IKEA employed 225000 people worldwide, an increase of 8000 people compared to the previous year. The world's largest furniture retailer offers nearly 12000 products and develops approximately 2000 new products each year. In FY21 the company generated total operated income of EUR 25.6 billion, an increase of 8.5% compared to the previous year. Net profit for the year amounted to EUR 1.4 billion (Annual Report, FY21).
IKEA's vision is "to create a better everyday life for the many people" and the company follows an extreme cost leadership business strategy along with new product development strategy to realize this vision. International market expansion strategy also represents an important element of IKEA business strategy. Leadership style exercised to manage the home improvement and furnishing chain can be branded as leading by example, as set by the late founder of the business Ingvar Kamprad. Furthermore, the company has integrated the principles of frugality and intangible employee motivation into its leadership practices.
The Swedish furniture chain has devised a unique and complicated organizational structure designed to pay minimum taxes. IKEA possesses a number of noteworthy strengths such as market leadership, ownership and efficient application of democratic design concept and solid financial position of the business. At the same time, the global furniture retailer has serious weaknesses as well. These include weak presence in Asia, difficulty to sustain the competitive advantage and the lack of flexibility of the business due to its large size.
IKEA Group Report contains the application of the major analytical strategic frameworks in business studies such as SWOT, PESTEL, Porter's Five Forces, Value Chain analysis, Ansoff Matrix and McKinsey 7S Model on IKEA. Moreover, the report contains analyses of IKEA's business strategy, leadership and organizational structure and ecosystem. The report also analysis marketing strategy, ecosystem and discusses the issues of corporate social responsibility.
1. Executive Summary
2. Business Strategy
3. Leadership
4. Organisational Structure
5. Organizational Culture
6. IKEA and Ansoff Matrix
7. SWOT Analysis
7.1 Strengths
7.2 Weaknesses
7.3 Opportunities
7.4 Threats
8. PESTEL Analysis
8.1 Political Factors
8.2 Economic Factors
8.3 Social Factors
8.4 Technological Factors
8.5 Environmental Factors
8.6 Legal Factors
9. Marketing Strategy
9.1 7Ps of Marketing
9.2 Segmentation, Targeting & Positioning
9.3 Marketing Communication Mix
9.3.1 Print and Media Advertising
9.3.2 Sales Promotions
9.3.3 Events & Experiences
9.3.4 Public Relations
9.3.5 Direct Marketing
9.3.6 Personal Selling
10. Porter's Five Forces Analysis
10.1 Threat of new entrants
10.2 Bargaining power of buyers
10.3 Bargaining power of suppliers
10.4 Threat of substitute products or services
10.5 Rivalry among existing firms
11. IKEA Value-Chain Analysis
11.1 Primary Activities
11.1.1 Inbound logistics
11.1.2 Operations
11.1.3 Outbound logistics
11.1.4 Marketing and Sales
11.1.5 Service
11.2 Support Activities
11.2.1 Infrastructure.
11.2.2 Human Resource Management
11.2.3 Technology Development
11.2.4 Procurement
12. McKinsey 7S Model
12.1 Hard Elements
12.2 Soft Elements
13. IKEA Ecosystem
14. Corporate Social Responsibility
14.1 CSR Programs and Initiatives
14.2 CSR Criticism
List of Figures
Figure 1 IKEA organizational structure
Figure 2 Overview of the IKEA franchise system
Figure 3 IKEA Ansoff Growth Matrix
Figure 4 IKEA sales per region in FY21
Figure 5 Annual Lobbying by IKEA
Figure 6 Changes in lumber prices in United States (USD per thousand board feet)
Figure 7 Porter's Five Forces
Figure 8 Numbers of visits to IKEA website (in millions)
Figure 9 Value chain analysis
Figure 10 IKEA procurement strategy
Figure 11 McKinsey 7S model
Figure 12 Water usage across IKEA value chain
List of Tables
Table 1 IKEA employee gender diversity in FY21
Table 2 IKEA SWOT Analysis
Table 3 IKEA segmentation, targeting and positioning
Alibaba
Amazon
Ashley Furniture
Argos
Burger King
EBay
Ernst & Young
Google
LEGO
Mango
Nestle
One Green Bean
Rooms to Go
Sainsbury's
Target
Tesco
Wall Mart
Why the price of this report is so low?
1. Reports offered in this portal are produced by a small team led by academic writer John Dudovski.
2. Our reports are shorter compared to reports produced by large research companies. Company reports are produced to assist with academic works of business students in particular. Therefore, all points that do not relate to academic needs of business students are left out.
3. We do not have huge fixed expenses large research companies do, thus, we are able to deliver reports for a little cost.
How do I receive the report?
After completing the payment you will receive a link to the e-mail related to your Pay Pal account or the e-email you entered when specifying bank details. You can download the report via this link. The report is downloaded in PDF format. The link will stay active for 7 days.
How can I use the report to complete my academic assignment/research?
Reports offered by research-methodology.net are professionally written samples in their respective areas. Reports are intended to be used as guides and sources of secondary data for reference purposes.
How do I use 50% discount for my next purchase
When you buy a report or e-book, along with your purchase details you will receive a Coupon Code. For your next purchase simply use this code when proceeding to checkout and you will receive 50% discount.
How to reference this report?
You can reference this report in the following manners:
Harvard Referencing System
Dudovskiy, J. (2022) IKEA Group Report 2022., UK: Research Methodology, Available from: https://research-methodology.net/ikea-group-report-4/
APA Referencing System
Dudovskiy, J. (2022) IKEA Group Report 2022, Retrieved from https://research-methodology.net/ikea-group-report-4/
Vancouver Referencing System
Dudovskiy J. IKEA Group Report 2022. UK: Research Methodology, 2022, [cited 'the date you used the report'] Available from: https://research-methodology.net/ikea-group-report-4/
I did not receive the link/I can not download the report?
If you have any difficulties with downloading reports you have purchased please e-mail us the details of your purchase. We will send the report to you as an e-mail attachment shortly.
Published: August 2022
14443 Words
56 Pages