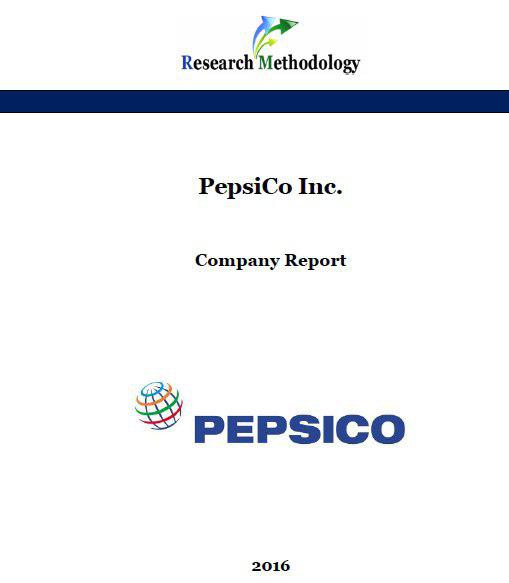 Published: May 2016
9084 Words
37 Pages
PepsiCo Inc. is a US-based global food, snack and beverage company that was incorporated in Delaware in 1919 and reincorporated in North Carolina in 1986. Today, PepsiCo brand portfolio includes a range of globally famous brand names such as Pepsi, Lays, Lipton, Doritos, Tropicana, Walkers, Miranda, Cheetos and others. In total, PepsiCo portfolio comprises 22 brands and each of these brands have generated at least one billion USD in retail sales in 2015. Products belonging to PepsiCo portfolio are consumed about one billion times each day in more than 200 countries and territories (Annual Report, 2015).
PepsiCo's mission statement is formulated as "to provide consumers around the world with delicious, affordable, convenient and complementary foods and beverages from wholesome breakfasts to healthy and fun daytime snacks and beverages to evening treats"
The company employs 263,000 people globally, including approximately 110,000 people within the United States. In 2015, PepsiCo achieved 5 per cent organic revenue growth with a cash flow of more than USD 8.1 billion. About 53 per cent of net revenues were generated from food business, whereas net revenues generated from the beverage businesses amounted to 47 per cent (Annual Report, 2015).
PepsiCo has major impact in the US economy. The company has been acknowledged as the Number One contributor to retail sales growth in the U.S. in 2015, generating more growth than the next 15 largest food and beverage manufacturers combined.
PepsiCo Report contains the application of the major analytical strategic frameworks in business studies such as SWOT, PESTEL, Porter's Five Forces, Value Chain analysis and McKinsey 7S Model on PepsiCo. Moreover, the report contains analyses of PepsiCo's business strategy, leadership and organizational structure and its marketing strategy. The report also discusses the issues of corporate social responsibility.
1. Introduction
2. Business Strategy
3. Leadership and Organizational Structure
4. SWOT Analysis
4.1 Strengths
4.2 Weaknesses
4.3 Opportunities
4.4 Threats
5. PESTEL Analysis
5.1 Political Factors
5.2 Economic Factors
5.3 Social Factors
5.4 Technological Factors
5.5 Environmental Factors
5.6 Legal Factors
6. Marketing Strategy
6.1 7Ps of Marketing
6.2 Segmentation, Targeting & Positioning
6.3 Marketing Communication Mix
6.3.1 Advertising
6.3.2 Sales Promotion
6.3.3 Events & Experiences
6.3.4 Public Relations
6.3.5 Direct Marketing
6.3.6 Personal Selling
7. Porter's Five Forces Analysis
8. Value-Chain Analysis
8.1 Primary Activities
8.2 Support Activities
9. McKinsey 7S Framework
10. Corporate Social Responsibility (CSR)
10.1 CSR Programs and Initiatives
10.2 CSR Criticism
11. Recommendations
List of Figures
Figure 1 Revenue distribution in international markets
Figure 2 PepsiCo's annual lobbying budget
Figure 3 PepsiCo's advertising budget
Figure 4 Porter's Five Forces
Figure 5 Market share of carbonated beverages worldwide as of 2015
Figure 6 Value chain analysis
Figure 7 Net revenue distribution along operational segments
Figure 8 McKinsey 7S Framework
Figure 9 The decline of millions of liters of soda sold in the US
List of Tables
Table 1 PepsiCo SWOT analysis
Table 2 PepsiCo segmentation, targeting and positioning
Table 3 PepsiCo CSR performance
Almarai
DPSG
Kellogg Company
Lebedyansky
Mediacorp Canada Inc
Mondelez International Inc
Monster Beverage Corporation
Nestlé S.A
Omnicom
Red Bull GmbH
Snyder's-Lance, Inc
Starbucks Coffee
The Coca Cola Company
The Kraft Heinz Company
Wimm-Bill-Dann
Why this report is so cheap?
1. Reports offered in this portal are produced by a small group of academic writers headed by John Dudovski.
2. Our reports are shorter compared to reports produced by large research companies. Company reports are produced to assist with academic works of business students in particular. Therefore, all points that do not relate to academic needs of business students are left out.
3. We do not have huge fixed expenses large research companies do, thus, we are able to deliver reports for a little cost.
How do I receive the report?
After completing the payment you will receive a link to the e-mail related to your Pay Pal account or the e-email you entered when specifying bank details. You can download the report via this link. The report is downloaded in PDF format. The link will stay active for 7 days.
How can I use the report to complete my academic assignment/research?
Reports offered by research-methodology.net are professionally written samples in their respective areas. Reports are intended to be used as guides and sources of secondary data for reference purposes.
I did not receive the link/I can not download the report?
If you have any difficulties with downloading reports you have purchased please e-mail us the details of your purchase. We will send the report to you as an e-mail attachment shortly.
Published: May 2016
9084 Words
37 Pages