SWOT is an acronym for strengths, weaknesses, opportunities and threats related to organizations. The following table illustrates Microsoft SWOT analysis:
Strengths

Leadership in desktop operating systems
Efficiency in cloud business
Solid financial position
Diversified portfolio

Weaknesses

Lack of innovativeness
Occasional technical issues with Windows updates
Dependence on hardware manufacturers
Weak position of Internet Explorer browser application

Opportunities

Engagement in mergers and acquisitions
Developing innovative products and services
Focusing on smartphone segment
Developing mobile advertising

Threats

Exchange rate risks
Emergence of new competitors
Anti-monopoly and other lawsuits
Economic crisis
Microsoft SWOT Analysis
Strengths
1. As illustrated in Figure below, Microsoft's Windows desktop operating systems has a majority of market share in desktop operating systems segment. Such a leadership position has been gained via high level of brand loyalty with positive implications on company revenues.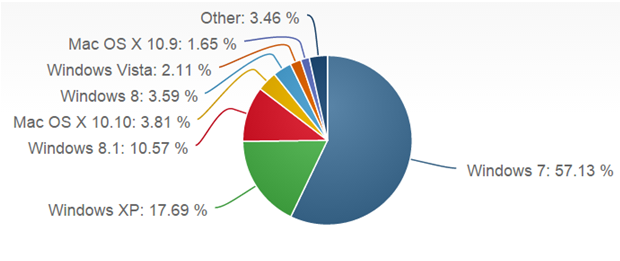 Desktop Operating System Market Share[1]
2. Microsoft offers a wide range of cloud-based computing services that include Bing, Microsoft Azure, Microsoft Dynamics CRM Online, Microsoft Office 365, OneDrive, Skype, Xbox Live, and Yammer. Moreover, public announcement of plans by Satya Nadella that Microsoft will be earning $20 billion per year from cloud business by 2018 is a clear illustration of further commitment of the company to further increase its presence in highly profitable cloud business.3. Microsoft revenues for 2014 exceeded $86 billion, an increase of 12% compared to the previous year, demonstrating growth across consumer and commercial businesses.
[2]
Thanks to its solid position in terms of finance, the company is more protected to external shocks and crises compared to many of its competitors. Moreover, Microsoft is able to enhance its funding of research and development to more innovative products and services to its current portfolio.
4. Unlike the portfolio of some of its direct competitors such as Apple and Samsung, Microsoft's portfolio of products and services is vast comprising operating systems for computing devices, servers, phones, and other intelligent devices; server applications for distributed computing environments; productivity applications; business solution applications; desktop and server management tools; software development tools; video games; and online advertising. Additionally, Microsoft designs and sells hardware including PCs, tablets, gaming and entertainment consoles, phones, other intelligent devices, and related accessories. Such a diversified portfolio protects and company against downturns in any specific product or service segment.
Weaknesses
1. Microsoft has lagged behind of its major competitors such as Apple and Samsung in terms of introducing innovative products and services and adding innovative features and capabilities to its current portfolio of products and services. While competitors have been busy to introduce innovative products such as Apple Watch and Samsung SMART TV, Microsoft has not launched an innovative product or services during the past several years.2. There are number of occasions where Windows updates caused technical disadvantages to users with negative implications to their brand image. The most notable case is the Windows 7 update of KB 3004394 in December 2014 that automatically blocked the installation or update of graphics drivers such as AMD's new Catalyst Omega and caused difficulties in installing GeForce drivers and a set of other drivers and software.
[3]
Such a user inconveniences may damage brand loyalty….
Detailed discussion of Microsoft SWOT analysis and application of PESTEL, Porter's Five Forces and Value-Chain Analyses on Microsoft  can be accessed via purchasing 
Microsoft Corporation  Report
. The report also comprises analysis of Microsoft's marketing strategy and company's approach towards Corporate Social Responsibility (CSR).
---
[3] Evangelho (2014) Forbes, Available at: http://www.forbes.com/sites/jasonevangelho/2014/12/13/new-windows-7-patch-is-effectively-malware-disables-graphics-driver-updates-and-windows-defender/