BMW's 7Ps of marketing consists of product, place, price, promotion, process, people and physical evidence elements of the marketing mix.
Product. BMW Group is engaged in development, manufacturing and the sale of engines as well as all vehicles equipped with those engines. BMW Group owns and sells its vehicles under the following three brands:
BMW
MINI
Rolls Royce
The company pursues product differentiation business strategy and maintains 13 research and development centres in five countries[1]. Vehicles produced under BMW Group brands belong to the premium segment and accordingly, they have highly efficient and reliable with advanced set of features and capabilities. BMW leads the automobile industry in electromobility and the brand is also famous for achieving a high level of integration of internet and digitalization in its vehicles.
Place. BMW Group has about 6,000 dealerships and sales representatives in 150 countries globally.[2] The worldwide distribution network currently consists of around 3,310 BMW, 1,550 MINI and 140 Rolls-Royce dealerships[3] In China alone, around 60 BMW dealerships were opened in 2015[4]. The dealership and agency network for BMWi comprises about 950 locations. As it is illustrated in figure below, China, USA and Germany represent the largest automobile markets for BMW Group and accordingly, these countries accommodate the largest numbers of dealership offices and representatives.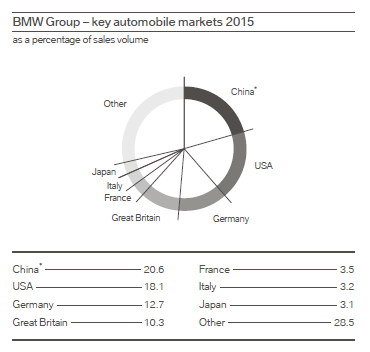 BMW Group key automobile markets (Annual Report, 2015)
Price. BMW pricing strategy can be described as premium. High level of reliability of BMW Group vehicles and advanced set of features and capabilities integrated into the vehicles come for expensive prices. For example, as of April 2016, BMWi3 electric car costs more than USD 45,000 and customers have to pay more than USD 100,000 for BMW X6 model[5].
Additionally, BMW uses product line pricing strategy charging different prices for different models of its products. Geographical pricing represents another important aspect of BMW Group pricing strategy since prices offered in certain locations reflect transportation costs, customs tariffs and other costs…
BMW Group Report contains a detailed discussion of BMW 7Ps of marketing along with a detailed analysis of BMW Group's marketing strategy. The report also illustrates the application of the major analytical strategic frameworks in business studies such as SWOT, PESTEL, Porter's Five Forces, Value Chain analysis and McKinsey 7S Model on BMW Group. Moreover, the report contains analysis of BMW Group's leadership and organizational structure and discusses the issues of corporate social responsibility.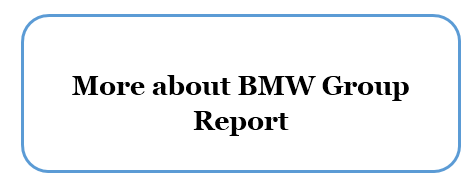 [1] Annual Report (2015) BMW Group
[2] Annual Report (2015) BMW Group
[3] Annual Report (2015) BMW Group
[4] Annual Report (2015) BMW Group
[5] TrueCar.com (2016)
---
---