SWOT analysis can be described as "a technique for focusing an individual's or group's attention on strengths, weaknesses, opportunities and threats. It is useful particularly because strengths and weaknesses can be the cause of potential future risks – both opportunities and/or threats" (Murray-Webster, 2010, p.88). The following table illustrates BMW SWOT analysis:
Strengths

1.      Strong brand image

2.      Highly automated driving experience and advanced features and capabilities

3.      Strong performance of Financial Services Segment

4.      Strong CSR performance

5.      Reliability of vehicle

Weaknesses

1.              High level of vulnerability to the future economic crises due to premium pricing strategy

2.              Lack of strategic partnerships compared to the competition

3.              Weak BMW brand portfolio with only    three brands: BMW, MINI, and Rolls Royce

4.              Lack of operational cost efficiency

5.              Damage to the brand image due to air bag issue

Opportunities

1.              Increasing revenues through more emphasis on electromobility

2.              Formation of strategic alliances with other automobile companies

3.              Launch of BMW 9 Series generation

4.              Increasing presence in Chinese market

5.              Engaging in product diversification

Threats

1.              Further increases on the prices of raw materials

2.              Emergence of new competition from emerging economies

3.              Negative impacts from exchange rate fluctuations

4.              Damage  to the brand image due to malfunctions

5.              Loss of talent and key personnel to competitors
Strengths
1. BMW is a highly reputable brand with strong brand image with is associated with efficiency and prestige. As it is illustrated in Figure 1 below, BMW is the second most valuable brand in automobile industry after Toyota with an estimated brand value of USD 6.35 billion. High brand value is a considerable strength for any business as it is a convincing indicator of a high level of consumer loyalty.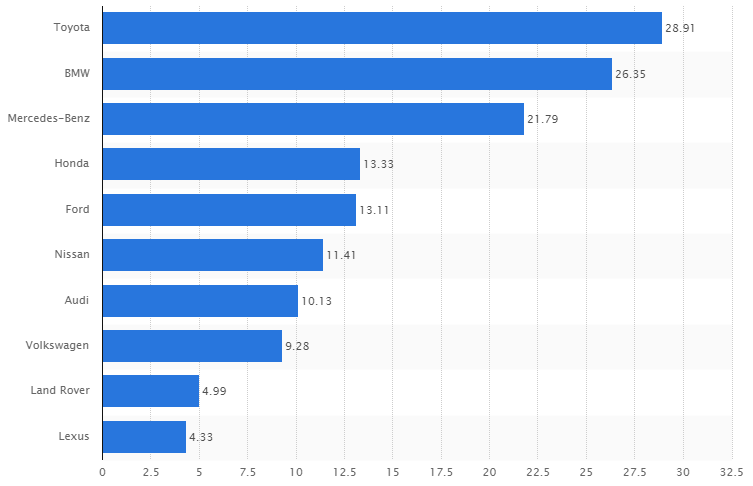 Figure 1 Automobile brand values in billion USD[1]
2. BMW offers a highly automated driving experience and its vehicles are packed with advanced features and capabilities. With BMW ConnectedDrive, the BMW Group has been in a leading position when it comes to driver assistance systems for the past two decades[2]. BMW i3 as presented at the 2015 Consumer Electronics Show (CES) in Las Vegas, is able to avoid obstacles and park itself[3]. Moreover, apart from its well-known functions, such as the intelligent emergency call, the Concierge Call or the real-time traffic information feature, Connected Drive also comprises new highlights such as a Wi-Fi hotspot in the new BMW 7 Series.
3. BMW Financial Services Segment makes solid contribution to the group revenues with over 1.65 million new contracts with customers and a profit before tax of EUR 1.98 billion[4]. As it is illustrated in Figure 2 below, the contract portfolio in financial services segment has been consistently increasing during the last five years and this tendency has positive implications on the bottom line and the group's long-term growth perspectives. This is because Financial Services Segment offers flexibility to customers in terms of payment resulting in increase in the overall volume of sales.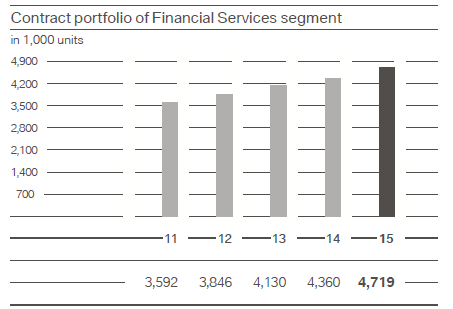 Figure 2 Growth of financial services segment
4. Strong corporate social responsibility (CSR) performance is one of the major strengths possessed by BMW Group. BMW vehicles are rightly perceived to have the least negative environmental impact. The company gained the first place in automobile industry in Dow Jones Sustainability Indexes (DJSI) in 2015 and it has been also listed on FTSE4Good an index of the British index family on sustainability and corporate governance provided by FTSE in London[5]. BMW Group systematically commits to substantial financial investments to further improve its CSR performance.
5. Vehicles belonging to BMW Group portfolio are known for their high quality and reliability. Although the quality and advanced functions and capabilities of vehicles come at a price, BMW Group target customer segment represent wealthy individuals and households who prioritize quality over the price.
Weaknesses
1. BMW adheres to premium pricing strategy and this fact makes the future performance of the brand vulnerable to economic crises such as global economic and financial crisis of 2008-2010.  In other words, such events usually cause decline in the levels of consumer spending, and have de-motivational impact on consumers in terms of purchasing premium products, such as products offered by BMW brand.
2. A considerable weakness associated with BMW relates to the lack of strategic partnerships with other organisations within and outside of automobile industry. BMW Group does not explore the opportunities of achieving cost reduction and increasing the efficiency of research and development initiatives via cooperating with other parties in a mutually beneficial manner…
BMW Group Report contains the full discussion of BMW SWOT analysis. The report also illustrates the application of the major analytical strategic frameworks in business studies such as PESTEL, Porter's Five Forces, Value Chain analysis and McKinsey 7S Model on BMW Group. Moreover, the report contains analysis of BMW Group's marketing strategy, its leadership and organizational structure and discusses the issues of corporate social responsibility.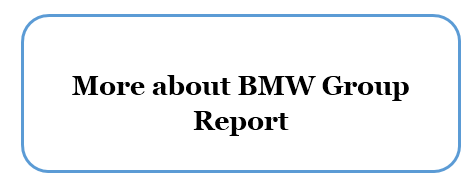 [1] Statista (2016) Available at: http://www.statista.com/statistics/267830/brand-values-of-the-top-10-most-valuable-car-brands/
[2] Annual Report (2015) BMW Group
[3] Annual Report (2015) BMW Group
[4] Annual Report (2015) BMW Group
[5] Sustainable Value Report (2015) BMW Group
---
---