Critical Path Analysis: a comprehensive explanation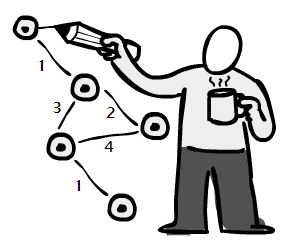 A critical path can be explained as "a series of tasks which, if delayed, would affect the completion date of the overall project" (Shelly and Rosenblatt, 2011, p.113).
Critical path analysis is the path through the network with the greatest total duration. A project can have more than one critical path, if several paths tie for the greatest duration (Denvir, 2010).
Network or critical path analysis is a technique used to help plan, run and monitor projects. This technique can be applied to any type of project. And a network consists of activities and events.
The network shows the sequence of jobs that determine the shortest time to complete the project. It highlights the critical path or critical activities. These are the critical jobs or tasks in the project where any delay results in the whole project being delayed. In other words, these critical activities have no flexibility; they must start and finish on time in order for the project to be completed on time.
A Simple Example
Let's suppose that a UK-based restaurant is aiming to enter Chinese market
The following table illustrates activities that need to be undertaken in order to enter Chinese market.
| | | |
| --- | --- | --- |
| Activities | Duration | Dependency |
| A)  Dealing with legal issues | 3 weeks | – |
| B)  Renting buildings | 4 weeks | A |
| C)  Design of restaurants | 4 weeks | A, B |
| D)  Employee recruitment and selection | 5 weeks | – |
| E)  Setting up supply-chain management | 6 weeks | A |
| F)  Marketing initiatives | 5 weeks | C |
| G) Training of employees | 2 weeks | C, D |
| H) Opening the restaurant | 1 week | C,E, G |
The application of critical path analysis to these activities leads to the construction of the following figure:

Critical path for the completion of the project would be the longest path in terms of time duration. Accordingly, as it can be seen in Figure 4 the critical path for restaurant and café in the UK to enter Chinese market consists of 17 weeks in total (A+B+C+F=17).
Advantages of the Critical Path Analysis Method
There many advantages of using the critical path method during project planning and execution. The critical path method:
Makes dependencies visible between the project activities being undertaken; this is done by constructing project network diagrams or precedence diagrams
Helps to organize large and complex projects, hence allowing a more systematic approach to project planning and scheduling, project execution, and risk management which are core elements of project management
Enables  the Project Manager to reduce the project duration by optimizing the critical path and using compression techniques where appropriate
Encourages the Project Manager to optimize efficiency by allocating resources appropriately, which eventually helps to reduce the overall costs.
Disadvantages of Critical Path Analysis Method
There are not plenty of disadvantages to Critical Path Method and here are some:
For large and complicated projects, there are usually thousands of activities and dependency relationships. Without software it can be really difficult to manage this.
If the plan changes during project execution then the precedence diagram will have to be redrawn which puts extra workload on management and project team.
Project team members are always aware of the critical path since it is visible on a daily basis. However, for large and complex projects with thousands of activities, it may be impossible to print the project network diagram.
An Advanced Example
And the critical path analysis goes through the following activities:
Project Start
Select and Order Gas Fire
Delivery of Gas Fire and Fireplace
Install Gas Fire and Fireplace
Commission Gas Fire
Select and Order Wallpaper
Delivery of Wallpaper
Remove Furniture & Lamps to Storage
Strip Wallpaper from Walls
Remove Dado Rail and Re Plaster
Paint Ceilings, Windows and Doors
Apply 30 rolls of Wallpaper
Select and Order Carpet
Delivery of Carpet
Remove Existing Carpet
Install New Carpet
Select and Order New Furniture
Delivery of New Furniture
Install New Furniture
Install Existing Lamps & Mirrors
Project Complete
These activities must be done in sequence there seems to be no other way to shorten these times. And these critical paths are made of four groups of activities which are the activities related to fire, wallpaper, carpet and the new furniture.
To identify the Critical Path and conduct Critical Path Analysis, we need to:
Define the duration of each activity.
Identify all the paths.
Calculate the duration of each path.
Identify the longest path.
The overall time to be taken to complete the entire project using early start early finish is the following:
Path 1: select and order gas fire + delivery of gas fire and fireplace + install gas fire and fireplace+ commission gas fire=1+15+1+1=18 days
Path 2: select and order wallpaper + Remove Furniture & Lamps to Storage + delivery of wallpaper + Strip wallpaper off the walls + Remove Dado Rail and Re Plaster + Paint Ceilings, Windows and Doors  + Apply 30 wallpapers=-1+15+2+5+3+4+7=37 days
Path 3: Select and order carpet +Delivery of carpet+ Remove Existing Carpet + Install New Carpet=5+30+1+1=37 days
Path 4: Select and Order New Furniture + Delivery of New Furniture + Install New Furniture + Install Existing Lamps & Mirrors=5+30+1+1=37 days
The longest path is the critical path in this example. From the above calculations, we can see that Path 2, 3 and 4 are all critical paths. Therefore, if activities on these paths are delayed, then the project will be delayed. After identifying the critical path, we can deduce the activities that when delayed will not impact the project.
However, as long as not all activities are independent to each other, the multiple projects can be undertaken at the same time, these total days will be hugely reduced in order to be able to complete the project on time.
The following activities can be done on the first day of the project to win some time until they are supplied:                                            duration
Selecting and ordering: Gas Fire                    1
Wall Paper                 1
Carpet                       5
New Furniture           5
Total: 12 days can be saved by ordering all preliminary ordering activities before the previous path is completed.
And in case of the following disruptions to the activities, the overall project gets affected as some of them are interrelated to each other.
Gas Fire commissioning is delayed by 15 days.
In case of Gas Fire commissioning delayed by 15 days does not actually affect the overall project as another path of activities can be started rather than waiting for another 15 days.
Applying 30 rolls of Wallpaper now takes 3 days longer than planned.
The overall effect of Wallpaper delays the project by 3 days.
Delivery of Furniture is delayed by 2 days
This also affects the project, however, properly arranging the project stages can help to save some time rather than waiting and wasting the delayed days.
| | | | | | | |
| --- | --- | --- | --- | --- | --- | --- |
| ID | Activity | Duration | Start date | Finish Date | | |
| 1 | Project Start | | | | | |
| 2 | Select and Order Gas Fire | 1 | 7/7/2010 | 8/7/2010 | | |
| 3 | Delivery of Gas Fire and Fireplace | 15 | 8/7/2010 | 23/7/2010 | | |
| 4 | Install Gas Fire and Fireplace | 1 | 23/7/2010 | 24/7/2010 | | |
| 5 | Commission Gas Fire | 1 | 24/7/2010 | 25/7/2010 | | |
| 6 | Select and Order Wallpaper | 1 | 25/7/2010 | 26/7/2010 | | |
| 7 | Delivery of Wallpaper | 15 | 26/7/2010 | 10/8/2010 | | |
| 8 | Remove Furniture & Lamps to Storage | 2 | 10/8/2010 | 12/8/2010 | | |
| 9 | Strip Wallpaper from Walls | 5 | 12/8/2010 | 17/8/2010 | | |
| 10 | Remove Dado Rail and Re Plaster | 3 | 17/8/2010 | 20/8/2010 | | |
| 11 | Paint Ceilings, Windows and Doors | 4 | 20/8/2010 | 24/8/2010 | | |
| 12 | Apply 30 rolls of Wallpaper | 7 | 24/8/2010 | 31/8/2010 | | |
| 13 | Select and Order Carpet | 5 | 31/8/2010 | 05/9/2010 | | |
| 14 | Delivery of Carpet | 30 | 05/9/2010 | 05/10/2010 | | |
| 15 | Remove Existing Carpet | 1 | 05/10/2010 | 06/10/2010 | | |
| 16 | Install New Carpet | 1 | 06/10/2010 | 07/10/2010 | | |
| 17 | Select and Order New Furniture | 5 | 07/10/2010 | 12/10/2010 | | |
| 18 | Delivery of New Furniture | 30 | 12/10/2010 | 11/11/2010 | | |
| 19 | Install New Furniture | 1 | 11/11/2010 | 12/11/2010 | | |
| 20 | Install Existing Lamps & Mirrors | 1 | 12/11/2010 | 13/11/2010 | | |
| 21 | Project Complete | 0 | 13/11/2010 | 13/11/2010 | | |
---
---