Facebook Inc. Organizational Structure: Hybrid of Hierarchical and Divisional Organizational Structures
Facebook Inc. organizational structure can be described as hybrid and combines certain elements of hierarchical and divisional organizational structures. On one hand, with more than 12600 employees worldwide, Facebook Inc. maintains a hierarchical organizational structure integrating multiple levels of commands from CEO Mark Zuckerberg to ordinary programmers and designers.
On the other hand, there are product-based divisions and global teams that focus specific products such as Facebook, Instagram, Messenger, WhatsApp and Oculus. Product-based teams also engage in the development and improvement of a wide range of services offered by the company. For example, services such as Profile, Newsfeed, Messenger, Groups and Events offered within Facebook social networking site is the result of work done by product-based divisions.
Figure 1 below illustrates Facebook Inc. organizational structure
In 2016 it has been found that the company was planning "to restructure its shares to give Mark Zuckerberg ultimate control even as the social network's founder plans to sell most of his stake in the company"[1]. Earlier that year, Mark Zuckerberg had announced his pledge to donate 99 per cent of his fortune to charitable efforts including combating various diseases and climate change via selling his Facebook stocks. Accordingly, the new share structure to be introduced by Facebook Inc. is intended to ensure that Mr. Zuckerberg retains his 60 per cent voting power even after he departs with 99 per cent of his Facebook shares. A similar initiative had been introduced in Facebook's main rival company, Google, where founders Larry Page and Sergey Brin were able to retain control of the company through introducing stock restructuring…
Facebook Inc. Report comprises a comprehensive analysis of Facebook. The report illustrates the application of the major analytical strategic frameworks in business studies such as SWOT, PESTEL, Porter's Five Forces, Value Chain analysis and McKinsey 7S Model on Facebook Inc. Moreover, the report contains analyses of Facebook's marketing strategy and discusses the issues of corporate social responsibility.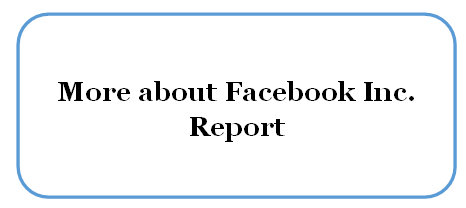 [1] Titcomb, J. (2016) "Mark Zuckerberg tightens control over Facebook's future by restructuring shares" The Telegraph, Available at: http://www.telegraph.co.uk/technology/2016/04/27/mark-zuckerberg-tightens-control-over-facebooks-future/
---
---