Facebook SWOT Analysis: Market Leadership as a Major Strength
SWOT is an acronym for strengths, weaknesses, opportunities and threats related to business organizations. The following table illustrates Facebook SWOT analysis
Strengths

1.      Market leadership in the global scale

2.      Effective leadership by Mark Zuckerberg

3.      Efficient capitalization on mobile advertising

4.      Evolving role as a news source

Weaknesses

1.      Dependence of revenues only on advertising

2.      Challenges to sustain the revenue growth rate

3.      Dependence of the business on a few key personnel

4.      Difficulty to sustain competitive advantage

Opportunities

1.      Diversification of revenue sources

2.      Investments in data protection and user privacy protection

3.      Entering Chinese market via negotiations with the government

4.      Formation of strategic alliances

Threats

1.      Cyber attacks, phishing and threats to online security

2.      Facebook may not be able to successfully integrate new business it acquires

3.      Increasing popularity and sophistication of ad-block extensions

4.      The threat of being banned in developing countries
 Facebook SWOT analysis
Strengths
1. Facebook is an undisputed market leader in the global scale in online social networking segment. Facebook has more than 1.13 billion daily active users and 1.03 billion mobile daily active users and about 84.5 per cent of daily active users are outside the US and Canada.[1] As it is illustrated in Figure 2 below, the numbers of active users of the social networking sites has been consistently increasing during the past three years to reach more than 1.59 billion by the end of 2015. The current market leadership of the company is a considerable strength from multiple points of view.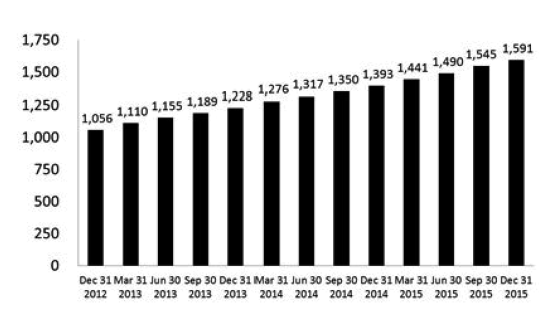 Facebook monthly active users (in millions)[2]
2. Despite his much younger age compared to many other CEOs, Mark Zuckerberg is a proven and effective business leader who exercises visionary leadership style in an efficient manner. Mr. Zuckerberg has been able to exercises exceptional decisiveness and beat pessimistic views about Facebook in multiple occasions. For example, the purchase of Instagram for a massive USD 1 billion initiated by Mr. Zuckerberg in 2012 was seen by many analysts and investors as unjustifiably risky at the time. However, less than four years later Instagram was valued at USD 35 billion and Facebook stock nearly tripled[3], as a proof of Zuckerberg's business acumen and decisive leadership. This is one of the major strengths associated with Facebook.
3. Efficient capitalization on mobile advertising taking into account the growing shift from PCs and laptops into mobile devices is a strength that is set to benefit Facebook for long-term perspective. During the second quarter of 2016 the company's sales amounted to USD 6.44 billion, an increase of 59 per cent compared to same period of the last year. Importantly, mobile advertisement constituted approximately 84 per cent of the above revenue. Moreover, the company has identified video as the next popular medium for users to express themselves in social networking sites and it is exploring the ways of increasing the efficiency of monetization on videos.
4. Facebook is becoming a source of news for increasing numbers of users in the global scale. According to findings of a study by Reuters Institute for the Study of Journalism, that involved 26 countries, people are increasingly heading to social media such asFacebookfor news, making it more difficult for publishers to attract and make money from readers. Moreover, the same study found that "Facebook is by far the dominant social media news source with 44% of those surveyed using it to find, read, watch, share or comment on news each week."[4] Increasing popularity of Facebook as the main source of news among the population has immense positive implications on its long-term growth prospects.
Weaknesses
1. Advertising remains to be almost the only source of Facebook revenues. Specifically, For 2015, 2014, and 2013, advertising accounted for 95%, 92% and 89%, respectively, of the company's revenues.[5] Such an extensive dependence on advertising makes the business vulnerable to changes in advertising practices and trends, reduction of marketing budget of companies and others. The absence of its own products, physical or digital as a source of revenues is one of Facebook's major weaknesses.
2. Difficulties in sustaining impressive growth rate of our revenue is another noteworthy weakness associated with Facebook. The revenue growth rate declined from 58% from 2013 to 2014 and to 44% from 2014 to 2015[6] and it is not difficult to see why. As discussed above, advertising is almost the only source of the company's revenues and advertising in text, banners and other formats can be integrated into the site only to a certain extent. Therefore, it can be argued that despite the growing numbers of its users, unless Facebook diversifies the sources of its revenues, the decline of revenue growth rate is expected to persist in the future…
Facebook Inc. Report contains the full discussion of Facebook SWOT analysis. The report also illustrates the application of the major analytical strategic frameworks in business studies such as PESTEL, Porter's Five Forces, Value Chain analysis and McKinsey 7S Model on Facebook Inc. Moreover, the report contains analysis of Facebook's marketing strategy, its leadership and organizational structure and discusses the issues of corporate social responsibility.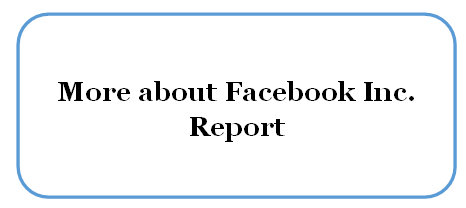 [1] Stats (2016) Facebook Inc. Available at: http://newsroom.fb.com/company-info/
[2] Annual Report (2015) Facebook Inc.
[3] Rader, D. (2016) "How Facebook Turned a Big Risk into a Very Big Success" Catalant, Available at: http://blog.gocatalant.com/how-facebook-turned-a-big-risk-into-a-very-big-success/
[4] Sweney, M. (2016) "Facebook's rise as news source hits publishers' revenues" The Guardian, Available at: https://www.theguardian.com/media/2016/jun/15/facebooks-news-publishers-reuters-institute-for-the-study-of-journalism
[5] Annual Report (2015) Facebook Inc.
[6] Annual Report (2015) Facebook Inc.
---
---