Impact of communication technology on businesses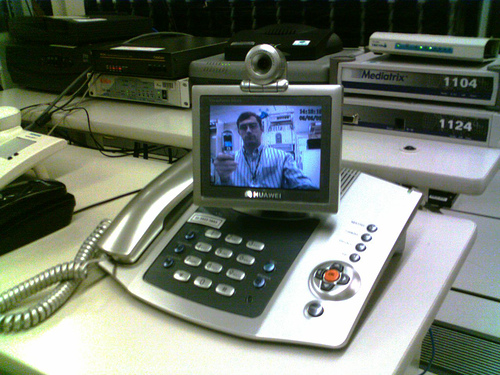 Communication has been defined as "the transmission of information and meaning from one individual or group to another" (Guffey and Almonte, 2010, p.6). The definition of communication technology has been proposed as "electronic systems used for communication between individuals or groups" (QFinance, 2011, online). The main purpose of communication technology is to facilitate effective communication between individuals or group that are physically distant from each other.
The success of a business entity largely depends on the level of communication with the various stakeholders of the business, the choice of tools selected to conduct the communication, the content of the message being communicated, as well as, the manner in which the communication is conducted.
It has been stressed that "managers spend about 80 percent of their time – 6 hours and 24 minutes if every eight-hour day – in direct communication with others, whether on the phone, in meetings, via e-mal, or in individual conversations" (Boone and Kurtz, 2010, p.296). Moreover, business managers rely on a wide range of communication technologies in order to perform their duties. The traditional communication means and technologies for businesses has mainly included telephone, television, newspapers and magazines.
However, the rapid technological developments during the least several decades has also concerned communications technology, and this has resulted in the evolution of new forms of communication technologies enabled by the advent of internet such as e-mails, video-conferencing, communicating through social networking websites etc.
The extent at which businesses successfully integrate new forms of communication technology within their practices directly affects their long-term growth prospects, with businesses that adopt new forms of communication technology with grater level of enthusiasm being better positioned to achieve long-term growth.
The uses of communication technology by business
Nowadays, communication technology in its various forms is being used by businesses for a wide range of purposes. These purposes include maintaining effective level of communication among the workforce, sending marketing communication messages to current and potential customers, measuring the level of customer satisfaction, making sales, engaging in team building initiatives, increasing the level of employee morale etc.
One of the most significant impacts communication technologies had on business relates to the creation of new sales channels. The traditional sales channels for businesses were limited to conducting sales on the store and over the phone. However, with the advent of internet, today businesses have the possibility of selling their products and services online, and therefore offering their products and services in the global marketplace (Fleisher and Bensoussan, 2007).
The implementation of online sales through company website in UK is not limited to large businesses such as Marks & Spencer, Next, Virgin, British Airways etc. but also increasing numbers of local businesses of a much smaller size are successfully adopting this new sales channel, therefore significantly increasing the levels of their revenues. As Pozzi (2009) mentions, the main advantages of buying online for customers include saving time, the possibility to compare the various attributes of products offered by various companies, and getting their products delivered to their home.
Moreover, the current high level of development of information technology allows customers to purchase products directly from their mobile phones. UK leading supermarkets such as Tesco, Sainsbury's, ASDA, and Morrison's have fully explored this new sales channel by developing sales mobile applications for IPhone and Android platform, and this tendency is being followed by many other UK retailers in various sectors as well.
Communication technology has greatly impacted the customer relationship aspect of UK businesses as well. This has resulted in e-mail being adopted as one of the most effective tools in terms of customer relationship management. E-mail can be specified as the 'oldest' among new forms of business communication. It has been mentioned that "the popularity of e-mail is largely due to its speed and ease of use. It is much easier to use than writing a letter and putting it in the regular mail" (Brounstein et al, 2010, p.144).
The extent of use of this communication method differs among large UK companies. NatWest, one of the largest UK banking corporations has adopted e-mail as an integral component of customer relationship management. Specifically, unlike some other banks in UK, NatWest customers receive automatic e-mail notifications about any changes related to their online banking, as well as, online notifications of correspondence sent to their online banking.
Another impact of information technology on UK business practices relates to identifying the level of customer satisfaction through obtaining customer feedback. Specifically, the majority of large companies in UK employ various forms of information technology in order to obtain customer feedback that can be used to improve the quality of products and services.
For instance, Hilton Group Hotels offer their customers to complete an online survey about their experience with Hilton, thus, establishing the level of customer satisfaction, and identifying potentials for improvement.
More effective approach is adopted by HSBC that utilises customer mobile phones in terms of obtaining feedback for their customer services. Namely, once customers deal with HSBC customer services on the phone, they receive a set of text messages asking to rate the various aspects of the service customers have just received. In this way, HSBC is able to maintain the high level of customer services, and to detect customer service issues timely and specifically if they occur.
Moreover, the dramatic development of communication technology has enabled new forms of working patterns to evolve, that includes working from home and other locations. Working from home is made possible by internet, e-mailing, Skype, instant messaging and other related technologies. This practice is exercised by one of the largest UK business consultancy companies PricewaterhouseCoopers and is being adopted by other businesses in a range of industries as well. The main advantages of working from home have been mentioned by Bohlander and Snell (2009) as significant cost saving for both, company and employees, increased level of performance, as well as achieving better work-life balance.
It has to be stressed that while the option of working from home is not available for all types of businesses, nevertheless the above stated advantages of this form of employment are motivating its adoption by many businesses in UK.
The use of video conferencing by businesses enabled by communication technologies deserves to be mentioned separately due to the significant advantages this communication method offers. Specifically, the main advantages of video conferencing include cost saving associated with travelling, accommodation and food and more effective level of data presentation because all the needed materials can be made ready at hand prior to video conferencing (Kautonen and Karjaluto, 2008).
Developments in communication technology have greatly impacted the marketing strategies of UK businesses as well. The major point of this impact is the evolution of viral marketing through various social networking websites. Viral marketing can be defined as "a marketing technique that seeks to exploit pre-existing social networks to produce exponential increases in brand awareness, through viral processes similar to the spread of an epidemic" (Hollensen, 2009, p.388). Social networking sites, on the other hand, can be explained as "web-based meeting place for friends, family, co-workers, and peers that allow users to create a profile and connect with users for the purposes that range from getting acquainted to keeping in touch, to building a work-related network" (Pride and Ferrel, 2011, p.284).
Major businesses in UK actively engage in viral marketing with varying levels of efficiency. Facebook has been acknowledged to be the most popular social networking website on the internet with more than 800 million active users and more than 50% of active users logging on the site in any given day (Facebook Statistics, 2011, online)
London-based global telecommunications company, Vodafone is one of the most successful users of viral marketing through Facebook website. For instance, the company has initiated a viral campaign called Facebook vs. Hamilton in 2010. The campaign has involved famous Formula 1 racer Lewis Hamilton racing against a virtual race car that was run by 28,800 Facebook members (Chowney, 2010, online).
Moreover, most of the large UK businesses along many industries including Tesco, BP, Barclays, British American Tobacco etc. maintain their own dedicated Facebook pages. Perspective and current customers of these businesses can 'Like' the company page on Facebook to receive any status updates by the business that would usually contain marketing messages and important announcements about various aspects of the business.
Twitter is another social networking site that businesses use in order to connect to their customers. The distinctive trait of Twitter from most of the other social networking sites relates to the sizes of status updates which is limited to 140 characters. One of the main players in UK supermarket industry Marks and Spencer relies on Twitter to send messages to its followers and the messages contain marketing information about products on sales, as well as, special offers.
Furthermore, the impact of communication technology also relates to the global team-building initiatives of businesses, as well as, to the level of their operational efficiency. Ernst & Young, one of the largest consultancies and a member of the "Big Four" is the most suitable business to illustrate this point. The company employs 152,000 people in 695 offices in 140 countries (Facts and Figures, 2011, online).
Due to the nature of Ernst & Young business practices the company assists with a wide range of business issues of many other companies. Therefore, Ernst & Young would need a specific range of skills and competencies in order to deal each specific case. This situation requires an effective utilisation of communication technology by Ernst & Young employees in order to form teams to deal with cases and the members of teams may be based in different countries.
In other words, in order to run its operations smoothly it is necessary for Ernst & Young to apply the skills and competencies of its employees that are based in different countries, and sometimes even in different continents. This issue has been dealt with by Ernst & Young through forming cross-country teams en effective performance of which are enabled by employing a set of communication technologies such as video-conferencing, e-mails, and company-specific communication technologies.
References
Boone, LE & Kurtz, DL (2010) "Contemporary Business" John Wiley & Sons
Bohlander, G & Snell, S. (2009) "Managing Human Resource Management" Cengage Learning
Brounstein, M., Bell, A.H., Smith, D.M., Isbell, C & Orr, A. (2010) "Business Communication" John Wiley & Sons
Chowney, V. (2010) "Big Red prepares well for 'Vodafone vs Hamilton' Facebook stunt" Available at: http://reputationonline.co.uk/2010/09/06/big-red-prepares-well-for-vodafone-vs-hamilton-facebook-stunt/   Accessed December 10, 2011
Communications technology (2011) QFinance Available at: http://www.qfinance.com/dictionary/communication-technology  Accessed December 13, 2011
Dlabay, L, Burrow, J.L. & Kleindl, B. (2011) "Principles of Business" Cengage Learning
Facebook Statistics (2011) Available at: http://www.facebook.com/press/info.php?statistics  Accessed December 16, 2011
Facts and Figures. (2011) Ernst & Young, Available at: http://www.ey.com/UK/en/Newsroom/Facts-and-figures  Accessed 18 December, 2011.
Fleisher, C.S. & Bensoussan, B.E. (2007) "Business and Competitive Analysis: Effective Application of New and Classic Methods" FT Press
Guffey, M.E., Rhodes, K., Rogin, P. & Rhodes, K. (2009) "Business Communication: Process and Product" Cengage Learning
Guffey, M.E. & Almonte, R. (2010) "Essentials of Business Communication" Cengage Learning
Hollensen, S. (2009) "Essentials of Global Marketing" Pearson Education
Kautonen, T. & Karjaluto, H. (2008) "Trust and new technologies: marketing and management on the internet and new media" Edward Elgar Publishing
Murphy, D.J. & Willmott, H. (2010) "Organisation Theory and Design" Cengage Learning
Pozzi, A. (2009) "Essays in E-Commerce" Stanford University
Pride, W.M. & Ferrel, O.C. (2011) "Marketing" 2012 edition, Cengage Learning
---
---