Integrated Model for Team Effectiveness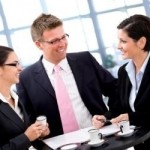 Specific features need to be present within teams in order for the team to be able to achieve its objectives efficiently. 'Integrated Model for Team Effectiveness' framework proposed by Reis and Geller (2010) can be used in order to explore this issue with sufficient level of depth. The framework specifies eight most important features of effective teams in the following manner:
Purpose. Effective teams understand, share and value team's objectives
Strategy. The ways of achieving team objectives are clear to each team member
Team roles. The existence of all needed roles such as shaper, specialist, critic has been ensured within the team
Work processes. Efficient operating procedures are put in place that effectively contribute to the achievement of team objectives
Team processes. There is a great level of respect, understanding and trust amongst team members.
Engagement. High level of team engagement is achieved through effective utilisation of motivational tools
Feedback and metrics. Objective and timely information is communicated to team members regarding the team performance and their individual performances
Stakeholders. Appropriate level of interaction between the team and key stakeholders is maintained.
It is important to note that all team members do not need to possess the same set of personal traits, skills and competencies, rather variety within the team is welcomed to an extent that it produces a balanced outcome that would allow the achievement of team objectives efficiently.
Nevertheless, there is a common set of skills and competencies to be possessed by each member of team regardless their role and function within the team. First of all, each team member needs to possess effective communication skills in order to be able to formulate their viewpoint in an appropriate manner, an adequate level of cross-cultural knowledge is also important for team members taking into account increasing forces of globalisation and increasing level of workforce diversity.
Moreover, additional skills and competencies for team members include interpersonal skills, flexibility, and time management (Armstrong, 2008).
References 
Armstrong, M. (2008) "How to Be an Even Better Manager: A Complete A-Z of Proven Techniques and Essential Skills" Kogan Page
Reis, M. & Geller, J.B. (2010) "A Manager's Guide to Human Behaviour" AMA
---
---