Marketing Mix and its Contribution to the Business Management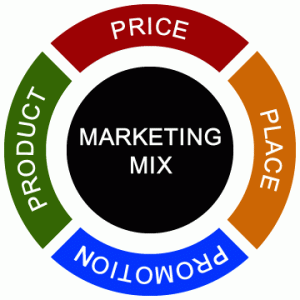 The paradigm of marketing mix can be defined as "a unique blend of product, place, promotion, and pricing strategies designed to produce mutually satisfying exchanges with a target market" (Lamb et al, 2011, p.47).
The product element of the marketing mix relates to decisions about product design, name of the brand, packaging, warranties etc. The pricing element, on the other hand, relates to decision-making about the pricing strategy and the calculation of total costs of products and services to customers.
Promotion includes, advertising, personal selling, sales promotion, public relations, and any other activities that are aimed to advertise brand and its products and services. Place element of the marketing mix mainly involves the location where products and services are sold.
Nargundkar (2008) convincingly argues that the main benefit of marketing mix paradigm relates to its assistance in selecting competitive edge for the business.
In other words, marketing mix paradigm communicates the idea that it is not possible for businesses to have competitive edge for all four aspects of the business – product, place, promotion, and price, and adopting one element of marketing mix as a source of competitive edge would mean compromising other elements.
For instance, UK clothing retailer Primark has adopted price element as the source of competitive edge for the business, and thus the brand has to compromise on some of the other elements of the marketing mix. Specifically, if Primark management decide to increase the quality of products and promotion this would result in the prices of its products to be increased, thus its current competitive advantage of low prices would be compromised.
There have been many additional Ps added by business researchers over the course of the last several decades, however as Baker and Hart (2007) inform, the most acknowledged additional Ps apart from the original four elements are physical evidence, people, process.
The Relevance of Marketing Mix in Current Business Environment
Despite the convenience the paradigm of marketing mix offers to marketers and other senior-level managers in terms of decision making, it has faced criticism from a range of business researchers and practitioners and the amount of criticism has increased with the changing market environment in the global level.
Specifically, it has to be stressed that "basic criticism has been that the 4Ps represent the seller's mind-set, not the buyer's mind-set" (Kotler, 2011, p.69). In other words, decisions marketers take regarding individual elements of the marketing mix represent their own viewpoint that do not take into account customer's perspective on these issues.
This idea is supported by the findings of the group presentation as well. Namely, the presentation has revealed successful consumer relationship management to be critical condition for surviving in the modern marketplace. The appropriateness of this statement has been illustrated using the case studies of Apple and Nikkon, where it has been identified that these companies have achieved considerable success due to their effective use of consumer data management and consumer relationship management.
However, there is no provision for customer relationship management within the paradigm of marketing mix, and this fact can be highlighted as one of the most significant shortages of the concept.
Another point of criticism of marketing mix relates to the lack of strategic content. Doyle (2008) asserts that the adoption of marketing mix paradigm as the main tool in terms of satisfying customer needs and wants present short-term approach to the important issue of sustaining long-term growth of the business.
The same issue has been discussed during the presentation with the case studies of Apple and Nikkon. Specifically, it has been identified that Apple and Nikkon customer relationship management initiatives pursue the primary objective of achieving lifetime customer loyalty through maintaining these relationships in a strategic level. Nevertheless, this important issue is overlooked within marketing mix paradigm, and thus the concept attracts criticism from some business researchers and practitioners.
Moreover, according to Lambin (2008) the marketing mix paradigm emphasises an "inside-out" approach to marketing, whereas the general marketing concept is supposed to have "outside-in" approach. Muller (2010) specifies that "inside-out" approach involves devising products and services and attempting to raise the interests of the target group to these products and services, whereas "outside-in" approach is more proactive, in a way that initially the needs of customers are studied and only then products and services are devised in order to satisfy these needs.
To put it simply marketing mix paradigm downplays the role of data about customers when making decisions related to individual ingredients. The importance of the role of data about customers is stressed by Kitchen (2010), who specifies customer data as an integral component of customer relationship management.
One of the main advantages of customer relationship management, as it has been discussed in the presentation involves learning about customer needs and desires and offering new products and services to satisfy these needs. As presentation informs, following this principle has allowed Apple and Nikon to attain leadership positions in their respective markets.
For instance Apple's consumer data management system for its iAd service that has commenced in 2010 involves data collection from its over 160 million iTunes users and AppsStore. The types of data collected include website preferences, behaviour as an internet user, application preferences, demographics etc.
Nikons consumer data collection strategy, on the other hand, involves asking relevant questions from customers when they sign up in company website with their e-mails. Regardless, of the manner in which customer information is collected, the information plays vital part in devising new products and services for customers.
Conclusion
Marketing mix has been one of the most popular concepts in marketing in the second half of the last century. By relying on this concept as the main tool in terms of satisfying customer needs and wants a wide range of companies such as Coca-Cola Company, McDonald's, Sony Electronics have been able to reach leadership positions in their industries.
However, the conditions in the marketplace have changed dramatically and irreversibly mainly during the first decade of the twenty first century due to the increasing forces of globalisation, rapid advancement in technology, increasing role of internet and other factors.
Due to these changes the level of competition along all industries has greatly intensified. As a result, markets are imposing to companies the requirements of establishing relationships with their customers in order to increase the levels of customer attraction and retention, and thus survive in current highly competitive marketplace.
At the same time, it would be inappropriate to brand the concept of marketing mix as inadequate the changing marketing environment. This is because companies still need to make decisions regarding product, price, promotion and place aspects of their products and services and they would also need to base their competitive edge in one or two of these elements. Product placement paradigm offers a theoretical tool to accomplish this task in an effective manner.
In conclusion it can be stated that marketing mix paradigm is still an adequate tool for marketing decision making, however businesses cannot afford to rely on the paradigm as an only tool in terms of satisfying customer needs and wants in the current highly dynamic marketing environment.
Instead, companies are recommended to integrate the use of marketing mix paradigm with proactive customer relationship management practices that would enable to adopt a proactive approach in terms of identifying the future needs and wants of customers and develop products and services in order to satisfy these needs.
References
Baker, MJ & Hart, S. (2007) "The Marketing Book" Butterworth-Heinemann
Kotler, P. (2011) "Marketing Insights from A to Z: 80 Concepts Every Manager Needs to Know" John Wiley & Sons
Lamb, C.W, Hair, J.F & McDaniel, C. (2011) "Essentials of Marketing" Cengage Learning
Lambin, J.J. (2008) "Changing Market Relationships in the Internet Age" Presses Universitaires de Louvain
Mueller, B. (2010) "Dynamics of International Advertising: Theoretical and Practical Perspectives" Peter Lang
Nargundkar, R. (2008) "Marketing Research: Text and Cases" Tata McGraw-Hill Educational
Doyle, P. (2008) "Value-based Marketing: Marketing Strategies for Corporate Growth and Shareholder Value" John Wiley & Sons
Kitchen, P.J. (2010) "A Reader in Marketing Communications" Taylor & Francis
---
---