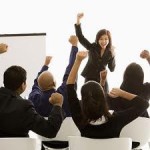 Employee motivation can be defined as "influencing others in a specific way towards goals specifically stated by the motivator, conforming within organisational constraints" (MacKay, 2007, p.21) and the level of motivation of the workforce represents one of the most critical factors affecting organisational performance. One of the main reasons for increasing importance of motivation in the workplace relates to the role of human resources becoming greater in ensuring long-term growth for the business.
Employee motivation is an essential component of a successful business practice. No matter how appealing products and services a company is providing, how efficient are company's business and marketing strategy and what size of budget does a company have to operate, low morale and lack of motivation in employees could be a major problem for companies who aim to make a profit in marketplace.
It has been argued that while each individual has a general idea of what motivation is, these ideas differ from each other. One of the most comprehensive definitions of the term motivation is offered by Business Dictionary (2012) as internal and external factors that stimulate desire and energy in individuals to be interested and committed to a position, role or subject in a continuous manner, and exhibit persistent effort in achieving a goal.
Alternatively, motivation can be defined as "a process of stimulating someone to adopt a desired course of action" (Kumar, 2008, p.12), and the level of employee motivation can be justly specified as one of the major factors contributing to overall organisational competitiveness
It has been also said that "all employees have unique needs that they seek to fulfil through their jobs. Organisations must devise a wide array of incentives to ensure that a broad spectrum of employee needs can be addressed in the work environment, thus increasing the likelihood of motivated employees" (Gitman and McDaniel, 2008, p.247)
It is much easier for small and medium size businesses to monitor the level of motivation in their employees and detect and take measures if the motivation in  workforce is low and it is causing problems. In global, multicultural companies, on the other hand, objectively assessing employee morale and level of motivation may present major challenges due to cultural and regional differences, not recognizing the problem due to lack of contact between senior level managers and floor staff and range of other factors.
Thomas (2009) associates changing nature of employee motivation with the rapid decline of bureaucracy and decrease of formal rules within organisations mainly during the last three decades. Moreover, Thomas (2009) divides motivational tools into two categories: tangible and intangible. Tangible motivational tools include physically tangible elements such as financial incentives, specific perks and company benefits, while intangible motivational tools can be formal or informal recognition of contribution thanks letters, parties etc.
Thomas (2009) convincingly argues that the choice between tangible and intangible motivational tools in any given situation depends on a range of factors such as industry, employee cultural background the level of education, etc. However, Thomas (2009) fails to illustrate the application of tangible and intangible motivational tools referring to real life business case studies, and this fact marks the main shortage of the author's text.
The idea of institutionalising specific patterns of employee motivation practices within organisations has been enthusiastically put forward by Llopis (2012). Specifically, according to Llopis (2012) rather than being perceived as one time occasions, employee motivation practices need to be implemented in a regular manner on the basis of formulation of relevant programs.
The high quality of leadership has been identified by Lockley (2012) as the most basic factor impacting upon the level of employee motivation. According to Lockley (2012), if managers lack basic interpersonal and communication skills, their attempt to introduce various employee motivational programs and initiatives are destined for failure.
References
Gitman, LJ & McDaniel, C, 2008, The Future of Business: The Essentials, Cengage Learning
Kumar, S.A. (2008) "Entrepreneurship Development" New Age International
Llopis, G. (2012) "The Top 9 Things That Ultimately Motivate Employees to Achieve" Forbes, April 6, 2012
Lockley, M. (2012) "The Secret to Motivating a Team" The Guardian, January 6, 2012
MacKay, A. (2007) "Motivation Ability and Confidence Building in People" Taylor & Francis
Motivation (2012) Business Dictionary, Available at: http://www.businessdictionary.com/definition/motivation.html
Thomas, K.T. (2009) "Intrinsic Motivation at Work: What Really Drives Employee Engagement" 2nd edition, Berrett-Koehler Store
---
---