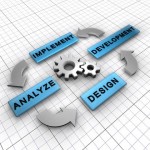 Kotter's Eight Step change model can be used in order to introduce and implement changes associated with selling via online channel at the same time when maintaining high level of customer satisfaction. Kotter's Eight Step model consists of the following steps:
Creating sense of urgency

. Employees in operations management and other departments within the company need to be notified about the importance of selling Company products directly via its website.

Forming a guiding coalition

. The most enthusiastic operations management employees about this change proposal need to be appointed as change agents formally or informally.

Developing a vision and strategy

. Company vision needs to be associated with achievement of long-term growth through generating solid revenues through online sales. Relevant strategy needs to include adoption of JIT principles and uncompromised approach to quality via Six Sigma.

Communicating a vision of change

. Choices of effective communication mediums such as newsletters and press releases need to be implemented effectively in order communicate vision of change to internal and external organisational stakeholders.

Empowering stakeholders

. Members of workforce the most active and enthusiastic about using JIT, Six Sigma and other elements of change proposal need to be rewarded in tangible and intangible ways.

Generating short-term wins

. Short-term wins in this specific case is going to be represented through initial sales via official website of the Company.

Consolidating gains

. Information about short-term wins needs to be used as instrument in order to motivate members of workforce to further consolidate the gains.

Institutionalising new practices

. This step involves formulation of relevant policies in order to ensure that changes introduced in the Company benefits the business in long-term perspective.