Tesco leadership had to change following a major scandal in 2015 that involved the cases of supplier mistreatment and profit mis-declarations as revealed by BBC's Panorama.[1] John Allan has been elected as a new Chairman of the Board and Dave Lewis, who once was a supplier for Tesco has been appointed as the new CEO to lead a new senior management team.
Restoration of trust of stakeholders in general and consumers and suppliers in particular has been announced as the main strategic task by the new management. The new leadership has introduced a new Code of Business Conduct, supported17 by a company-wide training programme along with other measures in order to prevent wrongdoings in the future. Simplification of the business has emerged as another main priority for the new management team.
Range of initiative declared by Tesco leadership also include concentrating on "availability, service and selectively on price; undertaking a significant programme of restructuring and financial discipline; and launching a programme of renewal to restore trust in every aspect of the brand"[2] The new management aims to address supplier relationship issues proactively and it has established new Supplier Helpline, designed to resolve payment and administrative issues quickly and simply.[3]
The first 'outsider' to lead Tesco since its foundation in 1919, Dave Lewis has been able successful so far as a CEO with his drastic measures that included "selling Blinkbox entertainment arm; slashing up to 10,000 positions and shutting stores; closing down Cheshunt and putting its GBP1bn Clubcard data business Dunnhumby and its South Korean arm up for sale. A new deal is reportedly on the table with staff to end its costly defined-benefit pension scheme, worth GBP3bn."[4]
Tesco PLC Report constitutes a comprehensive analysis of Tesco business strategy. The report illustrates the application of the major analytical strategic frameworks in business studies such as SWOT, PESTEL, Porter's Five Forces, Value Chain analysis and McKinsey 7S Model on Tesco. Moreover, the report contains analyses of Tesco's marketing strategy and discusses the issues of corporate social responsibility.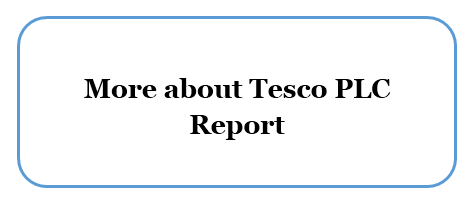 [1] Ahmed, K. (2015) "Tesco: Where it went wrong" BBC, Available at: http://www.bbc.com/news/business-30886632
[2] Annual Report and Financial Statements (2015) Tesco Plc.
[3] Corporate Responsibility Update (2015)
[4] Lawson, A. (2015). "What difference has a year under new leadership made for Tesco?" Independent, Available at: http://www.independent.co.uk/news/business/analysis-and-features/what-difference-has-a-year-under-new-leadership-made-for-tesco-10473953.html
---
---