SWOT is an abbreviation that is interpreted as strengths, weaknesses, opportunities and threats related to businesses. The table below illustrates the main points of Tesco SWOT analysis:
Strengths

1.      Leadership position in the UK

2.      Effective online operations

3.      Clubcard as an effective consumer information tool

4.      Strong property portfolio

Weaknesses

1.      Weak financial performance

2.      Serious damage to the brand image due to commercial income scandal in 2015

3.      Reliance on the UK market

4.      Diminished employee morale

Opportunities

1.      Pursuing international market expansion strategy

2.      Increasing presence in financial services industry

3.      Increasing non-food retail range

4.      Enhancing the effectiveness of the marketing strategy

Threats

1.      Inability of the new leadership to turn over the business

2.      Inability to sustain cost leadership competitive advantage

3.      Currency fluctuations

4.      Emergence of new ethics-related problems
Strengths
1. Tesco is the biggest retailer in the UK with a grocery market share of 27.9 per cent. Its closest competitor Sainsbury's has the market share of only 16.6 per cent and the market share of Walmart-owned ASDA is equal to 16.4 per cent.[1] Possessing the largest market share is an important strength regardless of the industry and this position allows Tesco to generate substantial revenues, given it addresses 7Ps of marketing mix in an appropriate manner.
2. The company utilizes online sales channel with a high level of efficiency. Tesco was among the first retailers in the UK to successfully implement online sales channel and currently, revenues generated via online sales account for a solid share of the total revenues. Specifically, in 2015 Tesco online grocery market grew ahead of the market at 20 per cent although the company posted pre-tax loss of GBP 6.37 billion during the same year.[2] The growth of online sales ahead of the market despite the rapid decline of overall sales can be interpreted as a high level of efficiency of utilization of online sales channel, which is a considerable strengths in the contemporary marketplace.
3. The company derives substantial benefits from its Clubcard in multiple levels. Firstly, Clubcard is effectively used as a tool to increase consumer retention and consumer loyalty, where consumers collect one point for each GBP 1 spent. At least four times a year, the holder receives a statement and vouchers to the value of points they have saved[3]. Secondly, the Clubcard plays in instrumental role in collecting important data about consumer behavior and this information is used by the company to improve its value offerings. Moreover, Tesco sells customer data onto FMCG suppliers and producers[4] thus creating an additional revenue channel for the business.
4. The company has a strong property portfolio and this fact increases its overall value. There are 7817 Tesco shops around the world[5] and the company owns 53 per cent of its total retail space.[6] The ownership of the majority of its stores makes the company profits more immune to rising rent fees. Moreover, due to its strong property portfolio, Tesco has an option of gaining financial resources to deal with emergencies via selling a part of its property.
Weaknesses
1. In 2015 Tesco Plc. had statutory loss of GBP 6.4 billion and this had pushed the amount of its net debt to GBP 8.5 billion[7]. Moreover, the total leverage debt of the company has reached GBP 22 billion.[8] As it is illustrated in Figure 3 below, although the volume of profit before tax has been consistently declining during the last four years, the decline during the last financial year was the most severe, reflecting the consequences of accounting wrongdoings revealed in 2014.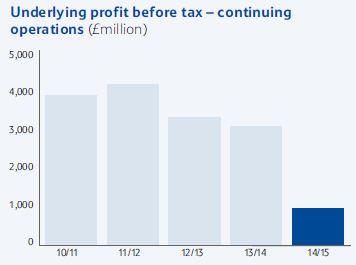 Changes in Tesco's profit before tax
2. An investigation led by BBC's Panorama identified the issues of accounting mis-declaration including an overstatement of commercial income by GBP 208 million[9] and the cases of supplier mistreatment. In one notable case, "L'Oreal, which led the French cosmetics giant to threaten legal action after a disputed payment of about GBP1m demanded by Tesco".[10] An extensive media coverage of the scandal caused a massive blow to Tesco's brand image leading to the resignation of CEO Philip Clark. The retailer is yet to regain the stakeholders' trust after this devastating incident.
Tesco PLC Report contains the full discussion of Tesco SWOT analysis. The report also illustrates the application of the major analytical strategic frameworks in business studies such as PESTEL, Porter's Five Forces, Value Chain analysis and McKinsey 7S Model on Tesco. Moreover, the report contains analysis of Tesco's marketing strategy, its leadership and organizational structure and discusses the issues of corporate social responsibility.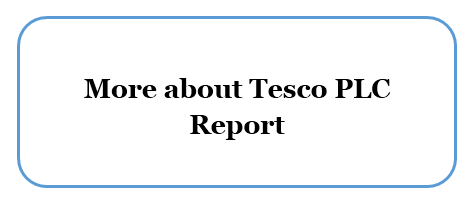 [1] Source: Kantar Worldpanel (12 weeks to 8 November 2015)
[2] McDonald, C. (2015) "Tesco's online sales increase despite £6.37bn loss" Computer Weekly, Available at: http://www.computerweekly.com/news/4500244817/Increase-in-Tescos-online-sales-mitigates-yearly-637m-loss
[3] Hobbs, T. (2015) "Is Tesco Clubcard still relevant?"Marketing Week, Available at: https://www.marketingweek.com/2015/10/09/is-tesco-clubcard-still-relevant/
[4] Hobbs, T. (2015) "Is Tesco Clubcard still relevant?"Marketing Week, Available at: https://www.marketingweek.com/2015/10/09/is-tesco-clubcard-still-relevant/
[5] Annual Report and Financial Statements (2015) Tesco Plc.
[6] Goodley, S. & Franklin, W. (2015) "Guardian analysis: Tesco's property portfolio in detail" The Guardian, Available at: https://www.theguardian.com/business/2015/mar/20/guardian-analysis-tescos-property-portfolio-in-detail
[7] Annual Report and Financial Statements (2015) Tesco Plc.
[8] Annual Report and Financial Statements (2015) Tesco Plc.
[9] Rigby, C. (2015) "Ecommerce holds up for Tesco as its sales fall and its profits crash" Internet Retailing, Available at: http://internetretailing.net/2015/04/ecommerce-holds-up-for-tesco-as-its-sales-fall-and-its-profits-crash/
[10] Ahmed, K. (2015) "Tesco: Where it went wrong" BBC, Available at: http://www.bbc.com/news/business-30886632
---
---