Transformational Leadership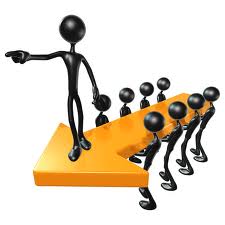 The jobs of managers consist of getting things done by others. Their efficiency can increase significantly if employees respect them and follow their order not because employees have to do it, but because they trust their manager and are motivated by them. Such a scenario can take place only when managers are leaders at the same time.
Wesley (2007, p.48) provides a simple and comprehensive definition of leadership as 'the art of persuading other fellow to do what we want him to do'. Another definition of leadership is proposed by Fred Smith, recited by Pockell and Avila (2007, p.83), who defines the leadership as the ability of getting people work for us when they are not obliged to.
Harvey (2001, p.37), defines a leader as an individual, who facilitates the movement of a   group of people by his actions toward a common goal.
The scientific study of leadership is divided by Heilbrunn (1994, p.65) into three phases:
1900 – World War II. Researchers attempt to identify traits of leaders in order to study charisma.
World War II – 1970s. Main focus of leadership researches are behaviour of leaders.
1970's – present (date of publication).Interaction between leaders and followers are    being studied.
According to Burns (1978, p.142) transformational leadership is a relationship of shared stimulation and elevation, and that relationship can change followers into leaders and leaders into moral agents.
Bass and Avolio (1990, p.88) specify four principles of Transformational leadership as:
Idealised influence
Inspirational motivation
Individualised consideration
Intellectual stimulation
 References
Bass, BM. & Avolio, BJ, 1990, "The Implications Of Transactional And Transformational Leadership For Individual, Team, And Organizational Development", Research in Organizational Change and Development, Vol. 4 pp.231-72.
Burns, JM, (1978), 'Leadership', New York: Harper/Row
Harvey, M, 2001, 'The Hidden Force: A Critique of Normative Approaches to Business Leadership', SAM Advanced Management Journal, vol.66, p.37
Heilbrunn, J, 1994, 'Can Leadership Be Studied?', Wilson Quarterly, vol.18, p.p.65-68
Wesley, C, 2007, "The Potency of Persuasion", Fortune, vol.156, p.48
---
---