Uber organizational structure has been traditionally highly hierarchical with co-founder and former CEO Travis Kalanick yielding tremendous power and micromanaging the the ride-hailing giant. Lack of Kalanick's leadership skills resulted in a series of scandals involving bullying, discrimination at workplace, sexual harassment etc. Kalanick had to resign as a result of these scandals.  After Dara Khosrowshahi became new CEO in 2017, Uber organizational structure has been subjected to certain changes.[1]
The figure below illustrates Uber organizational structure:
Uber Organizational Structure
It can be argued that the current pattern of Uber's organizational structure illustrated in Figure 1 above can be subjected to more changes by new CEO Dara Khosrowshahi in the medium-term perspective.  Demoralized workforce and poor organizational culture belong to the list of major issues for the global transportation technology company. Dara Khosrowshahi is credited for creating collaborative work culture at Expedia where employees are encouraged to propose their ideas to management.
Mr. Khosrowshahi will attempt to fix Uber organizational culture as part of his grand plans to turnaround the business. Accordingly, improvement in organizational culture may necessitate changes in organizational structure. Specifically, de-layering of organizational structure may be introduced, removing certain levels of management in order to make the business more flexible to respond to the changes in external marketplace. Moreover, advantages of flat organizational structure include faster speed of communication between the top management and floor-level employees.
Uber Technologies Inc. Report contains a full analysis of Uber organizational structure. The report illustrates the application of the major analytical strategic frameworks in business studies such as SWOT, PESTEL, Porter's Five Forces, Value Chain analysis and McKinsey 7S Model on Uber. Moreover, the report contains analyses of Uber leadership, business strategy and organizational culture. The report also comprises discussions of Uber marketing strategy and addresses issues of corporate social responsibility.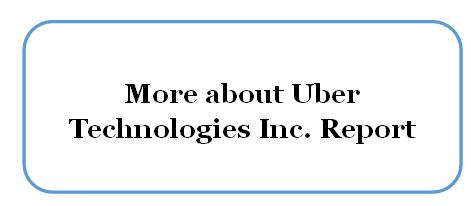 [1] Newcomb, A. (2017) "Uber Board Votes to Change the Company's Power Structure" NBC News, Available at: https://www.nbcnews.com/tech/tech-news/uber-s-ceo-charms-london-while-ex-ceo-kalanick-makes-n807186