Starbucks value-chain analysis is an analytical framework that assists in identifying business activities that can create value and competitive advantage to the business. Figure below illustrates the essence of value chain analysis.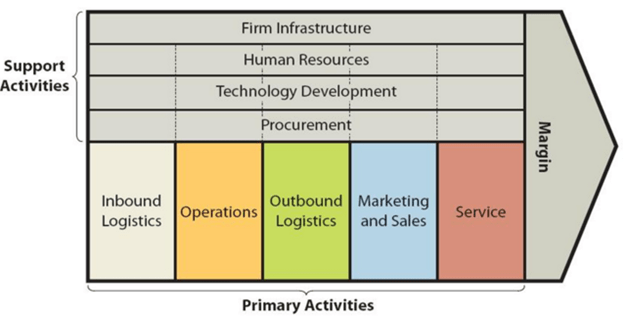 Starbucks Value chain analysis
Starbucks Primary Activities
Starbucks inbound logistics and supply chain was subjected to a dramatic restructuring in 2010 after Howard Schultz returned to the role of CEO. The restructuring initiative of Starbucks inbound logistics involved simplification of supply-chain management and the creation of a single, global logistics system.
Unroasted Arabica coffee beans are brought from Asia, Africa and Latin America to the US and Europe in containers via sea. Also, the coffee chain purchases green coffee beans from multiple coffee-producing regions around the world and custom roasts them. These are delivered to six regional distribution centres ranging from 200,000 to 300,000 square feet in size[1]. Coffees are roasted and packaged and taken to dozens of central distribution centres around the globe. Along with coffees from regional distribution centres, central distribution centres also receive deliveries from vendors for a wide range of products starting from coffee machines to napkins. Central distribution centres make more than 70,000 deliveries per week to Starbucks 25085 stores located in 75 countries.[2]
Starting form recently, Starbucks is exploring the opportunities to grow its own coffee. Specifically, since 2013 Starbucks has its first own 240-hectar coffee farm in PoasVolacno, Costa Rica.[3] Such a shift in the sourcing of products can increase the effectiveness of new product development initiatives for the business as the company will have a chance of experimenting with developing new sorts of coffee.
Strategic relationships with suppliers is one of the main sources of value for Starbucks inbound logistics. The company operates eight farmer support centres staffed with agronomists and sustainability experts who work with coffee farming communities to promote best practices in coffee production designed to improve both coffee quality and yields.
Starbucks operates in 75 countries and there are two store formats:
Company-operated stores. Company operated-stores are important for the business because they enable the management to observe shifts in consumer tastes and preferences and collect information about market tendencies in general in a direct manner. By the end of fiscal year 2016 Starbucks had 12,711 company-operated stores, which accounts for about 51% of total numbers of stores. Company-operated stores generated 79% of Starbucks revenues during fiscal 2016.[4]
Licensed stores. There were 12,374 licensed Starbucks stores by the end of fiscal year 2016, representing about 49% of total numbers of stores.[5] Revenues from licensed stores accounted for 10% of total net revenues in fiscal 2016.
The company has divided its operating segments into five groups and the table below illustrates the share of revenue from each segment.
| | | |
| --- | --- | --- |
| Segment | Share of revenue in 2015 | Share of revenue in 2016 |
| Americas (US, Canada and Latin America) | 73% | 69% |
| Europe, Middle East and Africa (EMEA) | 8% | 5% |
| China/Asia Pacific (CAP) | 7% | 14% |
| Channel Development | 9% | 9% |
| All other segments | 3% | 3% |
Starbucks operating segments and shares of revenue
Main sources of value in Starbucks operations include positioning of stores in high-traffic, high-visibility locations. Moreover, the company is able to vary the size and format of its stores to locate them in or near a variety of settings, including downtown and suburban retail centres, office buildings, university campuses and in select rural and off-highway locations.
'Starbucks experience', i.e. 'third place' experience where customers can spend quality time alone or in the company is an additional point, where the company adds value to its operations. The world's largest coffee retailer also adds value in operations via proving free WiFi internet access in its stores.
Starbucks Outbound logistics
Customers can purchase Starbucks products from company-operated and licensed stores. Online sales channel is also utilized by Starbucks for certain range of products such as packaged coffee, tea, drinkware and drink-related equipment. In addition, a very limited range of Starbucks products such as 3-in-1 coffees in sachets can be purchased from a set of leading supermarket chains such as Wal-Mart, Tesco and Sainsbury's.
Apart from supermarket chains that sell limited range of company's products, the absence of intermediaries such as resellers or wholesalers is the main source of value for Starbucks outbound logistics. The company roasts its products in-house and sells on its own company-operated and licensed stores, thus keeping the margin that otherwise would have gone to wholesalers and resellers.
Traditionally, Starbucks was not keen at investing on marketing. Word-of mouth cost-effective form of marketing based on high quality of products and high level of customer services was the main channel promoting the brand for years. However, rapidly intensifying level of competition motivated the senior management to reassess the marketing strategy and Starbucks marketing budget has been consistently increasing during the last five years to reach USD 351.5 million for the fiscal year 2016[6]. This budget is invested into various elements of print and media advertising, sales promotions, events and experiences, public relations and direct marketing.
High level of integration of social media and technology into sales processes represents one of the solid sources of value for Starbucks Coffee. The company has successfully implemented mobile order and pay system for its products and currently, about 8% of all orders are placed via mobile phones[7]. Moreover, Starbucks has "enabled orders via Amazon's Alexa last year, announced that the feature would also be integrated into Ford vehicles later this year."[8]
Superior customer services are the core source of Starbuck competitive advantage and this particular primary activity adds an enormous value to the brand image. Starbucks baristas are always genially polite and greet regular customers by their names. Occasionally, regular customer may get their regular coffee free of charge at the discretion of baristas as good gesture and such acts increase the perception of the service quality to a considerable extent.
Furthermore, amid ever-intensifying hectic nature of lifestyle and increasing speed of the provision of customer services, service at Starbucks is never rushed. It has been rightly noted that "Starbucks spends a lot of time measuring and improving how well they match their customers' speed expectations—delivering a custom (truly from scratch) beverage in a matter of minutes—they don't let the need for speed suck the life out of the Starbucks experience."[9]
Starbucks Corporation Report contains a full version of Starbucks value chain analysis. The report illustrates the application of the major analytical strategic frameworks in business studies such as SWOT, PESTEL, Porter's Five Forces and McKinsey 7S Model on Starbucks. Moreover, the report contains analyses of Starbucks leadership, business strategy, organizational structure and organizational culture. The report also comprises discussions of Starbucks marketing strategy and addresses issues of corporate social responsibility.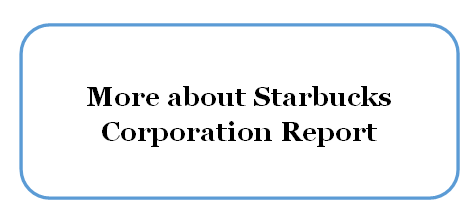 [1] Cooke, J. (2010) Supply Chain Quarterly, Available at: http://www.supplychainquarterly.com/topics/Procurement/scq201004starbucks/
[2] Fiscal 2014 Annual Report (2015) Starbucks Corporation
[3] Best, J. (2013) TakePart, Available at: http://www.takepart.com/article/2013/03/19/starbucks-gets-coffee-growing-biz
[4] Fiscal 2016 Annual Report (2017) Starbucks Corporation
[5] Fiscal 2016 Annual Report (2017) Starbucks Corporation
[6] Fiscal 2016 Annual Report (2017) Starbucks Corporation
[7] Taylor, K. (2017) "There's one huge factor shaping Starbucks and Dunkin' Donuts' 'coffee shop of the future' Business Insider, Available at: http://www.businessinsider.com/mobile-shapes-future-coffee-shops-2017-3
[8] Whitten, S. (2017) "There are now more ways to order your Starbucks coffee" CNBC, Available at: http://www.cnbc.com/2017/03/22/there-are-now-more-ways-to-order-your-starbucks-coffee.html
[9]Solomon, M. (2014) Forbes, Available at: http://www.forbes.com/sites/micahsolomon/2014/11/01/speed-up-your-customer-service-like-starbucks-and-apple-but-never-ever-rush-it/