Alphabet Inc. Organizational Structure: divisional and flat
Alphabet Inc. organizational structure is divisional. Each division is positioned as a separate brand such as Google, Calico, Nest, Access (Fiber) and others. Alphabet's individual divisions have flat organizational structure and this gives business a range of benefits such as lack of bureaucracy, high level of flexibility and effective two-way communication between senior management and other employees. Google Inc. was restructured in 2015 to become Alphabet Inc. "Google's search product became a wholly owned subsidiary of a new parent company, Alphabet, with other Google projects and teams spun out into separate "Alphabet companies," each with its own CEO."[1]. Alphabet Inc. is a holding company with no business operations of its own.
The main aim behind this restructuring was to help entrepreneurs build and run companies with the autonomy and speed they need. In other words, the company was restructured to move beyond search engine business and to engage in diversification strategy to a greater extent. Introduction of new businesses such as Waymo, a self-driving car company and Debug project,
which aims to stop mosquitoes in their tracks have been enabled by this restructuring initiative.
Figure  below illustrates Alphabet Inc. organizational structure: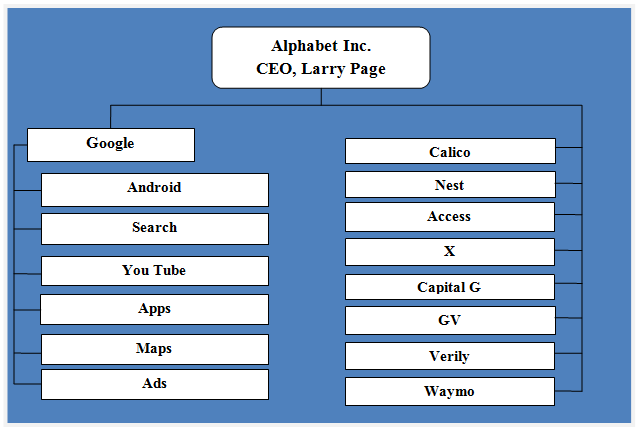 Alphabet Inc. organizational structure
The current pattern of Alphabet Inc. organizational structure gives CEO Larry page and the senior leadership greater freedom to explore new projects and acquisitions — regardless of how they fit into Google's mission "to organize the world's information and make it universally accessible and useful."
Alphabet Inc. (Google) Report contains a full analysis of Alphabet Inc. organizational structure. The report illustrates the application of the major analytical strategic frameworks in business studies such as SWOT, PESTEL, Porter's Five Forces, Value Chain analysis and McKinsey 7S Model on Alphabet Inc. Moreover, the report contains analyses of Alphabet leadership, business strategy and organizational culture. The report also comprises discussions of Alphabet marketing strategy and addresses issues of corporate social responsibility.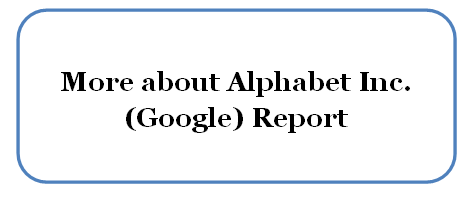 [1] Price, R. & Nudelman, M. (2016) "Google's parent company, Alphabet, explained in one chart" Business Insider, Available at: http://www.businessinsider.com/chart-of-alphabet-google-parent-company-infographic-x-gv-2016-1
---
---