Amazon Corporate Social Responsibility (Amazon CSR): a brief overview
Since Amazon went public in 1997, the e-commerce giant has been repeatedly criticized for its lack of commitment on corporate social responsibility aspect of the business. Moreover, Amazon's first sustainability executive Kara Hartnett Hurst was appointed only in August 2014 , a stark proof that CSR aspect of the business has not been paid due attention to for a long period of time.
CSR Programs and Initiatives
Amazon Supporting Local Communities
In 2020, the e-commerce giant created the Amazon Relief Fund, with a USD25 million initial contribution, focused on supporting its independent delivery service partners and other stakeholders to deal with the negative impact of coronavirus developments on the business.
Amazon's Device Donation Program facilitates the donation of electronic devices and gift cards to schools located near Amazon fulfilment centres throughout the US
The company hosts 'Girls Who Code' events occasionally to help get more girls interested in coding
The e-commerce giant supports local and national nonprofits with cash and product donations.
Amazon Educating and Empowering Workers
Amazon Career Choice Program pre-pays 95% of tuition for employees to take courses for in-demand fields, such as airplane mechanic or nursing, regardless of whether the skills are relevant to a career at Amazon. Up to date the program has been attended by more than 10000 employees worldwide.
Amazon Virtual Contact Centre, allows Amazon's customer service employees to work from home.
The program "Pay to Quit" offers USD 5000 to warehouse workers who quit to encourage employees to take a moment and think about what they really want.[1]
Upskilling 2025 is USD 1,2 billion investment project to provide free skills training to U.S. employees.
Employee Health and Safety at Amazon
Amazon employs 6200 safety professionals worldwide
In 2020 due to the risk of COVID-19 coronavirus, the company recommended all of global employees who work in a role that can be done from home, do so for a certain period of time
In 2021, the company invested more than USD300 million into a wide range of safety projects
The e-commerce and cloud computing company spent USD15 billion in COVID-19-related costs to protect employee health and safety
Amazon and Gender Equality and Minorities
Gender equality and minorities are placed at the core of Amazon CSR initiatives. There are 10 affinity groups in the company, known as employee resource groups
The tech giant employs more than 40000 veterans and military spouses[2]
At Amazon males and females receive similar payment for the same roles.
In 2019 the company launched Business for Social Responsibility's HERproject™ which attracted more than 8000 women in its supply chain
Energy Consumption by Amazon
Amazon is the largest corporate buyer of renewable energy in the world.
The tech giant has 62 utility-scale wind and solar projects and 125 solar rooftops on fulfilment and sort centres internationally[3]
The e-commerce and cloud computing company used 65% renewable energy across all businesses in 2020
The ultimate aim of the company is to be using 100% renewable energy by 2025[4]
Three million square feet of Amazon head office in Seattle is planned to be heated by a"district energy" system—recycling the heat from a nearby building to heat the office space
Water Consumption by Amazon
Many of Amazon's fulfilment centres have the ability to collect and recycle water. This is achieved via rainwater collection tanks or recharge wells.
The largest internet retailer in the world by revenue saved 480 billions of water through renewable energy generation programs in 2020 alone
Whenever possible, the e-commerce giant uses direct evaporative technology for cooling our data centres, significantly reducing energy and water consumption.
Waste Reduction and Recycling by Amazon
Amazon runs Packaging-Free program in a number of cities. Customer orders within this program are shipped in their original packaging without secondary or additional packaging.
As of June 2021 the largest internet company by revenue in the world has reduced the weight of outbound packaging by over 36% and eliminated more than 1 million tons of packaging material since 2015.
Carbon Emissions by Amazon
Amazon's absolute carbon emissions increased 19% in 2020, but overall carbon intensity decreased by 16%, as illustrated in figure below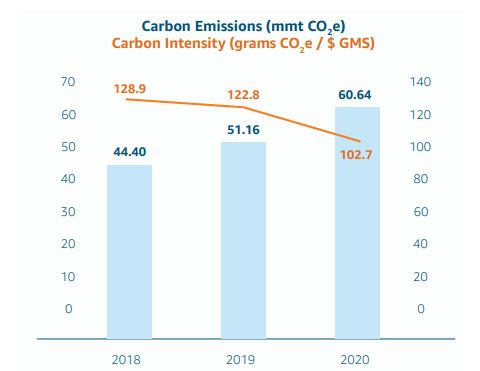 Changes in Amazon carbon emissions and carbon intensity[5]
The Climate Pledge Fund is USD 2 billion investment program to support the development of sustainable and decarbonizing technologies and services, and invested in several visionary companies
The e-commerce and cloud computing company has Shipment Zero initiative which aims to deliver 50% all shipments with net-zero carbon by 2030
The e-commerce giant has pledged to deploy its technology and people to reach zero carbon across the company by 2040
As an important step towards the achievement of zero carbon operations, the tech giant aims to achieve zero carbon for 50% of all shipments by 2030
The company has ordered 100,000 custom fully-electric delivery vehicles from Rivian, the largest order ever for electric delivery vehicles[6]
Amazon and Sustainable Sourcing
Amazon is a member of Better Cotton Initiative (BCI), which is the largest cotton sustainability program in the world
More than 7500 employees of the tech giant have joined to become Sustainability Ambassadors to improve environmental and social impacts of company's operations
In 2019, the e-commerce giant signed the Responsible Sourcing Network's public Cotton Pledge to not source cotton from certain countries until the pervasive use of government-mandated forced labour is stopped
The online retail behemoth offers more than 75000 types of Climate Pledge Friendly products
Amazon's  CSR Initiatives and Charitable Donations
Right Now Climate Fund launched by Amazon in 2019 is USD100 million fund to restore and conserve forests, wetlands, and grasslands around the world
Amazon.com Inc. Report contains a full analysis of Amazon corporate social responsibility including Amazon CSR issues. The report illustrates the application of the major analytical strategic frameworks in business studies such as SWOT, PESTEL, Porter's Five Forces, Value Chain analysis, Ansoff Matrix and McKinsey 7S Model on Amazon. Moreover, the report contains analyses of Amazon leadership, business strategy, organizational structure and organizational culture. The report also comprises discussions of Amazon marketing strategy and its ecosystem.
[1] Soper, T. (2014) "Here's why Amazon pays USD5K to warehouse workers who quit" Geek Wire, Available at: https://www.geekwire.com/2014/heres-amazon-pays-5k-workers-quit/
[2] Sustainability Report (2020) Amazon Inc.
[3] Annual Report (2018) Amazon Inc.
[4] Sustainability Report (2020) Amazon Inc.
[5]Source: Amazon Corporate Sustainability Report (2020)
[6] Sustainability: Thinking Big (2019) Amazon
---
---