Value chain analysis is an analytical framework that assists in identifying business activities that can create value and competitive advantage to the business. The figure below illustrates the essence of Amazon value chain analysis.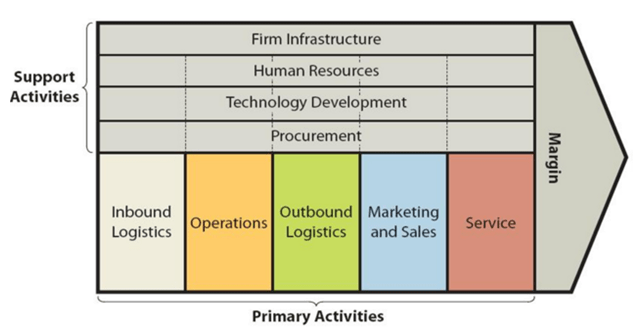 Amazon Value Chain Analysis
Amazon Primary Activities
Generally, Amazon does not have long-term contracts or arrangements with its vendors to guarantee the availability of merchandise, particular payment terms, or the extension of credit limits. Fulfilment by Amazon (FBA) is the cornerstone of Amazon inbound logistics for company-owned retail business. Sellers can also use FBA by stowing their inventory in Amazon fulfilment centres.
In this case, Amazon assumes full responsibility for logistics, customer service, and product returns. If a customer orders an FBA item and an Amazon owned-inventory item, the company ships both items to the customer in one box, as a significant gain of efficiency. The use of FBA is an optional choice for sellers and this choice makes the products of third-party sellers eligible for Amazon Prime free two-day shipping, free shipping and other benefits.
Amazon uses logistics beyond the point to serve Amazon Marketplace and starting from recently, the company has been offering logistics services to others. For example, Beijing Century Joyo Courier Services, an Amazon subsidiary registered with the U.S. government as an ocean shipping provider.[1] From this point of view, efficient logistics infrastructure also belongs to the list of Amazon competitive advantages.
Amazon Operations
Amazon operations are organized into three segments:
1. North America. This segment operates North America-focused websites such as www.amazon.com, www.amazon.ca, and www.amazon.com.mx. Sales in this segment increased by 25% and 33% in 2016 and 2017, compared to the comparable prior year periods.[2]
2. International. This segment operates internationally-focused websites such as www.amazon.com.au, www.amazon.com.br, www.amazon.cn and others. International sales increased by 24% and 23% in 2016, and 2017, compared to the comparable prior year periods.[3]
At the same time, operating loss in international segment amounted to USD 0,699 million, USD 1,283 million and USD 3,062 million for 2015, 2016 and 2017 respectively.[4]  Loss in this segment was caused by increased levels of operating expenses to expand Amazon's fulfilment network and spending on technology and content and marketing efforts. Increase in operating loss in international segment was also partially cased by changes in currency exchange rates.
3. Amazon Web Services (AWS). This segment deals with global sales of computing, storage, database, and other service offerings for start-ups, enterprises, government agencies, and academic institutions. AWS sales increased 55% and 43% in 2016 and 2017, compared to the comparable prior year periods.[5]
AWS offers pay-as-you-go cloud storage, compute resources, networking and computing services and its major customers include Pinterest, Dropbox, and Airbnb. Moreover, AWS is positioned as a platform for building applications and businesses like GE, Major League Baseball, Tata Motors, and Qantas have built applications ranging from apps for crowdsourcing and personalized healthcare to mobile apps for managing fleets of trucks on the basis of AWS. Generally, AWS offers more than 516 features and services and it has more than one million customers representing businesses and organizations of various sizes.[6]
Traditionally, Amazon has relied upon the services of overnight delivery businesses such as UPS, FedEx and TNT. However, the company "recently revealed plans to lease about 20 Boeing 767 Freighters in an attempt to start its own air delivery business"[7]. It has been estimated that the lease of one Boeing 767 aircraft costs approximately 600,000 to 650,000 a month and the cost for leasing 20 such jets amounts to USD 156 million a year.[8] This is in addition to Amazon's an air cargo network and thousands of 53 foot trailers[9]
The willingness of the company to commit to such massive financial investments can be interpreted as an evident move of the company towards gaining independency from the third parties in facilitating its logistics. The online retail giant has also announced Amazon Prime Air (a drone delivery system) and Amazon Flex (gig-economy based intra metro delivery service).
Amazon outbound logistics also makes an extensive use of Treasure Trucks. Started with a single truck in Seattle, nowadays Treasure Truck comprises a fleet of 35 trucks across 25 U.S. cities and 12 U.K. cities.[10]
Generally, Amazon outbound logistics integrates the following:
1. Fulfilment centres. The e-commerce giant operates 109 fulfilment centres around the globe and the company uses robotic technology in an extensive manner to manage receipt, stowing, picking, and shipment of products.
2. Co-sourced and outsourced arrangements
3. Digital delivery. These relate to products and services that can be downloaded from Amazon website.
4. Physical stores. The e-commerce giant acquired Whole Foods chain in 2017. The company has generated USD 4,3 billion revenues in Q2, 2018 from physical stores sales alone.[11]
Amazon's annual global marketing expenses have been consistently increasing during the past seven years to exceed USD 10 billion in 2017. This includes Advertising and other promotional costs that amounted to USD3.8 billion, USD5.0 billion, and USD6.3 billion in 2015, 2016, and 2017.[12] In 2016, Amazon spent more on marketing than Wal-Mart Stores, Target, Best Buy, Home Depot, and Kroger combined.[13] Therefore, it can be argued that marketing and sales is one of the major sources of value in Amazon chain of operations, but this value is generated thanks to excessive marketing investments.
Amazon marketing message conveys the promises of the largest selection of products and services, attractive prices, fast delivery of products and overall superior customer services. Several components of the marketing communication mix such as print and media advertising, sales promotion, events and experiences, public relations and direct marketing are used in an integrated way in order to communicate the marketing message to the target customer segment.
Exceptional customer service is a major source of value creation for the e-commerce and cloud computing company. Amazon annual report says "we seek to be Earth's most customer-centric company"[14] and accordingly, the company offers exceptional customer services. Amazon Marketplace and Prime has two types of customers – sellers on and buyers from Amazon platform. For sellers in particular, Amazon offers Selling Coach program "alerting sellers about opportunities to avoid going out-of-stock, add selection that's selling, and sharpen their prices to be more competitive"[15].
Moreover, "Amazon's returns process is dealt with entirely online through a customer's account. If there is an issue that does require a customer to speak with a customer service assistant over the phone, they will have access to the customer's account and order details, meaning that any issues can be dealt with quickly and efficiently."[16]
Amazon topped the list of 100 globally-known brands across seven major industries for best customer experience in 2013. The Foresee Experience Index report is the result of analysis of 75,000 satisfaction surveys and the report quantifies customer experience by calculating customer satisfaction scores on a 100-point scale, with Amazon receiving an 87 in satisfaction.[17]
The e-commerce giant also ranked No.1 in American Customer Satisfaction Index in 2017, for 8th year in a row. Similarly, the UK Customer Satisfaction Index ranked Amazon No1 for 5th year in a row.[18]
Amazon Inc. Report 2018 contains a full version of Amazon value chain analysis. The report illustrates the application of the major analytical strategic frameworks in business studies such as SWOT, PESTEL, Porter's Five Forces, Ansoff Matrix and McKinsey 7S Model on Amazon. Moreover, the report contains analyses of Amazon leadership, business strategy, organizational structure and organizational culture. The report also comprises discussions of Amazon marketing strategy, ecosystem and addresses issues of corporate social responsibility.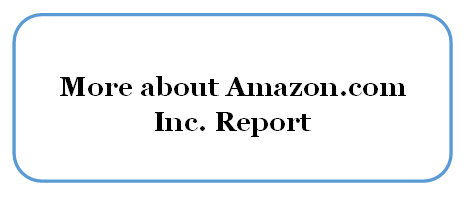 [1] Schreiber, Z. (2016) "Is Logistics About To Get Amazon'ed?" Tech Crunch, Available at: https://techcrunch.com/2016/01/29/is-logistics-about-to-get-amazoned/
[2] Annual Report (2017) Amazon.com Inc.
[3] Annual Report (2017) Amazon.com Inc.
[4] Annual Report (2017) Amazon.com Inc.
[5] Annual Report (2017) Amazon.com Inc.
[6] Annual Report (2014) Amazon
[7]Forbes (2015) Available at: http://www.forbes.com/sites/greatspeculations/2015/12/29/will-ups-fedex-lose-out-to-amazon/#6480830c2fbc
[8]Forbes (2015) Available at: http://www.forbes.com/sites/greatspeculations/2015/12/29/will-ups-fedex-lose-out-to-amazon/#6480830c2fbc
[9] Banker, S. (2016) "Is Amazon Building a First Mover Advantage in Logistics?" Logistics Viewpoints, Available at: https://logisticsviewpoints.com/2016/06/06/does-amazon-have-a-first-mover-advantage-in-logistics/
[10] Annual Report (2017) Amazon.com Inc.
[11] Gallagher, D. (2018) "Amazon Makes Its Payday" The Wall Street Journal, Available at: https://www.wsj.com/articles/amazon-makes-its-payday-1532643178
[12] Annual Report (2017) Amazon Inc.
[13] Green, T. (2017) "Amazon spends more on advertising than Walmart, Target, Best Buy, Home Depot, and Kroger combined" Business Insider, Available at: https://www.businessinsider.com/amazon-stock-price-advertising-spending-compared-competitors-2017-6         
[14] Annual Report (2016) Amazon.com Inc.
[15] Annual Report (2014) Amazon
[16] Amazon CRM Case Study (2017) Expert CRM Software, Available at: http://crmsystems.expertmarket.co.uk/Amazon-CRM-Case-Study
[17]Morris, T. (2013). Parachute, Available at: http://www.parature.com/amazon-customer-experience/
[18] Annual Report (2017) Amazon.com Inc.