Apple corporate social responsibility (CSR) programs and initiatives are led by Lisa Jackson, Vice President of Environmental Initiatives, reporting directly to CEO Tim Cook. It has to be noted that "Steve Jobs wasn't known for philanthropy. Some wondered if he made anonymous donations to charity, some criticized him for his lack of public giving, while others defended him"[1]. However, with Tim Cook assuming Apple leadership in 2011, the focus on CSR aspect of the business was increased to a considerable extent. Tim Cook is a member of Paulson Institute's CEO Council for Sustainable Urbanization, working with other CEOs of top Chinese and Western companies to advance sustainability in China.
 Apple CSR Programs and Initiatives
Apple Supporting Local Communities
'Global Volunteer Program' was launched in 2011 to encourage employees to volunteer in local communities. Since its launch more than USD 78 billion was donated to charities and non-profits around the world.[2]
The program has been revised in March 2015 to grant employees the right to choose the projects in their local communities they would like to contribute.
Apple Educating and Empowering Workers
Apple education and development program is offered free of charge by 18 factories and more than 280,000 workers took various courses in 2016
Under the leadership of Denise Young Smith, as Apple's vice president for HR, Apple has expanded its employee benefits programs to a considerable extent. For example, "expectant mothers can take up to four weeks before a delivery and up to 14 weeks after a birth, while fathers and other non-birth parents are eligible for up to six weeks of parental leave"[3]
Labour and Human Rights at Apple
Apple enforces The Supplier Code of Conduct that is claimed to be the toughest in the electronics industry
Company has achieved an average 95per cent compliance among suppliers to maximum 60-hour workweek
Apple has investigated cases of abuses of foreign workers and the company has required suppliers to reimburse affected "foreign contract workers USD3.9 million in excessive fees paid to labour brokers, bringing our total reimbursements since 2008 to USD16.9 million"[4]
Employee Health and Safety at Apple
The company has launched Apple Supplier EHS Academy, an 18-month program that aims to improve employee health and safety in the industry throughout the globe. 240 suppliers and 270,000 workers have participated in this program.
Research has been conducted in Apple's ergonomics department on about 75 jobs within supply chain to identify ergonomic risks. The research has resulted in improved standards for managing workstation design changes.
Apple and Gender Equality and Minorities
Apple employees are 32 percent female, 9 percent black and 12 percent Hispanic. Out of a global workforce of 125,000, 37 percent of new hires in the last 12 months were women. Out of a U.S. workforce of 80,000, 27 percent of hires came from underrepresented minority groups in the last year.[5]
The company reached equal pay to employees in 2016
Tim Cook is the only openly gay CEO of a Fortune 500 company has been praised as a strong champion of workforce diversity[6]
Energy Consumption by Apple
Apple is often praised for its environmental records that include decrease of total power consumption of Apple products by 57per cent , introduction of Mac mini as the world's most energy-efficient desktop computer and exceeding ENERGY STAR guidelines
Apple emerges as the only company that has been awarded with a Clean Energy Index of 100per cent , according to Greenpeace's Clicking Clean Report.
Apple Inc is sourcing or generating enough renewable energy to cover 96% of the electricity used at its facilities worldwide
The company is now 100 per cent renewable energy in 24 countries. Each Apple data centre around the world runs on 100 per cent renewable energy
The multinational technology company has committed to bring 4 gigawatts of renewable power online by 2020
Water Consumption by Apple
The company launched Clean Water Program in 2013 and since more than 8 billion gallons of water have been saved by suppliers
Cooling systems in company's date centres can reuse water up to 35 times
In 2015 the company converted about 120,000 square feet of previously grass lawns to drought-tolerant landscape, translating to estimated water savings of up to 6 million gallons per year
Despite the initiatives above, water usage by Apple data centres, retail and corporate facilities have been consistently increasing during the last three years, as illustrated in figure below.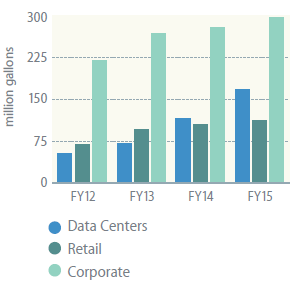 Water usage by Apple Inc.[7]
Apple Park, a campus in Cupertino uses 75% recycled non-potable water. Apple campus in Austin, Texas, irrigates its drought-tolerant plants using a 600,000-gallon rainwater cistern.
Waste Reduction and Recycling by Apple
Apple offers recycling programs in 99 percent of the countries it operates and the company has diverted more than 508 million pounds of electronic waste from landfills since 2008.
In 2016 the company introduced Liam, a line of robots that can disassemble an iPhone every 11 seconds and sort its high-quality components so they can be recycled,
In 2015, more than 99% of Apple product packaging was done from recycled paper or papers sourced from sustainably managed forests.
Apple is working with more than 160 recycling companies around the world and in 2015 it collected nearly 90 million pounds of e-waste through its recycling programs.
 Carbon Emissions by Apple
In 2016 Apple's comprehensive carbon footprint was 29.5 million metric tons, compared with 38.4 million the year before. As it is illustrated in figure below, the company's CO2 emissions per product has been consistently decreasing during the last four years to reach 97 kg in 2016.
Changes in Apple CO2 emissions per product (kg)[1]
The company offers employees more than 550 electric vehicle charging ports for free, an increase of 67 percent compared to the previous year to encourage the usage of electric vehicles
In 2016, the multinational technology company conducted 34 energy audits at supplier facilities, identifying more than USD55 million in annual energy savings opportunities.
Energy efficiency improvements introduced by Apple suppliers in 2016 eliminated the output of more than 150,000 metric tons of CO2 equivalents
Apple and Sustainable Sourcing 
More than 99% of paper used in packaging is prepared from recycled wood fiber
The company partnered with The Conservation Fund to protect 36,000 acres of sustainable forest in North Carolina and Maine and more than 13,000 metric tons of wood was harvested responsibly
Apple aims to contribute to transition up to 1 million acres of forest, across five southern provinces, into responsible management by 2020
Apple other CSR Initiatives and Charitable Donations
The company has planted more than 9000 drought-tolerant trees in Apple Park in Cupertino
In 2017 Apple donated USD 1 million to Southern California Wildfire Recovery Efforts
The multinational technology company raised more than USD 3 million for Hurricane Harvey Relief Efforts in August 2017
Apple Inc. Report contains a full analysis of Apple corporate social responsibility including Apple CSR issues. The report illustrates the application of the major analytical strategic frameworks in business studies such as SWOT, PESTEL, Porter's Five Forces, Value Chain analysis, Ansoff Matrix and McKinsey 7S Model on Apple. Moreover, the report contains analyses of Apple leadership, business strategy, organizational structure and organizational culture. The report also comprises discussions of Apple marketing strategy and its ecosystem.

[1] Apple Support for Charity (2015) Available at: https://macrumors.zendesk.com/hc/en-us/articles/202084918-Apple-Support-for-Charity
[2] Gurman, M. (2015) "Apple launching volunteer program for employees to help local communities" Available at: https://9to5mac.com/2015/03/16/apple-launching-volunteer-program-for-employees-to-help-local-communities/
[3] Hodgkins, K. (2014) "Apple Expands Employee Benefit Programs in Health and Wellness, Education, and Philanthropy" MacRumors, Available at: https://www.macrumors.com/2014/10/02/apple-benefits-program/
[4] Apple Supplier Responsibility 2014 Progress Report
[5] Worstall, T. (2016) "Apple Reaches Pay Equality – Even If Every Company Did We'd Still Have Gender And Minority Pay Gaps" Forbes, Available at: https://www.forbes.com/sites/timworstall/2016/08/04/apple-reaches-pay-equality-even-if-every-company-did-wed-still-have-gender-and-minority-pay-gaps/#33a113e6779b
[6] Bort, J. (2015) "Apple's HR chief: Working with Tim Cook 'actually helps you to be a better human being'" Business Insider, Available at: http://www.businessinsider.com/apple-denise-young-smith-why-working-for-tim-cook-is-so-great-2015-7
[7] Source: Environmental Responsibility Report (2016) Apple Inc.
[8] Source: Environmental Responsibility Report (2017) Apple Inc.