Apple marketing communications mix explains the company's stance towards individual elements of the marketing communication mix such as print and media advertising, sales promotions, events and experiences, public relations, direct marketing and personal selling. The main aim behind Apple marketing communications mix is to communicate the marketing message of the brand to the target customer segment through above elements in an integrated manner.
Advertising
Apple uses print and media advertising extensively to promote its new products. For example, iPhone 6 has been promoted via more than 10,000 billboards in 73 cities in 25 countries.[1]Apple adopts a simplistic approach in its advertising strategy in line with the overall design of its products and business strategy. Apple uses print and media advertising in an integrated manner in order to communicate its marketing message of innovativeness and simplicity of design. For example, Mac versus PC ads, starring John Hodgman as a PC and Justin Long as a Mac, do not communicate information about technical details of the product or price advantage and they only attempt to increase brand awareness in general.
Similarly, an example of an Apple billboard as illustrated in figure below does not communicate any information apart from the picture of IPad2 along with a name of the product and the brand logo.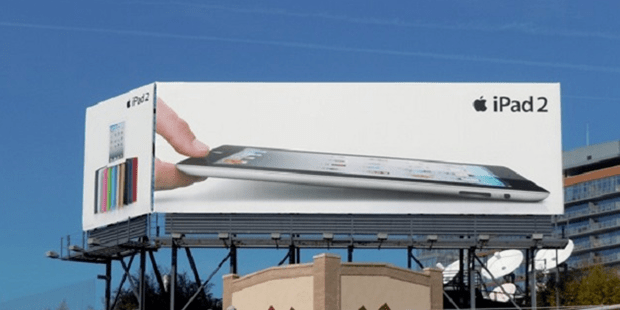 Image courtesy of kensegall.com
The company attempts to seamlessly merge emotion with technology in its advertising campaigns. Apple viral marketing campaign titled 'Meet Her' (2010), where a grandfather sees his granddaughter for the first time using iPhone 4 is a relevant illustration of this point.
Sales Promotion
Sales promotions represent short-term incentives to commit to the purchase and Apple uses some forms of sales promotions marketing technique as discussed below:
Point of sales materials. Apple Stores are designed in an attractive format, where people have a chance to use Apple products.
Free gifts. Apple does not offer free gifts as a part of its marketing strategy. Apple used to run 12 Days of Free Gifts giveaway during Christmas period since 2008 from its App Store; however the company ceased this practice in 2014.[2]
Loyalty programs and cards. Interestingly, unlike the majority of premium brands, Apple doesn't have a formal customer loyalty program. It has been noted that "the reason Apple doesn't have a loyalty program has nothing to do with the potential difficulty ofstarting a loyalty program for their brand.  As one of the wealthiest companies in the world, they can more than afford an effective retention strategy that rewards their best customers for their brand loyalty.  No, the reason Apple doesn't have a loyalty program is because they already have a retention strategy – it's just not labelled as one"[3]
Seasonal sales promotions. Apple rarely uses seasonal sales promotion marketing technique. However, major resellers regularly announce sales promotions techniques to sell Apple products. For example, in the last Black Friday in November 2016, iPhone 5 which typically retails for USD149 was offered by Walmart for USD 99 and Best Buy was offering up to a USD250 gift card for iPhone7.[4]
Apple Inc. Report contains a full analysis of Apple marketing communications mix and Apple marketing strategy in general. The report illustrates the application of the major analytical strategic frameworks in business studies such as SWOT, PESTEL, Porter's Five Forces, Value Chain analysis and McKinsey 7S Model on Apple. Moreover, the report contains analyses of Apple leadership, organizational structure and organizational culture. The report also comprises discussions of Apple business strategy and addresses issues of corporate social responsibility.

[1]AdWeek (2015) Available at: http://www.adweek.com/news/advertising-branding/worlds-18-best-outdoor-campaigns-2014-2015-165648
[2] Macro, A. (2014) "Apple's 12 Days of Gifts giveaway 2014/2015: How to find free apps and free music" Macworld, Available at: http://www.macworld.co.uk/news/iphone/free-apps-free-music-apples-12-days-gifts-christmas-gifts-giveaway-2014-cancelled-3493145/
[3] Burkard, K. (2016) "Why Apple Doesn't Have a Loyalty Program" Available at: https://www.sweettoothrewards.com/blog/apple-doesnt-have-a-loyalty-program/
[4] Reisinger, D. (2016) "Here Are the Best Apple Deals for Black Friday" Fortune, Available at: http://fortune.com/2016/11/10/apple-black-friday/