Apple organizational structure can be described as hierarchical. Such a structure has been developed by its founder and former CEO late Steve Jobs in order to ensure focused realization of his innovative ideas and clear vision for the business. Apple organizational structure has been subjected to certain modifications since the leadership role was assumed by Tim Cook on August 2011. Specifically, Mr. Cook embraced the decentralization of decision making to a certain extent in order to encourage innovation and creativity at various levels. Nevertheless the structure remains to be largely hierarchical.
Product-based grouping is another important feature of Apple organizational structure. Each product within Apple portfolio such as iPad, iPhone, iPad, Apple TV and iWatchis a result of collaboration of product-based groups.
Figure below illustrates Apple organizational structure: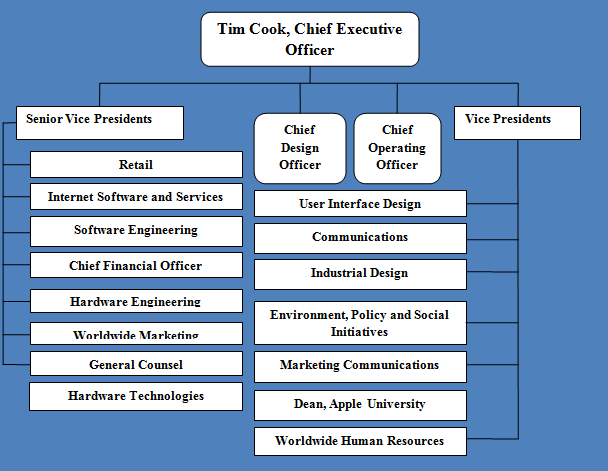 Apple Inc. Organizational Structure
Apple Inc. Board of Directors consists of eight members with a solid leadership background in a range of industries. Three members are acting CEOs and two members are former Chairman and CEOs of global companies.  Moreover, proven leaders such as former US Vice President Albert GoreJr, former CFO and Corporate President The Boeing Company James A. Bell and co-founder and Director of BlackRock Susan Wagner also serve in Apple Board of Directors.
Taking into a number of challenges faced by the company such as rapidly decreasing life cycle of technology products and declining sales of iPhones, iPads and Mac products, [1] it can be argued that Apple organizational structure may be subjected to certain changes in the medium-term perspective. To be more specific, elements of matrix organizational structure and divisional organizational structure may be integrated into Apple Inc. organizational structure to a greater extent to increase the efficiency of new product development practices.
Apple Inc. Report contains a full analysis of Apple organizational structure. The report illustrates the application of the major analytical strategic frameworks in business studies such as SWOT, PESTEL, Porter's Five Forces, Value Chain analysis and McKinsey 7S Model on Apple. Moreover, the report contains analyses of Apple leadership, business strategy and organizational culture. The report also comprises discussions of Apple marketing strategy and addresses issues of corporate social responsibility.

[1] Annual Report (2016) Apple Inc.