SWOT is an acronym for strengths, weaknesses, opportunities and threats related to organizations. The following table illustrates Apple SWOT analysis:
Strengths
1.      Market leadership for a range of products and services
2.      Strong brand image and a brand value of USD 154.1 billion[1]
3.      Solid financial position of the business
4.      Sophisticated supply-chain infrastructure
5.      High profit margin
Weaknesses
1.      Higher prices than competition
2.      Decline in total sales due to decreasing sales of iPhones, iPads and Mac products
3.      Incompatibility of Apple products and services with other products and services for users
4.      Narrow product range
5.      No major improvements in latest product versions
Opportunities
1.      Further increasing concentration on Services business segment
2.      Investments in research and development
3.      Product diversification
4.      Formation of strategic partnerships
5.      Increasing compatibility of products
Threats
1.      Loss of innovativeness due to decease of legendary founder Steve Jobs
2.      Intensifying competition from China and India
3.      Being found to have infringed on intellectual property rights
4.      Reputation damage due to the tax scandal
5.      Further increase of manufacturing costs
Strengths
Apple is one of the global market leaders with its globally popular products such as iPhone®, iPad®, and Mac®, and services such as the iOS and OS X® operating systems and iCloud®. These products and services have proved to be sources of solid revenues for the company and are likely to remain so in the foreseeable future. The company has a strong international presence and in 2016 Apple's domestic and international net sales accounted for 35 per cent and 65 per cent of total net sales respectively.[2]
The company has a strong brand image and Apple brand value has been estimated as USD 154.1 billion by Forbes.[3] Although the most recent assessment by Brand Finance estimated Apple brand value as USD 107.1 billion, behind Google's USD 109.5 billion[4], nevertheless it is still a considerable value benefiting the business in multiple levels. Strength of Apple's brand image and value is effectively reinforced by uncompromised customer loyalty serving as a solid base of competitive advantage.
With revenues of more than USD 215.6 billion and net income of more than USD 45.6 billion generated during 2016 alone[5], Apple has a strong financial base to engage in research and development according to its traditional competitive advantage of innovativeness and superior design.
Apple's supply-chain operations have been ranked by research firm Gartner as the best in the world for the past four years[6]. Apple supply chain best practices include data synchronization between the central warehouse and its own stores and customers, and outsourcing manufacturing and as a result reducing the manufacturing cycle time. Sophisticated supply-chain management practices allow the company to facilitate its complex global operations with no or least disruptions.
Apple maintains an exceptionally high profit margin compared to industry average and this fact provides advantages for the business at multiple levels. High profit margin can allow the business to maintain its operations in times of economic uncertainties thanks to cash reserves and Apple is also able to commit to vast investments for research and development. Industry analysts note that "Apple isn't here to sell the most of anything; its overarching goal is simply to generate the greatest possible profit"[7]. As it is illustrated in Figure 3 below, Apple profit margin has been generally increasing for the past two years and this has been accompanied by a general increase of its share price.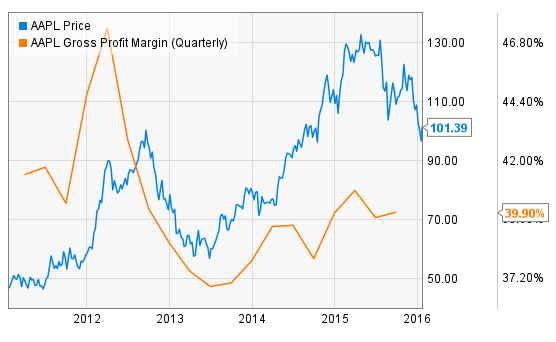 Quarterly changes in Apple share price and profit margin
Weaknesses
Apple products and services are priced in much higher level compared to competition. For example, 16GB iPhone 6 costs £539/USD649, the 64GB handset costs £619/USD749 and 128GB costs as much as £699/USD849. By comparison, its direct competitor, Samsung Galaxy S5 with additional 128GB microSD card costs only £510/USD670 which is cheaper £190/USD280 than top spec iPhone 6[8].
Net sales declined 8 per cent or USD18.1 billion during 2016 compared to 2015, primarily driven by a year-over-year decrease in iPhone net. Specifically, total sales and unit sales of iPhones declined to 12 per cent and 8 per cent respectively in 2016 compared to the previous year.[9] Similarly, the net sales of iPads and Mac products declined by 11 per cent and 10 per cent respectively during the same period…
Apple Inc. Report contains a full version of Apple SWOT Analysis. The report illustrates the application of the major analytical strategic frameworks in business studies such as PESTEL, Porter's Five Forces, Value Chain analysis and McKinsey 7S Model on Apple. Moreover, the report contains analyses of Apple leadership, organizational structure, business strategy and organizational culture. The report also comprises discussions of Apple marketing strategy and addresses issues of corporate social responsibility.

[1] The Most Valuable Brands (2016) Forbes, Available at: https://www.forbes.com/powerful-brands/list/
[2] Annual Report (2016) Apple Inc.
[3] The Most Valuable Brands (2016) Forbes, Available at: https://www.forbes.com/powerful-brands/list/
[4] Farber, M. (2017) "Google Tops Apple as the World's Most Valuable Brand" Fortune, Available at: http://fortune.com/2017/02/02/google-tops-apple-brand-value/
[5] Annual Report (2016) Apple Inc.
[6] Lu, C. (2014) "Apple had the best supply chain in the world for the last four years – here is what you can learn from it" TradeGecko, Available at: http://www.tradegecko.com/blog/apple-had-the-best-supply-chain-in-the-world-for-the-last-four-years-here-is-what-you-can-learn-from-it
[7]Savov, V. (2016) "Apple's grand unifying strategy: high profit margins" The Verge, Available at: http://www.theverge.com/2015/9/10/9300231/apple-watch-iphone-sales-profits-strategy-market
[8]Kypreos, E. (2015) "iPhone 6 vs Galaxy S5: Which to buy?"Trusted Reviews, Available at: http://www.trustedreviews.com/opinions/iphone-6-vs-galaxy-s5#DjyiMkWOdy5wx3RM.99
[9] Annual Report (2016) Apple Inc.