Apple value chain analysis is an analytical framework that assists in identifying business activities that can create value and competitive advantage to the business. Figure 1 below illustrates the essence of apple value chain analysis.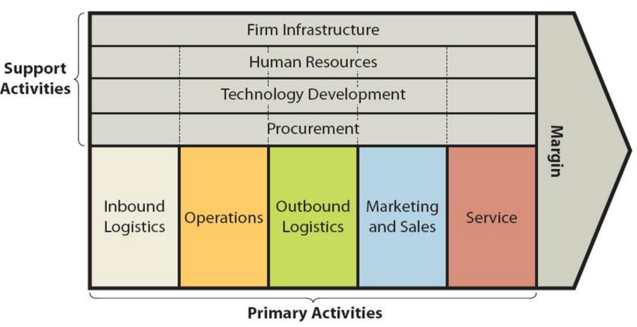 Figure 1 Apple Value Chain Analysis
Apple Primary Activities
Apple works with hundreds of suppliers around the globe and maintains a highly sophisticated supply-chain management as illustrated in Figure 2 below. Apple's purchase commitments typically cover its requirements for periods up to 150 days[1]. CEO Tim Cook is known for his strategy of getting suppliers to compete with each-other and he has reduced the numbers of suppliers considerably after becoming CEO in 2011.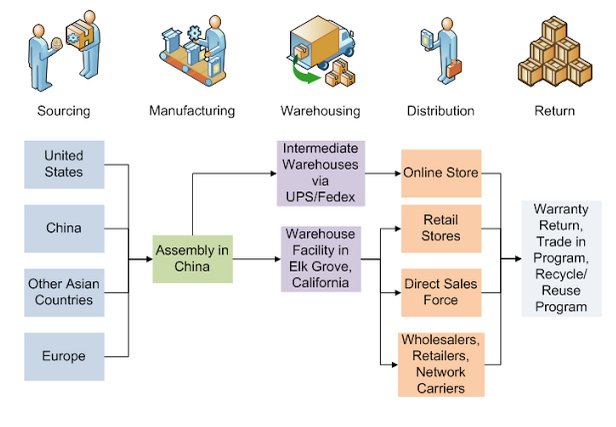 Figure 2 Apple operations roadmap[2]
The main sources of value in Apple inbound logistics relate to the economies of scale due to the massive scope and scale of business operations as discussed below and the development of strategic relationships with suppliers. Moreover, Apple Inc. exercises an immense bargaining power in dealing with its suppliers and as a result, the company is able to secure cost advantage in the purchase of resources.
Apple operations are divided into the following reportable operating segments:
Americas
Europe
Greater China
Japan
Rest of Asian Pacific
Apple operations are conducted by 116,000 full-time equivalent employees as of September 2016.[3] Outsourcing of manufacturing to locations with lower costs of resources is the main source of value for Apple operations. Specifically, only some models of Mac computers are manufactured in USA and Ireland and the majority of Apple products are outsourced to manufacturing units based in Asia.
Apple Inc. Outbound logistics
Apple outbound logistics involves warehousing and distribution of ready iPhones, iPads, Mac computers and other products produced by the company.  E-commerce sales is rightly acknowledged by the company as a massive source of value in terms of inbound logistics, because e-commerce is more cost effective compared to sales via Apple Store. Due to the efforts of the company in this direction, Apple Inc. has become the third largest retailer in the US in terms of size of e-commerce business, only behind Amazon.com and Wal-Mart Stores Inc. Specifically, Apple Inc. has e-commerce sales of USD 12 billion and this figure accounts to about 5.1 per cent of company's total sales.[4]
Moreover, a greater level of market penetration into Asia in general and China in particular can be specified as an additional source of value for Apple Inc. from outbound logistics point of view. This is because selling in this particular geographical market would not involve massive outbound logistics expenses and this cost advantage can be passed to customers to increase the overall appeal of offers.
 Apple Inc. Marketing and Sales
Apple sells its products through the following seven sales channels:
Apple retail stores
Apple online store
Direct sales force
Third-party cellular network carriers
Wholesalers
Retailers
Value-added resellers
During 2016, the company's net sales through its direct and indirect distribution channels accounted for 25 per cent and 75per cent , respectively, of total net sales.[5] Apple advertising budget has been increasing consistently since the takeover of Tim Cook as CEO in 2011 to reach a record of USD 1.8 billion in 2015.[6] Interestingly, the company chose not to disclose its marketing budget for 2016.
Apple has been increasing its focus on enterprise sales during the past few years and CEO Tim Cook announced an extensive reliance on Channel Partners to further increase the volume of enterprise sales. The company is taking concrete steps in this direction. For example, "Apple and Cisco announced a partnership in August 2015 to optimize Cisco networks for Apple iOS-based devices and apps while also working to create better business integration between Cisco voice and video environments and the iPhone."[7]
Apple Inc. Service
Apple is famous for exceptional quality of customer services during all three stages: pre-purchase, during the purchase and post-purchase. The company maintains Apple experience centres in major cities around the globe where anyone can use its products to become convinced about the quality. Apple sales assistants are usually trained and polite young males and females who are technically savvy and happy to demonstrate product features and capabilities. Post-purchase customer service is also impressive with unique iPhone trade-in programs that allow iPhone users to upgrade their phone to newer models with additional payment.
Apple Inc. Report contains a full version of Apple value chain analysis. The report illustrates the application of the major analytical strategic frameworks in business studies such as SWOT, PESTEL, Porter's Five Forces and McKinsey 7S Model on Apple. Moreover, the report contains analyses of Apple leadership, business strategy, organizational structure and organizational culture. The report also comprises discussions of Apple marketing strategy and addresses issues of corporate social responsibility.

---