BMW McKinsey 7S framework illustrates the manners in which seven elements of businesses can be aligned to increase effectiveness. McKinsey 7S framework recognizes strategy, structure and systems as hard elements, while shared values, skills, style and staff are accepted as soft elements.
According to the framework, there are strong links between elements in a way that a change in one element causes changes in others. As it is illustrated in Figure 13 below, shared values are positioned at the core of BMW McKinsey 7S framework, since shared values guide employee behavior with implications in their performance.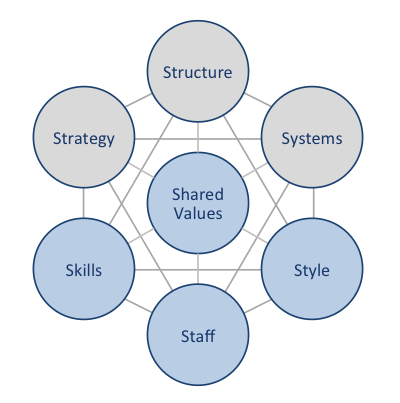 McKinsey 7S Framework
Hard Elements
Strategy. BMW Group business strategy can be described as product differentiation and accordingly, the company positions itself as a premium brand in an automobile industry. BMW Group pursues differentiation business strategy with a focus on advanced technological features and capabilities and digitalization of its vehicles according to its Strategy Number One. Moreover, the company strategy attempts to associate ownership of BMW Group vehicles with personal achievement and the representation of high status. The company communicates relevant marketing messages to the target customer segment via various marketing communication channels.
Structure. BMW Group organizational structure is complex due to the size of the company and the massive scope of its operations. Yet, BMW organizational structure is sophisticated enough to respond to changes in the external marketplace in a timely manner. BMW AG Supervisory Board is the highest strategic management team with members organized into four committees. These are Personnel, Audit, Nomination and Mediation committees. BMW AG Supervisory Board oversees BMW AG Board of Management headed by its Chairman Harald Krüger.
Systems. These relate to daily activities and procedures engaged by BMW Group employees in order to get their job done.  BMW Group integrates robotics technology, IT and online platforms within its many systems to deal with a wide range of business processes. A new BMW i series assembly line near Leipzig in east central Germany can be mentioned to justify this point. Specifically, "on the new line, there is no need for a paint shop as the thermoplastic outer body panels can be sprayed in small, shed-like rooms. A traditional press shop is absent because the construction of the passenger section of the vehicles doesn't require steel or aluminium. In the body shop, there is no more welding, just robots silently applying glue"[1]
BMW Group Report contains a detailed discussion of BMW McKinsey 7S framework. The report also illustrates the application of the major analytical strategic frameworks in business studies such as SWOT, PESTEL, Porter's Five Forces, Value Chain analysis and on BMW Group. Moreover, the report contains analysis of BMW Group's marketing strategy, leadership and organizational structure and discusses the issues of corporate social responsibility.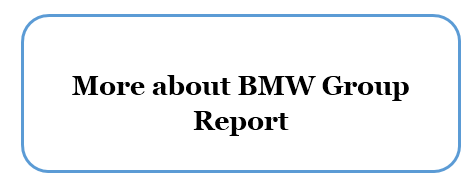 [1] White, J. (2014) "A CLOSER LOOK AT BMW'S PRODUCTION PLANT" Wired, Available at: http://www.wired.co.uk/magazine/archive/2014/10/features/power-plant
---
---