British Airways McKinsey 7S Model
British Airways McKinsey 7S framework illustrates how seven individual elements of the airline business are aligned to increase the overall effectiveness of the business. McKinsey 7S divides elements into hard and soft groups. Strategy, structure and systems represent are considered as hard elements, whereas shared values, skills, style and staff represent soft elements. As it is illustrated in the figure below, shared values are positioned at the core of British Airways McKinsey 7S framework, since shared values guide employee behaviour with implications in their performance.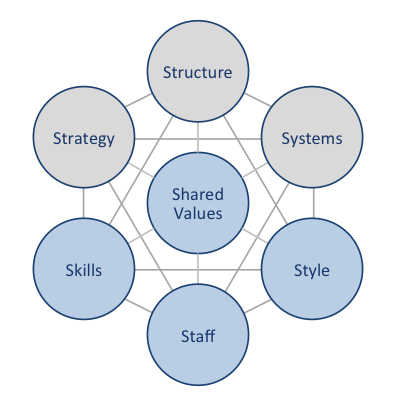 British Airways McKinsey 7S Framework
Hard Elements
Strategy. British Airways pursues the business strategy of service differentiation. Specifically, the airline differentiates its services via an extensive reliance on digitalization and information technology and a high level of customization of service provision. An aggressive international market expansion is another important element of British Airways business strategy and in 2016 alone the airline company is expected to fly to more than a dozen new routes.[1]
Structure. British Airways is owned by International Airline Group (IAG), the largest airline group in Europe that also owns Iberia, Vueling and Aer Lingus. British Airways organizational structure is hierarchical reflecting the large size of the business. The new CEO Alex Cruz is expected to introduce de-layering initiatives into British Airways organizational structure as a part of his wide-scale cost-cutting measures.
Systems. Apart from the standard set of organizational systems such as employee recruitment and selection system, performance appraisals system, quality control system, complaint handling system and others, British Airways also maintains a number of industry-specific systems. These include, but not limited to passenger check-in system, baggage handling system, in-flight entertainment system and others.
British Airways Report contains a detailed discussion of British Airways McKinsey 7S framework. The report also illustrates the application of the major analytical strategic frameworks in business studies such as SWOT, PESTEL, Porter's Five Forces, Value Chain analysis and on British Airways. Moreover, the report contains analysis of British Airways marketing strategy, leadership and organizational structure and discusses the issues of corporate social responsibility.

[1] Annual Reports and Accounts (2015) British Airways
---
---