Any corporation of a size of Dell is impacted by a set of political factors such as the level of political stability in the country, home market lobbying and international pressure groups.  It is important to note that to date there is no evidence of Dell being involved in a political issue, nevertheless, the company is not immune from detrimental impact of political factors in the future. Specifically, there is a risk for Dell and other US-based computing and technology companies to become unwelcome in certain markets, particularly in Russia and China due to spying concerns sparkled mainly after the revelations of whistleblower and former CIA employee Edward Snowden. Moreover, Dell might be impacted by activities of home market lobbying and pressure groups in emerging economies advocating the interests of local computer firms, thus creating barriers for Dell in forms of trade tariffs and other instruments.
Dell is directly impacted by a great range of economic factors that include currency exchange rates, interest rates, inflation rate, macroeconomic stability and costs of labor and raw materials. Particularly, currency exchange rate represents a major economic factor that affects Dell business performance directly and significantly because of the global scope of Dell operations. In order to address the negative impact of currency exchange rate and to gain operational efficiency, in February 2015 Dell became the biggest company that accepts bitcoins internationally[1].
Moreover, the global financial and economic crisis of 2007 – 2009 proved to have substantial detrimental impact on the growth of the global PC market, thus affecting Dell's revenues. As it is illustrated in Figure 3 below, the growth in the global PC market amounted to 13% in 2007, however in 2009 the global PC market grew only 2% as a direct result of the crisis. It can be argued that an economic crisis is the most substantial economic factor in a way that it triggers the whole set of other economic factors such as inflation rate, interest rate and labor cost.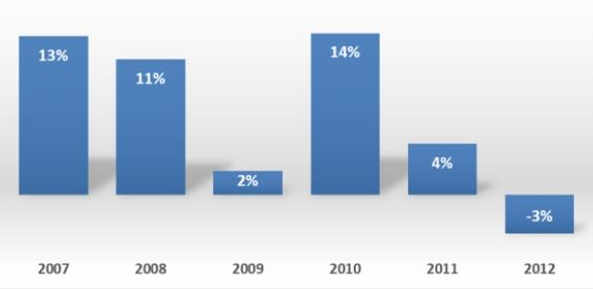 Changes in global PC shipments[2]
Social Factors
Increasing level of integration of various internet applications into increasing aspects of professional and personal lives of consumers is one of the most significant social tendencies that affect Dell's long-term growth prospects. Specifically, company's future growth prospects are associated with its ability to address this important social change by offering advanced tablets and smartphones that can serve as effective platforms for using various types of mobile applications for working and recreation.
Increasing popularity of online sharing via popular social networking websites such as Facebook, Google+, LinkedIn, Instagram, Twitter and YouTube is another noteworthy social tendency that should not be neglected by Dell. The company is also greatly impacted by additional range of social factors such as demographic changes, changes in consumer attitudes and opinions towards consumer electronics products and services, media perception of the brand and health and welfare of target customer segment.
Complete version of Dell PESTEL analysis containing discussion of remaining factors is available in Dell Inc. Report. The report also contains an application of SWOT, Porter's Five Forces and Value-Chain Analyses on Dell , along with analysis of Dell's marketing strategy and company's approach towards Corporate Social Responsibility (CSR).
[1] Marino, J. (2015) Business Insider, Available at: http://www.businessinsider.com/dell-becomes-biggest-company-to-accept-bitcoin-internationally-2015-2
[2] Source: Gartner
---
---