eBay McKinsey 7S framework attempts to explain the ways in which seven elements of businesses can be aligned to achieve higher effectiveness.
According to McKinsey 7S strategy, structure and systems represent hard elements, whereas shared values, skills, style and staff are soft elements. The framework stresses that there are strong links between elements in a way that a change in one element causes changes in others. As it is illustrated in figure below, shared values are positioned at the core of eBay McKinsey 7S framework, since shared values guide employee behaviour with implications in their performance.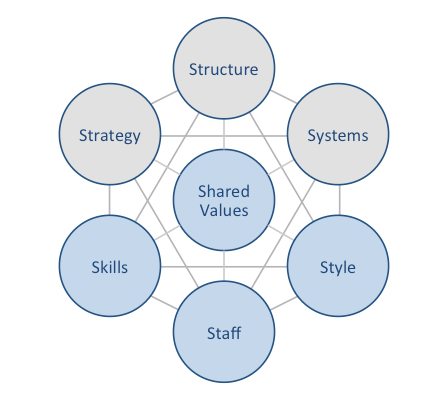 eBay McKinsey 7S Framework
Hard Elements
Strategy. eBay has traditionally pursued first mover business strategy since the e-commerce site has been set up by Pierre Omidyar in 1995. Accordingly, the business has enjoyed from the first mover advantage in becoming the first and the largest online auction website with the widest range of products.
However, the latest changes in eBay business strategy are associated with the shift from a primarily auction website to becoming an online retailer in general, a segment which is traditionally dominated by Amazon. It can be argued that if eBay fails to find new solid sources of competitive advantage as an online retailer, the e-commerce company will find it increasingly difficult to compete with Amazon in the new area.
Structure. eBay business strategy can be characterised as a hierarchical reflecting the massive size of the business that employs 12,000 people worldwide and has more than 160 million customers.[1] Separation of PayPal from eBay in 2015 resulted in a major structural change for the business, at the same time depriving eBay a solid source of cash. The Board of Directors and the Senior Leadership Team comprise 11 members each and each member is responsible for a specific aspect or a geographical area of the business.
Systems. The range of systems that is critical for eBay's business operations include employee selection and recruitment system, employee training and development system, payment system, information system and others. The company subjects the efficiency of its systems into critical evaluations in a systematic manner in order to gain cost efficiency and to increase operational effectiveness in general.
eBay Inc. Report contains a detailed discussion of eBay McKinsey 7S framework. The report also illustrates the application of the major analytical strategic frameworks in business studies such as SWOT, PESTEL, Porter's Five Forces, Value Chain analysis and on eBay. Moreover, the report contains analysis of eBay's marketing strategy, leadership and organizational structure and discusses the issues of corporate social responsibility.

[1] Annual Report (2015) eBay Inc.
---
---