eBay Organizational Structure
eBay organizational structure is hierarchical due to the massive size of the company that employs nearly 12,000 people worldwide.  In 2015, a major restructuring was introduced to the company by separating PayPal from eBay Inc.  The figure below illustrates changes to eBay organizational structure as a result of PayPal's separation.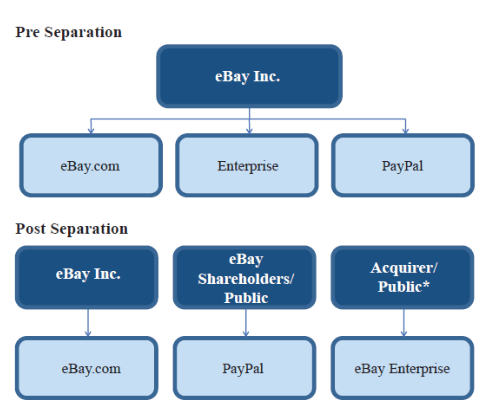 eBay Organizational Structure
eBay Board of Directors comprises 11 members and Thomas J. Tierney is the Chairman of the Board. David Wenig leads eBay executive team as President and CEO and is closely assisted by other leaders in the following positions:
President, StubHub
SVP, Chief Technology Officer
SVP, General Counsel
VP of Global Operations
SVP, eBay North America
SVP, eBay Asia Pacific
SVP, Chief Product Officer
SVP, Chief Financial Officer
SVP, Chief Communications Officer
SVP, eBay Europe
SVP, Chief People Officer
eBay Inc. Report comprises a comprehensive analysis of eBay. The report illustrates the application of the major analytical strategic frameworks in business studies such as SWOT, PESTEL, Porter's Five Forces, Value Chain analysis and McKinsey 7S Model on eBay. Moreover, the report contains analyses of eBay's marketing strategy and discusses the issues of corporate social responsibility.

---
---