Facebook Business Strategy and Competitive Advantage
Facebook business strategy integrates the following four principles:
1. Extensive and continuous focus on user experience. Facebook did not have a first mover advantage in online social networking segment, as it was launched after Friendster and MySpace. Nevertheless, an uncompromised approach on user experience and an adequate balance between standardisation and customization of the website resulted Facebook becoming the most popular social networking site within a matter of a couple of years.
2. Growth via acquisitions. Facebook business strategy focuses on establishing presence in various branches of e-commerce via acquiring relevant businesses. In 2014, the company purchased Oculus VR, Inc. (Oculus), a company developing virtual reality technology and WhatsApp Inc. (WhatsApp) messenger application for mobile devices. Earlier in 2012, Facebook bought Instagram a popular photo-sharing application for USD 1 billion cash and stock.[1]
In 2015 the company generated revenues of USD17.93 billion, which is an increase of 44% year-over-year and ad revenue was of USD17.08 billion, which is an increase of 49% compared to the previous year.[2] Solid financial position that can enable more strategic acquisitions in the future is one of the key sources of Facebook competitive advantage.
3. New product development. Development of new products and services is placed at the core of Facebook business strategy with positive implications on the numbers of its user base. Currently, Facebook product portfolio includes Profile, News Feed, Messenger, Groups, Events, Video, Photos, Search, Pages, Instagram and others. The ability to develop new products and services according to its mission statement "to give people the power to share and make the world more open and connected"[3] is one of the key competitive advantages of Facebook.
4. Continuously exploring new ways of monetization. Facebook constantly experiments with different strategies finding and utilizing news ways of monetization in a regular manner. Recently, mobile user monetization proved to be an effective move in terms of revenue maximization, increasing Facebook advertising revenues by 63 per cent (year-over-year) to USD 6.2 billion in the second quarter of 2016…
Facebook Inc. Report contains more detailed discussion of Facebook business strategy. The report also illustrates the application of the major analytical strategic frameworks in business studies such as SWOT, PESTEL, Porter's Five Forces, Value Chain analysis and McKinsey 7S Model on Facebook Inc. Moreover, the report contains analyses of Facebook leadership and organizational structure and marketing strategy and discusses the issues of corporate social responsibility.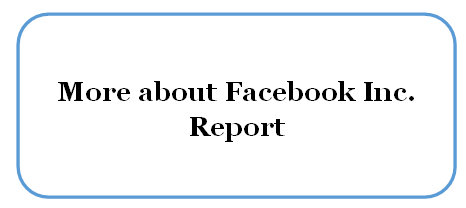 [1] Rusli, E.M. (2012) "Facebook Buys Instagram for USD1 Billion" New York Times, Available at: http://dealbook.nytimes.com/2012/04/09/facebook-buys-instagram-for-1-billion/?_r=0
[2] Annual Report (2015) Facebook Inc.
[3] Annual Report (2015) Facebook Inc.
---
---