Google Value Chain Analysis: Benefiting from No-Cost Inbound Logistics
Google value-chain analysis is an analytical framework that assists in identifying business activities that can create value and competitive advantage to the business. Figure 1 below illustrates the essence of Google value chain analysis.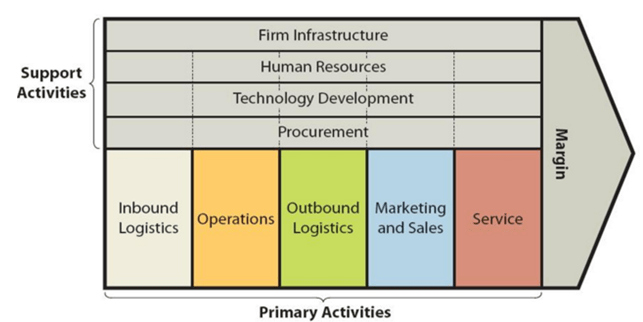 Figure 1 Google value chain analysis
Google Primary Activities
Google Inbound logistics
It can be argued that Google generates the greatest value in inbound logistics activities compared to other activities. Google's core business is search. Internet users use Google's search to find information they need, therefore the list of content generated as search results can be specified as 'product' provided by Google. The content Google generates as search result is created by private and organizational internet users and it comes to Google free of charge. Therefore, due to unique aspects of Google's business model there is no inbound logistics costs for its core search business.
Google also uses an extensive range of hardware, technological equipments and tools to conduct its business operations. The internet giant does not reveal the details of its supply-chain management and inbound logistics to the public. Google maintains a dedicated supplier site, where suppliers can submit invoice for payment, check invoice status and deal with a range of other administrative aspects of their cooperation with the company in a convenient manner.
Google Operations
Google operates via more than 70 offices in more than 40 countries internationally. Google offices are famous for their creative design and the presence of distinctive features such as sharing cubes, video games, pool tables, pianos, cafes and others. Google headquarters in Mountain View, California consists of about 4.8 million square feet of office and building space, along with about 15 acres of land that can be ground for more office space in the future.
The major source of value in Google's operations can be specified as the company's technological capabilities in general and its advanced search algorithm in particular.
All spheres of Google's operations are guided by its organizational culture based on challenging the status quo and adopting an unconventional approach in getting things done. However, there are views that due to its rapidly increasing size, Google has to develop more policies and procedures and become more bureaucratic with negative implications on the level of entrepreneurial spirit in the company.[1]
Alphabet Inc. operations, Google's parent company are divided into two segments:
Google. This segment includes company's main internet products such as Search, Ads, Commerce, Maps, YouTube, Google Cloud, Android, Chrome, and Google Play as well as its hardware initiatives. Main sources of revenues in this segment include advertising, sales of digital content, apps and cloud offerings, and sales of hardware products.[2]
Other Bets. This segment includes businesses such as Access, Calico, CapitalG, GV, Nest, Verily, Waymo, and X. Major revenue sources in this segment include the sales of internet and TV services through Google Fiber, sales of Nest products and services, and licensing and R&D services through Verily.[3]
Google Outbound logistics
Online search and integration of advertisements into search results represents Google's core business and there is no outbound logistics associated with running this business. Google also sells physical technological products such as Smartwatches, Nexus Phones, Chromecast, Chromebooks, technological accessories and other products via its website www.store.google.com.
In 2015 Google also opened its first fully-branded physical store in London, the Currys PC World store on Tottenham Court. "In addition to showcasing Google merchandise—Chromebooks, Chromecasts, Android phones, and so on—the space includes a "Doodle Wall" for customers to scribble on with digital spray paint, a "Chromecast Pod" for movie viewing, and a "Portal" for touring the planet via Google Earth."[4]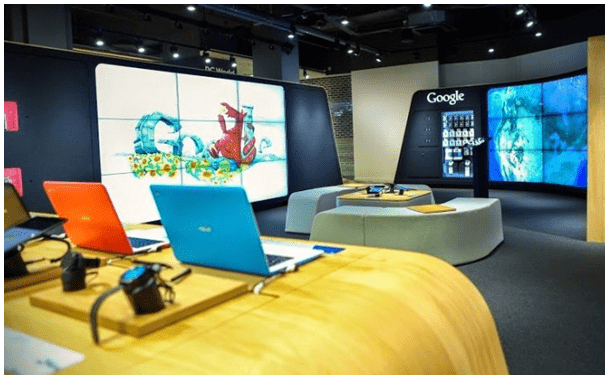 Figure 2 Inside the first Google store in London
There are only several Google physical stores around the world and the company relies on online sales channel to generate revenues. Accordingly, the source of value in Google outbound logistics refers to the cost saving due to the absence of physical outbound logistics and avoidance of bills related to fixed and variable costs of physical shops.
Google Marketing and Sales
Google's marketing strategy relies on integration of online and offline communication channels to communicate the marketing message.  Popular components of marketing communication mix such as advertising, events and experiences and public relations are used by Google extensively, whereas the company uses sales promotions and direct marketing sparingly. Google sales are predominantly conducted via online sales channel and the company started to utilize traditional offline sales channel only recently. For the years ended December 31, 2014, 2015 and 2016, advertising and promotional expenses totalled approximately USD3,004 million, USD3,186 million, and USD3,868 million, respectively.[5]
Google's source of value in marketing and sales is evident and it relates to its ownership of the most popular online marketing platform. For example, it has been found that "a URL's number of Google +1s is more highly correlated with search rankings than any other factor"[6] There are also many other ways Google uses its own advertising tools for promote its products and services.
Google Service
Google forums play an instrumental role in terms of assisting customers to deal with a wide range of technical and other issues. There are also customer service phone numbers for Google's various services. At the same time, exceptional customer services is not one of the sources of competitive advantage for Google and the company does not create much value in this specific type of primary activity.
Alphabet Inc. (Google) Report contains a full version of Google value chain analysis. The report illustrates the application of the major analytical strategic frameworks in business studies such as SWOT, PESTEL, Porter's Five Forces and McKinsey 7S Model on Google. Moreover, the report contains analyses of Alphabet leadership, business strategy, organizational structure and organizational culture. The report also comprises discussions of Alphabet marketing strategy and addresses issues of corporate social responsibility.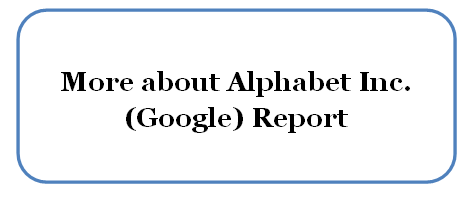 [1] Denning, S. (2014) Forbes, Available at: http://www.forbes.com/sites/stevedenning/2014/11/28/is-google-doing-anything-new/
[2] Annual Report (2016) Alphabet Inc.
[3] Annual Report (2016) Alphabet Inc.
[4] Griswold, A. (2015) "Google's First Physical Store Is Very Google-y" Slate, Available at: http://www.slate.com/blogs/moneybox/2015/03/11/google_opens_first_physical_store_online_shopping_is_moving_offline.html
[5] Annual Report (2016) Alphabet Inc.
[6] Shepard, C. (2013) "Amazing Correlation Between Google +1s and Higher Search Rankings" MOZ, Available at: https://moz.com/blog/google-plus-correlations
---
---